Live Life Positively: Know Your HIV Status and Take Control
WEBWIRE
–
Friday, November 30, 2018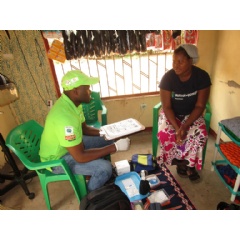 Credit: Humana People To People
Humana People to People joins the rest of the world in commemorating the World AIDS Day on the 1st of December. This year's theme is Live Life Positively: Know your HIV status. HIV testing is on the spotlight as the call for knowing one's HIV status, to take an informed stand, is becoming increasingly necessary to save lives.
Humana People to People through the Total Control of the Epidemic (TCE) programme has for years been carrying out community mobilization activities in Africa, India and China impacting on millions of people's lives through broader community mobilization strategies aimed at achieving HIV prevention, care, support and access to treatment in affected communities.
The TCE programme has been aligned with the UNAIDS 90-90-90 strategy which seeks to achieve that 90% of all people living with HIV should know their status; 90% of all those who are diagnosed HIV positive to be on sustained antiretroviral treatment (ART); 90% of those on ART having an undetectable viral load. Humana People to People members are working to ensure people know their status, receive the sustained treatment they require, and achieve viral suppression.
Humana People to People has built strong relationships with national government health departments and international health organizations. In partnership, we are committed to reaching each person either affected or infected to gain effective control of HIV and AIDS and TB.
According to UNAIDS - United Nations AIDS department - around the world, 37 million people are living with HIV, the highest number ever, yet a quarter do not know that they have the virus. A newly published HIV and AIDS report from UNAIDS called Knowledge is Power shows that intensified HIV testing and treatment efforts are reaching more people living with HIV. In 2017, three quarters of people living with HIV knew their HIV status and 21.7 million people living with HIV had access to antiretroviral treatment. The report also calls for increased efforts needed to reach the 9.4 million people living with HIV who are not aware they have the virus and the estimated 19.4 million people who do not have suppressed viral loads.
Why knowing one's HIV status is important
Knowing your HIV status has many advantages. It is the essential entry point to HIV treatment, prevention, care and support services. People who test positive for HIV should be linked immediately to antiretroviral therapy to keep them alive and well. Further, when HIV viral load suppression is reached it helps to helps to reduce the chances of HIV transmission.
Knowing your HIV status also enables people to make informed decisions about HIV prevention options, including services to prevent children from becoming infected with HIV, male and female condoms, harm reduction services for people who inject drugs, voluntary medical male circumcision and pre-exposure and post-exposure prophylaxis.
To remain healthy and to prevent transmission, the virus needs to be suppressed to undetectable or very low levels through sustained antiretroviral therapy. And to effectively monitor viral load, people living with HIV need access to viral load testing every 12 months.
How TCE Programme is making a difference
Total Control of the Epidemic, Humana People to People's HIV & AIDS programme, is centered on the idea that "Only the people can liberate themselves from AIDS the epidemic." Since 2000, TCE have reached over 20 million people across 12 countries in Africa and Asia, connecting them with the information, services and support they need to live healthy and positive lives.
The TCE programme is based on community mobilization, HIV testing, tuberculosis screening, referrals to treatment, and support for HIV treatment adherence.
TCE Field Officers and volunteers build relationships with communities to provide access to HIV testing in hard-to-reach areas and among the at-risk populations. The people who are diagnosed with HIV are encouraged to enroll for treatment at local health centers. They are connected with healthcare providers to improve treatment uptake, and TCE Field Officers undertake follow-up services at the people's homes.
In Mozambique, Namibia, South Africa and Zambia, Index Case Testing is used a method to target the people living with HIV who are not aware they have the virus. The method works like this: when one tests HIV positive, his/her family members and sexual partners are reached out to with HIV testing services. Targeting the people most susceptible to HIV risk means taking responsive actions to make it easy for the ones, who are infected but unaware of it, to get to know their status and access treatment, thus starting to work towards suppressing their viral load.
In Mozambique, Index Case Tracking has seen 38,612 sexual partners tested for HIV of whom 13,154 tested HIV positive in the year 2017. This milestone was achieved in an HIV testing campaign being done by ADPP Mozambique through HOPE Maputo project. In Namibia, the country has achieved success in fighting HIV and AIDS and attaining the UNAIDS 90-90-90 targets. DAPP Namibia has been running TCE programme for more than 10 years reaching 1.4 million Namibians as a result. In 2017, TCE in Namibia reached 50,623 people with testing, of whom 3,917 tested HIV positive.
People who test negative are further counselled on risk factors and risk reduction, encouraged to take a pro-active approach towards their sexual health and connected with appropriate services as necessary.
( Press Release Image: https://photos.webwire.com/prmedia/5/232156/232156-1.jpg )
Related Links
WebWireID232156

This news content was configured by WebWire editorial staff. Linking is permitted.
News Release Distribution and Press Release Distribution Services Provided by WebWire.