Study Demonstrates ACTICOAT™ Helps Achieve Better Clinical Outcomes at Lower Overall Treatment Costs Than Other Silver Dressings in the Management of Partial Thickness Burns
WEBWIRE
–
Wednesday, November 28, 2018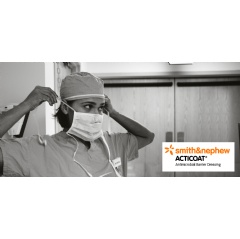 Smith & Nephew plc (LSE:SN, NYSE:SNN), the global medical technology business, today announces the publication of a study in which its ACTICOAT™ Antimicrobial Barrier Dressing with nanocrystalline silver was estimated in a health economic model to save costs compared with other silver dressings in the management of partial thickness burns.
The "Cost-effectiveness Analysis of Silver Delivery Approaches in the Management of Partial-thickness Burns1" study comprises a cost-effectiveness analysis of four commonly used silver dressings on patients with partial thickness burns and a total body surface area affected less than 20%.
The economic model, developed from the US healthcare payer perspective is based on data derived from an indirect treatment comparison and meta-analysis of randomized controlled trials and observational studies. It compares incidence of infections, surgical procedures, length of stay and quality-adjusted life years for each dressing based on a sample of 1,873 patients derived from multiple studies.
Incidence of infections were estimated to be lower when using ACTICOAT compared to other silver dressings. Estimated number of surgical procedures* was also lower with ACTICOAT, and estimated cost of treatment was lowest with ACTICOAT compared with other silver dressings.
"This robust economic evaluation based on the findings of a systematic review illustrates the cost effectiveness of ACTICOAT compared to alternative commonly used silver-based antimicrobials in the management of partial thickness burns," said Dr Andy Weymann, Chief Medical Officer, Smith & Nephew. "It highlights that treatment with ACTICOAT results in better outcomes and helps reduce the human and economic cost of wounds."
To learn more please see www.smith-nephew.com/acticoatforburns
References
Nherera, L. et al. Cost-effectiveness Analysis of Silver Delivery Approaches in the Management of Partial-thickness Burns. Wounds Epub 2018 February 23
*     Defined as debridement and skin grafts
About Smith & Nephew
Smith & Nephew is a global medical technology business dedicated to helping healthcare professionals improve people's lives. With leadership positions in Orthopaedic Reconstruction, Advanced Wound Management, Sports Medicine and Trauma & Extremities, Smith & Nephew has around 15,000 employees and a presence in more than 100 countries. Annual sales in 2017 were almost $4.8 billion. Smith & Nephew is a member of the FTSE100 (LSE:SN, NYSE:SNN).
For more information about Smith & Nephew, please visit our website www.smith-nephew.com, follow @SmithNephewplc on Twitter or visit SmithNephewplc on Facebook.com.
To learn more about what we do to help reduce wound infection, please visit www.closertozero.com
Forward-looking Statements
This document may contain forward-looking statements that may or may not prove accurate. For example, statements regarding expected revenue growth and trading margins, market trends and our product pipeline are forward-looking statements. Phrases such as "aim", "plan", "intend", "anticipate", "well-placed", "believe", "estimate", "expect", "target", "consider" and similar expressions are generally intended to identify forward-looking statements. Forward-looking statements involve known and unknown risks, uncertainties and other important factors that could cause actual results to differ materially from what is expressed or implied by the statements. For Smith & Nephew, these factors include: economic and financial conditions in the markets we serve, especially those affecting health care providers, payers and customers; price levels for established and innovative medical devices; developments in medical technology; regulatory approvals, reimbursement decisions or other government actions; product defects or recalls or other problems with quality management systems or failure to comply with related regulations; litigation relating to patent or other claims; legal compliance risks and related investigative, remedial or enforcement actions; disruption to our supply chain or operations or those of our suppliers; competition for qualified personnel; strategic actions, including acquisitions and dispositions, our success in performing due diligence, valuing and integrating acquired businesses; disruption that may result from transactions or other changes we make in our business plans or organisation to adapt to market developments; and numerous other matters that affect us or our markets, including those of a political, economic, business, competitive or reputational nature. Please refer to the documents that Smith & Nephew has filed with the U.S. Securities and Exchange Commission under the U.S. Securities Exchange Act of 1934, as amended, including Smith & Nephew's most recent annual report on Form 20-F, for a discussion of certain of these factors. Any forward-looking statement is based on information available to Smith & Nephew as of the date of the statement. All written or oral forward-looking statements attributable to Smith & Nephew are qualified by this caution. Smith & Nephew does not undertake any obligation to update or revise any forward-looking statement to reflect any change in circumstances or in Smith & Nephew's expectations.
◊ Trademark of Smith & Nephew.  Certain marks registered US Patent and Trademark Office.
( Press Release Image: https://photos.webwire.com/prmedia/5/232023/232023-1.jpg )
Related Links
WebWireID232023

This news content was configured by WebWire editorial staff. Linking is permitted.
News Release Distribution and Press Release Distribution Services Provided by WebWire.