Lessons in Leading Digital Disruption
The competitive effects of investing in the force of digital technologies are staggering. In 'The Digital Matrix: New Rules for Business Transformation Through Technology' (2017), author Venkat Venkatraman states that by 2025, there will be no difference between digital and non-digital when it comes to functions, processes, business models. By this token, disruption is, in fact, existential. And its furious pace is forcing executives to make decisions and commit much faster than anticipated
WEBWIRE
–
Thursday, November 1, 2018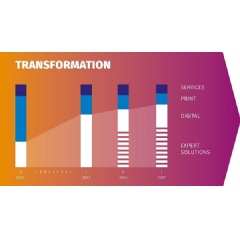 Every other day, the amount of information created online is equivalent to all the information created up to 2003 - since the dawn of civilization. The Information Age was hotly debated in the early 2010s, when Eric Schmidt, former Google CEO, first rattled off this stat at a tech conference. It was a time when AI evangelists still debated what the future of data processing technology and its inevitable ubiquity would mean for us. In the eight years since Schmidt's statement, engineers have successfully equipped machines with the ability to identify patterns from large swaths of data (deep learning) and, in 2018, effectively applied the technology to challenging tasks such as accurately identifying specific cancers in real-time.
In their 2017 book 'Machine, Platform, Crowd: Harnessing Our Digital Future' MIT's Andrew McAfee and Erik Brynjolfsson suggest that we have moved from the Information Age into the Machine Learning age. Google and Amazon are, inarguably, some of the best consumer examples of this - as of May 2018, it became possible for us to carry on "uninterrupted human conversations" with Google's virtual home assistants, powered by AI. But, to what extent have organizations adopted these rapidly evolving technologies? AI is, at its core, powered by humans. So perhaps the more reasonable question would be: how ready and willing are we to let technology handle our information for us?
Digital Darwinism
"We talk about this notion of Digital Darwinism, and that's when technology and society can, in fact, move faster than organizations can adapt … and what we try and think about at Wolters Kluwer is that not only do we have to adapt to change but we have to think about how we understand and get ahead of our customers' behavior and then take that insight and develop products that are innovative."
- Nancy McKinstry at the Guardian Innovation Summit, 2014.
When Nancy McKinstry started as the company's CEO fifteen years ago, most people thought it would be impossible to take a business that was 175 years old and transform it. At the time, 31 percent of the company was digital. McKinstry found that the increasing rate at which customers were barraged with complex information - lawyers, doctors, accountants and financial professionals alike - constituted a critical pain point which needed to be addressed. She hit the ground running, using innovation to leverage the company's deep domain knowledge. One of the changes McKinstry made was to almost triple the company's investment in product development. She also pushed cost reductions through structural improvements and undertook a major reorganization. From divesting some of the company's assets and acquiring market-leading information resources to creating task forces to accelerate time-to-market innovations, the organization's leadership committed to a company-wide digital vision.
Now, 15 years later, 76 percent of Wolters Kluwer is digital. In 2017 alone, revenue from digital and services grew 5 percent organically. Navigating this era where the physical and digital worlds are blending, Wolters Kluwer's ability to sustain momentum and continually evolve how we protect people's health, prosperity and safety, has seen McKinstry receive several accolades. In 2018, Harvard Business Review ranked her as one of the best-performing CEOs in the world and, according to Fortune, she is one of the most powerful women in business.
As we entertain each other with digital technology's many benefits in our everyday lives, it's easy to assume that every industry has embraced some innovative reinvention. Yet, industries are less than 40 percent digitized, overall. John Chambers, the former CEO of Cisco Systems, revealed a dooming estimate in a Business Insider interview in 2015: of the 70 percent of businesses that attempt to go digital, only 30 percent would succeed. Companies are increasingly transitioning into software enterprises and, according to recent figures, we should not underestimate who our competitors will be. In a little under two decades, there has been a fourteen-fold increase in the number of AI startups. So why do only 56 percent of North American and European enterprises currently invest in their digital transformation?
"We encountered a lot of skepticism at the time [2003], when you look around at the landscape, you see many businesses that don't navigate change well," said Nancy McKinstry when recalling her experience with transforming from a print-based publisher to a digital business, at the Guardian Media Summit, 2014.
As digitization has only just begun to transform industries, the impact on economic performance remains mostly unexplored. But we do know that digital transformation changes everything about how products are designed and delivered, and we can look at successful models to extract their value creation.
Digital strategy and its misconceptions
The competitive effects of investing in the force of digital technologies are staggering. In 'The Digital Matrix: New Rules for Business Transformation Through Technology' (2017), author Venkat Venkatraman states that by 2025, there will be no difference between digital and non-digital when it comes to functions, processes, business models. By this token, disruption is, in fact, existential. And its furious pace is forcing executives to make decisions and commit much faster than anticipated.
"I think the pace of innovation is accelerating dramatically … you have to stay close to the market, watching what entrepreneurs are doing and connecting with them to build an ecosystem around what customers serve," said Nancy at the Accenture Innovation Summit, 2017. Taking notes from startups and incorporating new technologies are essential elements for driving transformation, according to Nancy McKinstry.
Sunil Gupta, Harvard professor and author of 'Driving Digital Strategy: A Guide to Reimagining Your Business' (2018) posits that many companies are doing digital transformation wrong. Some leaders focus on digital technologies to cut costs or one-up competitors with impressive apps, missing the point of addressing customers' pain points and leaving money on the table in the process. Others invest in new departments that end up siloing innovation.
Gupta sums up the two common digital strategy mistakes he found in his research:
1.    Using digital transformation to cut costs
Using technology to shut down a branch, downsize customer service, or change value your proposition is a piecemeal approach to a digital strategy. In other words, differentiation strategies or low-cost strategies are no longer sufficient in this digital age, says Gupta.
2.    Creating new digital offerings
The challenge for a legacy company is to strengthen its core offering and build for the future at the same time. What knowledge or data do you have that can be disrupted and optimized? Rather than developing complementary verticals to your business, companies should look to the core of their services or products and incorporate a digital vision.
Digital transformation changes everything about how products are designed and delivered. Digitization has only just begun to transform many industries. Its impact on the economic performance of companies is far from complete.
Lessons learned
Wolters Kluwer's digital transformation has allowed us to become a market leader, serving analytics tools and platforms for the medical, academic, professional and scientific communities. Our customers constitute 90 percent of US banks, 40 of the top global banks in the world, and over 1.000.000 accountants and 250.000 lawyers across the globe.
Ultimately, avoiding the pitfalls of using digital technologies to cut costs, set up siloed divisions, and develop services that aren't central to your offering, can be challenging. Successful digital transformation requires a concerted effort to disrupt from the inside-out – starting with enhancing your core offering through disruption. We have observed that customers increasingly expect service-provider relationships to mirror their experiences in the customer world. This development combined with the digitalization of products has redefined our company's notion of quality. To this end, invigorating our employees through lifelong learning and working side-by-side with our customers to evolve products with them, has proven to be our winning recipe for creating quality in a time of digital transformation.
( Press Release Image: https://photos.webwire.com/prmedia/6/230789/230789-1.jpg )
Related Links
WebWireID230789

This news content was configured by WebWire editorial staff. Linking is permitted.
News Release Distribution and Press Release Distribution Services Provided by WebWire.