UK adults missing out on 11 hours sleep each week
New research from Aviva shows the extent of the UK's sleep deprivation.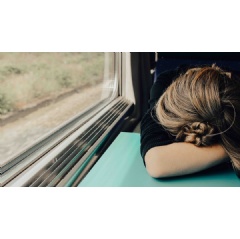 Only 17% of UK adults enjoy the NHS's recommended 8 hours of sleep per night.
"If you're worried about the quality or quantity of your sleep, speak to your GP to help get to the bottom of why you're struggling."
The extra hour of sleep as a result of the clocks going back this weekend will be welcome news with Aviva's research showing the average adult sleeps just 6.4 hours a night. Against the NHS recommended 8 hours of sleep, this could mean UK adults are losing 11 hours of sleep a week.
Key findings of the research
Enjoying on average just 6.4 hours sleep per night1 UK adults are falling well short of the NHS's recommended 8 hours per night2. Across a week, this adds up to a total shortfall of 11 hours – nearly half a day!
Over half (51%) of UK adults sleep for 6 hours or fewer each night, while only 17% of UK adults enjoy the recommended 8 hours.
Not only are UK adults not experiencing enough sleep, but the quality of sleep they experience is often poor, with 69% finding their sleep is frequently disturbed and 50% believing their sleep is of poor quality.
Over half (55%) of UK adults have suffered from insomnia in the past, while over a third (38%) currently suffer from it.
Lack of quality sleep is a top health concern across the UK, with nearly one in four adults (22%) ranking sleeping better as their top health priority, second only to losing weight (27%).
While 48% of adults do nothing to improve their sleep, others rely on reading (18%), watching their caffeine intake (14%) or minimising screen time (11%).
Most popular measures taken to sleep better
Measure: I read to help me to relax - % of UK adults: 18%
Measure: I watch my caffeine intake after noon - % of UK adults: 14%
Measure: I avoid screens eg phones, tablets, leading up to bedtime - % of UK adults: 11%
Measure: I exercise to tire myself out - % of UK adults: 9%
Measure: I drink alcohol (eg a nightcap) - % of UK adults: 8%
Measure: I use lavender oil or similar - % of UK adults: 8%
Measure: I take sleeping tablets - % of UK adults: 8%
Source: Aviva, 20181
Dr Doug Wright, Medical Director at Aviva, comments:
"A good night's sleep is a crucial component for a healthy lifestyle and can affect all areas of our life, from our work to our weight. Quality is often just as important as quantity and Aviva's research shows too often the sleep we experience is restless and disturbed.
"The last few moments before bed can be crucial in determining how restful our night's sleep is, though there are also measures we can take throughout the day to help us nod off that evening. Adopting lifestyle habits such as exercising, practicing mindfulness and eating healthily not only bring benefits to our general wellbeing, but will also contribute to a good night's rest.
"If you're worried about the quality or quantity of your sleep, speak to your GP to help get to the bottom of why you're struggling. They can offer advice on resolving any related underlying issues, such as stress or anxiety, as well as suggest some practical measures to secure a peaceful night's rest."
Top tips to achieve a good night's sleep
Minimise screen time – our bodies need to time to shift into sleep mode. Rather than browsing the internet or watching TV, why not try a more calming activity such as reading or taking a bath? Avoiding electronic devices before bed can help to combat sleepless lights by cutting exposure to lights which stimulate the brain.
Write a "to do" list – if you struggle to switch off, and spend hours tossing and turning worrying about the day ahead, spending five minutes before bed writing a "to do" list can help organise your thoughts and restore a peaceful mind.
Set yourself a bedtime – we're creatures of habit - sticking to a regular bedtime - even on weekends - helps to programme your brain to a regular routine and can also help ensure you're clocking up a sufficient amount of sleep each night.
Cut the caffeine – caffeine's incredibly effective at stimulating our body and minds, so much so that the effect of a lunchtime coffee can remain in our system well into the evening. Try watching your caffeine intake in the afternoon, to help your mind wind down naturally. 
Recognise the root cause – while lack of sleep may be driven by day-to-day lifestyle factors, sometimes it can be driven by an underlying cause such as anxiety or depression. If you suspect there might be other issues contributing to your sleep problems, speak to your GP to help tackle the root cause.
1Research conducted by Censuswide in August 2018 across a nationally representative sample of 2,000 UK adults

2Based on NHS recommendations of 8 hours sleep per night https://www.nhs.uk/oneyou/be-healthier/sleep-better/

Notes to editors:

Aviva provides life insurance, general insurance, health insurance and asset management to 33 million customers.
In the UK we are the leading insurer serving one in every four households and have strong businesses in selected markets in Europe, Asia and Canada. Our shares are listed on the London Stock Exchange and we are a member of the FTSE100 index.  
Aviva's asset management business, Aviva Investors, provides asset management services to both Aviva and external clients, and currently manages over £350 billion in assets. Total group assets under management at the Aviva group are £490 billion.
Aviva helps people save for the future and manage the risks of everyday life; in 2017, we paid out 98% of all our claims across all our markets and insurance products. We paid £34.6 billion in benefits and claims in 2017.
By serving our customers well, we are building a business which is strong and sustainable, which our people are proud to work for, and which makes a positive contribution to society.
The Aviva newsroom at www.aviva.com/newsroom includes links to our image library, research reports and our news release archive.
For an introduction to what we do and how we do it, please click here www.aviva.com/about-us
Follow us on twitter: www.twitter.com/avivaplc/
Follow us on LinkedIn: www.linkedin.com/company/aviva-plc
For the latest corporate films from around our business, subscribe to our YouTube channel: www.youtube.com/user/aviva
We have a Globelynx system for broadcast interviews. Please contact the Press Officer noted above if you would like to make a booking.
( Press Release Image: https://photos.webwire.com/prmedia/7/230563/230563-1.jpg )
Related Links
WebWireID230563

This news content was configured by WebWire editorial staff. Linking is permitted.
News Release Distribution and Press Release Distribution Services Provided by WebWire.