Aviva is launching a "Mid-Life MOT" – providing targeted guidance on wealth, work and wellbeing for its employees aged 45 and above.
WEBWIRE
–
Thursday, October 18, 2018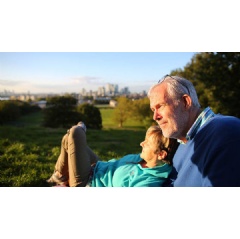 We are committed to ensuring that age is no barrier to opportunity.
The new "Mid-Life MOT" service will launch in 2019 following a successful pilot in 2018.1
The over-45s are the fastest growing population of workers in the UK – growing by more than a quarter of a million people every year - and are set to approach nearly one-in-two workers within the next decade.2
The "Mid-Life MOT" serves three purposes:
Review: Encourages employees to review their wealth, work and wellbeing at this mid-point in their lives
Reposition: Supports employees in their repositioning towards a longer working life
Retain: Supports the retention of valuable skills and experience held by this growing population
The new Aviva "Mid-Life MOT" will include guidance seminars for employees aged 45 and above, covering their wealth, work and wellbeing. These will be delivered in all key Aviva UK locations.3
These face-to-face seminars will be complemented by the following three components:
12-part guide to support those in mid-life4
Direction towards existing government-backed resources to help those in mid-life5
Free 30-minute consultation with a qualified financial adviser to discuss financial needs6
Lindsey Rix, Managing Director of Savings and Retirement at Aviva said:
"We are committed to supporting our employees and today marks the next step in our plans to support them through mid-life and beyond – our fastest growing employee population. 
"Research shows that those in "mid-life" are the most stressed in the UK.7 They are juggling their needs with the needs of those around them. We believe it is important to support our mid-life employees at what can be a challenging time. 
 "In 2018 we successfully piloted the idea of a "Mid-Life MOT". In 2019 we will maintain the momentum by introducing it across the UK. 
"Our "Mid-Life MOT" encourages employees to take time out to review where they are today, and to reflect on where they want to go tomorrow. 
"We also want to send the signal that we value the skills and experience carried by all our employees in mid-life and beyond. We believe this population has much more to give, and much more to gain.  
------
Sources:
1Aviva's 2018 pilot with 100 Aviva UK employees aged 45 to 60 included a series of educational seminars, focused on the wealth, work and wellbeing needs of those in mid-life. Results were very positive with strong demand for the seminars and an increase in confidence and awareness of the support available.
2Source: Office for National Statistics, Labour Market figures, 2018
3Open seminars will be delivered across all major Aviva UK sites – London, Bristol, Eastleigh, Norwich, Sheffield, York, Glasgow, Dorking and Perth. 
4Aviva's "mid-life MOT" guide will cover the following 12 sources of support:
Wealth: Introduction to Aviva's wide range of free online planning tools to support financial wellbeing and retirement planning
Wealth: Introduction to Aviva's one-to-one financial advice service
Wealth: Introduction to government-provided personal finance support, including PensionWise, the Money Advice Service, the Pensions Advisory Service and the State Pension Forecast.
Work: Introduction to Aviva apprenticeship opportunities, for all ages. (Aviva's oldest apprentice today is aged 68)
Work: Introduction to "mid-career reviews", inviting employees and managers to consider longer-term aspirations and development needs
Work: Introduction to Aviva's wide range of free, online learning & development support
Work: Introduction to Aviva's support for "smart working" – e.g. working from home – and phased retirement
Work: Introduction to Aviva's in-house "career coaches", to give one-to-one support for career development
Work: Introduction to government provided work support, including the National Careers Service.
Wellbeing: Introduction to Aviva's wide range of wellbeing support, including access to free physiotherapy and cancer care
Wellbeing: Introduction Aviva's "carers policy", providing a level of support for adult carers as that currently given to carers of young children
Wellbeing: Introduction to government provided health support, including the NHS Health-Check in England.
5Government-backed resources include PensionWise, the National Careers Service and NHS Healthchecks for the over 40s.
6Employees can access more detailed financial advice after the free 30-minute consultation if they choose to .
7Source of "most stressed" statistic: https://www.ons.gov.uk
( Press Release Image: https://photos.webwire.com/prmedia/6/230253/230253-1.jpg )
Related Links
WebWireID230253

This news content was configured by WebWire editorial staff. Linking is permitted.
News Release Distribution and Press Release Distribution Services Provided by WebWire.