Promoting open standards for inter-datacenter networks in cooperation with global partners
NTT has jointly developed with Facebook, etc. flexible control technology for inter-datacenter transmission networks, technology that facilitates virtualization of ICT resources. Its working model will be exhibited at TIP Summit 2018
WEBWIRE
–
Wednesday, October 17, 2018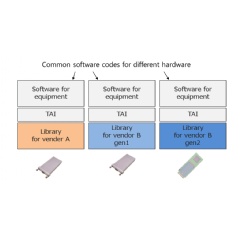 Nippon Telegraph and Telephone Corporation (NTT; Headquartered in Chiyoda-ku, Tokyo, Japan; President and CEO: Jun Sawada) has been collaborating with its global partners through activities in the Telecom Infra Project (TIP, *1). The corporation has developed the Transponder Abstraction Interface (TAI), which facilitates disaggregation between software and hardware in inter-datacenter optical transmission networks. Disaggregating hardware from software can offer incorporation of the latest technologies rapidly in an independent cycle; we aim to increase the added value of Cognitive Foundation® (*2). A working model showing this result will be exhibited at TIP Summit 2018.
The implementation of network technologies as open source software started in Silicon Valley. It creates flexibility for network operators. Projects such as the Open Compute Project (OCP, *3), TIP, etc., encourage newcomers to enter the field and bring innovation to the networking device market. In 2015, OCP officially adopted the Switch Abstraction Interface (*4), a common interface for Switch ASIC developed under the leadership of Microsoft. The same trend can be seen in the optical transmission network market. The Open Optical & Packet Transport (OOPT, *5) project group in TIP, in which many service providers and telecom carriers participate, has proposed white boxes that integrates packet switching and optical transmission functions. Through this method, innovations are designed to transcend corporate and technical boundaries.
Conventionally, the management and control interfaces for devices used in inter-datacenter optical transmission networks have included many elements that were different and often proprietary among vendors. This complicated situation has been a barrier to disaggregation between hardware and software. The TAI construct allows multi-vendor optical network elements to be managed and controlled using common software codes (Fig. 1). Disaggregating hardware from software can offer incorporation of the latest technologies in an independent cycle and fast integration of elements in optical systems at a lower cost.
NTT proposed its first interface specification and architecture to TIP in December 2017. Since February 2018, collaborating with global network operating system (NOS, *6) vendors, original design manufacturing (ODM, *7) vendors, optical vendors and other partners such as Facebook, NTT has driven the effort to define the TAI. Cumulus Networks, IP Infusion, Fujitsu, Edgecore Networks, Oclaro, Fujitsu Optical Components and Acacia Communications participate in the creation of TAI libraries. NOS vendors have incorporated these libraries into their commercial software products.
We have combined the TAI with open source software, such as the Switch Abstraction Interface and SONiC (*8); implemented in a white box system, and demonstrated rapid integration for low-cost development of control software for optical transmission devices. A working demonstration will be exhibited at TIP Summit 2018, operating with an Open Line System (OLS). By defining an open API for the TAI, NTT aims to develop an inter-datacenter optical transmission network that can meet the requirements of a wide range of global partners. Building on this result, NTT will expand its activities into the switching and cellular fields, and continue to promote open standards in collaboration with its global partners through activities in TIP.
*1Telecom Infra ProjectThe Telecom Infra Project (TIP) is a collaborative telecom community founded by Facebook and partners. Launched in February 2016, TIP was started with the goal of accelerating the pace of innovation in the telecom industry. TIP members include operators, suppliers, developers, integrators, startups, and other entities that have joined TIP to build new technologies and develop innovative approaches for deploying telecom network infrastructure. (Reference: TIP web site: https://telecominfraproject.com/ )
*2Cognitive Foundation®The Cognitive Foundation architecture enables remote creation, management and operation of information and communications technology (ICT) resources, from devices and networks to the cloud. "Cognitive Foundation" is a trademark of Nippon Telegraph and Telephone Corporation.
*3Open Compute ProjectThe Open Compute Project (OCP) is a collaborative community focused on redesigning hardware technology to efficiently support the growing demands on compute infrastructure. In 2011, Facebook shared its designs with the public and launched the Open Compute Project and incorporated the Open Compute Project Foundation along with Intel and Rackspace, Goldman Sachs and Andy Bechtolsheim. (Reference: OCP web site: https://www.opencompute.org/ )
*4Switch Abstraction InterfaceThe Switch Abstraction Interface (SAI) defines the API to provide a vendor-independent way of controlling forwarding elements, such as a switching ASIC, an NPU or a software switch in a uniform manner. (Reference: SAI repository: https://github.com/opencomputeproject/SAI )
*5Open Optical & Packet TransportThe Open Optical & Packet Transport project group will define Dense Wavelength Division Multiplexing (DWDM) open packet transport architecture that triggers new innovation and avoids implementation lock-ins. Open DWDM systems include open line system & control, transponder & network management and packet-switch and router technologies. (Reference: TIP web site: https://www.opencompute.org/ )
*6Network Operating SystemOperating system for a network device such as a router, switch or firewall.
*7Original Design ManufacturingDeveloping, designing and manufacturing product is eventually rebranded by another firm for sale.
*8SONiC (Software for Open Networking in the Cloud)Open source software developed by Microsoft, etc.. It dramatically enhances operations and management of network switches. (Reference: SONiC repository: http://azure.github.io/SONiC/ )
( Press Release Image: https://photos.webwire.com/prmedia/6/230197/230197-1.gif )
Related Links
WebWireID230197

This news content was configured by WebWire editorial staff. Linking is permitted.
News Release Distribution and Press Release Distribution Services Provided by WebWire.