Qualia Monaco: Back To Basics!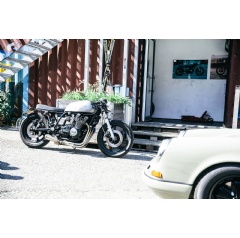 ©Frederik Herregods ©JMVOTOGRAPHY
Classic custom motorcycles are hot! Every rider wants to personalize the machine that they take so much pride in, either by just making a few small DIY modifications here and there or going all-out on a complete rebuild – and all other options in between. Previously, we have talked to some of the biggest names in the business such as Roland Sands and Michael Woolaway. In Munich, we ran in to Daniel Schray who runs Qualia Monaco Bikes, a business at the opposite end of the scale to the Sands' and the Woolies. But that doesn't mean he's any less passionate about bike customisation.
Hi Daniel, we would love to hear your backstory. How did you end up setting up a custom motorcycle business?
I was always intrigued by classic motorcycles and dreamed of owning a Honda CB750 but I couldn't afford it, so I got a Yamaha XJR instead. Then, to make it "my own", I started customising it myself and I changed nearly every part of it. But all the while, the bike had to remain ridable because it was my only bike and I wanted to ride it every day. I think it was only stored away for a few months during the winter. Afterwards, friends started asking me to customise their bikes for them. I documented everything I did and, with the help of a friend who is an amazing photographer, we started an Instagram page and it all took off from there.
How do you approach a build or a customer request?
First, I spend some time with the client. I want to know how they ride and what they'll be using the bike for. All my customers use their bike on a daily basis, so the bikes not only have to look good but they also need to ride really well. If the rider is a tall guy, I might adapt the frame and the seating position to make the bike more comfortable for him, so it's easier to ride.
Comfort over looks? Is that your main priority?
Yes, I think that's a pretty good summary. I really want to make bikes that are good to ride. I don't make show bikes that look amazing but are a pain to ride on a day-to-day basis. Basically, my approach is to make basic modifications to the bike to keep it as simple as possible and that way, I can focus on making it as good as it can be. That's why I use my own bike as a prototype for most of the parts I recommend to my customers. For example, I'll test out a particular seat for suspension for a while – I need to know that it will perform well over time before I would fit it to someone else's bike.
What's your dream build?
Wow, that's an impossible question. Partly because the first thing that I think of are my own favourite bikes, like a 1976 CB 750 but I wouldn't change a thing about it. It's perfect as it is. I really don't know. An enduro bike would be cool. I've been thinking about those bikes a lot lately.
Why did you set up shop in a shipping container? That doesn't seem like the ideal workshop.
Haha! It certainly isn't! Sometimes, it's way too small but I manage... A very famous person in Munich set up this place called the container collective. It's a bunch of containers stacked up and grouped together here in Werksviertel Mitte. Every container is a business – there are bars, events agencies, pop-up shops, and loads more, and I wanted to be a part of it. They also do a lot of events here like Luftgekühlt, which is good for my business because it means I can reach more potential customers and meet them in person. There are some drawbacks, but also a lot of positives.
( Press Release Image: https://photos.webwire.com/prmedia/7/229996/229996-1.jpg )
Related Links
WebWireID229996

This news content was configured by WebWire editorial staff. Linking is permitted.
News Release Distribution and Press Release Distribution Services Provided by WebWire.