Where's the Money?
One in every seven person on Earth is now middle class. And China alone accounts for half of the roughly 1.1 billion middle-class people worldwide, finds the Allianz Global Wealth Report 2018...
WEBWIRE
–
Wednesday, September 26, 2018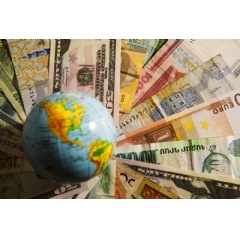 Contrary to common perception, the world is taking huge strides in lifting people out of extreme poverty. One in every seven person on the planet now belongs to the global wealth middle class. That's a whopping 1.1 billion people!
But don't uncork that expensive bubbly yet.
Inequality is actually widening in some countries, which were earlier known for their policies that aim at a fair distribution of wealth, according to the Allianz Global Wealth Report 2018. These include Denmark, Sweden and Germany.
What's even more interesting is that just one country now accounts for half of the global wealth middle class. China's climb up the global wealth ladder has been truly impressive.
In 2000, half of the roughly 500 million people that qualified as global middle class came from Japan, North America and Western Europe. At the end of last year, China alone took this crown, with the share of these industrialized regions shrinking to a quarter, shows the report.
Over the past two decades, around 500 million Chinese people have joined the global wealth middle class and 100 million more are part of the upper class.
"We live in a world of a great paradox," says Michael Heise, chief economist of Allianz. "When future historians look back at our time they will say that the last 30 years probably saw the most dramatic improvement in living standards in human history. "This should be a moment of celebration in the West as this is the culmination of its great project of improving the human condition. However, the West has probably never been more depressed."
A reason is the growing inequality being seen in the "old" industrialized regions, particularly Europe and the United States. There, those who toil for a living rather than own the means of production have experienced deteriorating conditions. Labor markets have made a slow and incomplete recovery from the 2008 global financial crisis, which adds to the perception that there is a growing gulf between the rich and the poor.
National wealth distribution
While the world on a whole is becoming more 'equal' in terms of wealth, some countries are experiencing a greater divide on a national level. To gauge the national wealth distribution, the latest Allianz Wealth Report is introducing the Allianz Wealth Equity Indicator (AWEI). The indicator throws up some surprise names in terms of higher inequality.
"Countries where the distribution of wealth is distorted strongly include Denmark, Germany and Sweden," says Heise. "In Scandinavia, this may be due to high debt levels among large parts of the population; in Germany, the country's late reunification and the dependence of many on the state pension system without having created a complementary capital-funded pillar are to blame."
Surprisingly, some countries where wealth is distributed relatively evenly include the euro crisis countries of Greece, Italy and Spain. While austerity programs have led to growing inequality, the countries have traditionally spread assets widely.
Securities stage a return
The report also highlights the changing sentiment of savers.
In the aftermath of the global financial crisis, savers turned wary, steering clear of shares and investment funds. They became more confident last year, pumping significant inflows into this asset class. At the end of 2017, investment in stocks represented over 42 percent of all savings. Unsurprisingly, the stock market's gain was the bank deposit's loss. Bank deposits across the world received just 42 percent of new investments compared with 63 percent in 2016.
"Savers finally recognized the signs of the times," says Kathrin Brandmeir, co-author of the report. "The fading love for bank deposits, particularly in the 'old' industrialized countries, came not a second too early. Inflation rates in these countries tripled in 2017 – albeit still on a low level. As a result, losses in purchasing power shot up, too."
So which country was the 'richest' in 2017 in terms of per capita financial assets? Find the answers in the Allianz Global Wealth Report 2018.
About Allianz
The Allianz Group is one of the world's leading insurers and asset managers with more than 86 million retail and corporate customers. Allianz customers benefit from a broad range of personal and corporate insurance services, ranging from property, life and health insurance to assistance services to credit insurance and global business insurance. Allianz is one of the world's largest investors, managing over 650 billion euros on behalf of its insurance customers while our asset managers Allianz Global Investors and PIMCO manage an additional 1.4 trillion euros of third-party assets. Thanks to our systematic integration of ecological and social criteria in our business processes and investment decisions, we hold the leading position for insurers in the Dow Jones Sustainability Index. In 2017, over 140,000 employees in more than 70 countries achieved total revenue of 126 billion euros and an operating profit of 11 billion euros for the group.
These assessments are, as always, subject to the disclaimer provided below.
( Press Release Image: https://photos.webwire.com/prmedia/6/229265/229265-1.jpg )
Related Links
WebWireID229265

This news content was configured by WebWire editorial staff. Linking is permitted.
News Release Distribution and Press Release Distribution Services Provided by WebWire.