Johnson & Johnson Makes the 2018 Working Mother 100 Best Companies List
The company has made the prestigious list for over 30 years—and this year's inspiring Working Mother of the Year, Tonja Danowski, is one shining example of why Johnson & Johnson is such a leader in helping women grow their families and their careers.
WEBWIRE
–
Wednesday, September 26, 2018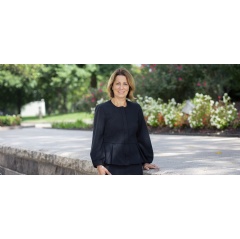 "We are an awesome company and community filled with people who are equally, if not more, deserving of this recognition."
Juggling motherhood and a successful career is no easy feat. But Johnson & Johnson has a long history of providing extra support to working moms.

The company was a pioneer in 1944, when it provided working moms six months of unpaid maternity leave with a guarantee that they wouldn't lose their seniority upon returning to work—an unusual-for-the-time offering. Today, working parents (both moms and dads) are guaranteed eight weeks of paid leave following a child's birth or adoption. And moms in the U.S. who have given birth can take up to 17 weeks of paid leave, and up to a year of leave without pay.

And that's not all: Nursing mothers who travel for business can ship their breast milk home at no cost using a temperature-controlled delivery service; U.S. employees can take advantage of adoption assistance benefits up to $20,000, as well as fertility treatment benefits up to $35,000; and there are childcare centers for employees at six company locations.

These are just some of the reasons why Johnson & Johnson has, for the 33rd year in a row, been named to Working Mother magazine's list of 100 Best Companies, which spotlights organizations that prioritize the needs of working parents—and this year Johnson & Johnson placed in the =14216]top 10.

Along with this recognition, the publication chooses one exemplary Working Mother of the Year from each winning company—someone who has overcome professional or personal challenges to make an impact on her company and community. All of these moms will be recognized at this year's WorkBeyond Summit in New York City on October 8.

Johnson & Johnson's 2018 Working Mother of the Year is Tonja Danowski, 50, Vice President, Business Development, Johnson & Johnson Vision Care—and she certainly embodies what the award is all about.

[p"I'm Inspired Every Day by the Son I Lost"
The New Jersey resident and mom to Hunter, 9, and Sophia, 4, has been with Johnson & Johnson for the past 21 years. She currently oversees mergers and acquisitions for the company's Vision Care business.[/p]

Danowski's second-born child, Riley, was born with a rare degenerative disease that ultimately took his life at age 3.

Riley was often in and out of hospitals and, when he was home, required 24/7 care. Without family living close by to help during that difficult time, Danowski says she leaned on her colleagues, who not only worked with her schedule but also helped look after her older son while she and her husband, Rob, were with Riley in the hospital.

"We are an awesome company and community filled with people who are equally, if not more, deserving of this recognition. It takes a great team to be a successful working parent, and I believe we have the best team out there."

"I had the full support of people across the organization who understood what my family was going through and never once questioned or pushed back when I needed to take time away from the office—you never feel the need to apologize in any way, shape or form for what you need to do for your family," Danowski says. "It's a caring company that puts people very central—and that really was exemplified when my son was sick."

After Riley's passing, Danowski was inspired by the incredible amount of love and joy he brought during his too-short life and drew on that to make a positive impact on others.

At Johnson & Johnson, she is part of the steering committee for the company's WiSTEM²D program, which encourages girls ages 5 to 18 to pursue degrees and careers in the fields of science, technology, engineering, math, manufacturing and design. She also helps lead the program's undergraduate component, which helps support young college women studying STEM.

In addition to securing financial grants for these students, Danowski invites them to attend executive panels, where they can hear from STEM graduates like herself. "It's really exciting that we can shape and impact these young women in such a positive way," she says. "Just by providing an example, we can really unlock what they can become."

That advocating spirit extends into Danowski's personal life, too. Last year, when Hunter's elementary school sent a letter announcing that its parent-teacher organization would have to shutter due to lack of leadership, Danowski and her friends agreed to take the reins. She's now serving her second term as president of the organization, which raises about $80,000 annually for the school's extracurricular programs and clubs.

With this kind of passion for helping future generations, it's no surprise that Danowski is Johnson & Johnson's Working Mother of the Year. Still, she says she was "stunned and flabbergasted" when she heard the news.

"We are an awesome company and community filled with people who are equally, if not more, deserving of this recognition," she says. "It takes a great team to be a successful working parent, and I believe we have the best team out there."
( Press Release Image: https://photos.webwire.com/prmedia/7/229234/229234-1.jpg )
Related Links
WebWireID229234

This news content was configured by WebWire editorial staff. Linking is permitted.
News Release Distribution and Press Release Distribution Services Provided by WebWire.