Daimler kicks off into IAA Commercial Vehicles 2018 with approximately 500 journalists and more than 100 vehicles
Hanover –
WEBWIRE
–
Monday, September 17, 2018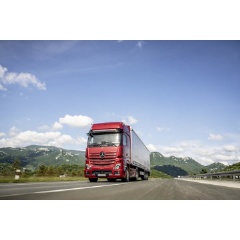 On the eve of the International Motor Show, media representatives from all over the world can convince themselves of the innovative strength of Daimler's commercial vehicle divisions
Approximately 40 trucks, buses and vans are available at the airport grounds for demonstrations and test drives
About 70 vehicles on 17 000 square meters at the Hannover Exhibition Center
Martin Daum, Member of the Board of Management of Daimler AG responsible for Daimler Trucks & Buses: "We don' t just talk about innovations, we deliver them. That's exactly what our participation in IAA Commercial Vehicles is all about. We offer our customers concrete products and solutions with clear customer benefits, especially in the trend areas of electric, automated and connected driving." 
Tomorrow, on Tuesday, the day before the 67th IAA Commercial Vehicles in Hannover, the world's most successful commercial vehicle manufacturer will start its activities for the two-week trade fair. Around 500 international media representatives will have the opportunity to personally test the complete range of current trucks, buses and vans from Daimler. This Product Experience will take place in and around Hangar 1 at Hanover Airport. Where aircraft normally take off and land, about 40 commercial vehicles will be presented and tested for their driving characteristics by proven experts. From robust pickups to all-electric city buses and trucks to partially-automated long-distance trucks – everything will be on display. The guests will be able to convince themselves of the products and concrete innovations that Daimler delivers to its customers – on the road and with practical relevance.
Martin Daum, Member of the Board of Management of Daimler AG responsible for Daimler Trucks & Buses: "We don't just talk about innovations, we deliver them. That's exactly what our participation in IAA Commercial Vehicles is all about. We offer our customers concrete products and solutions with clear customer benefits, especially in the trend areas of electric, automated and connected driving. We utilize our innovation-DNA, our global synergies, our many years of experience, and the trust of our customers to deliver what we have promised: trucks and buses that make transport even more efficient, safer and more effective."
By truck onto the runway – experiencing commercial vehicles at Hannover Airport
Commercial vehicles are there to be used. That's why 500 journalists will get to know the new products not only in theory, but also in practice. The vehicles can be experienced and tested on site in full action: either during a ride together with a professional driver or independently in the driver's seat, with feet on the pedals and hands on the steering wheel. A total of eleven trucks, six buses and nine vans will be driven and tested. For pure driving pleasure, about 25 kilometers of test track are available – five kilometers on a closed runway and 20 kilometers on public roads.
Up to 400 employees worked on the planning and construction of the Product Experience nearly one year. More than two kilometers of steel beams were used for the event, twelve kilometers of cable were laid, 2000 lights and nearly 100 loudspeakers were installed.
Daimler at IAA Commercial Vehicles 2018 – an exhibition of superlatives
"Driving Tomorrow" is the motto of IAA Commercial Vehicles 2018 in Hannover on September 20-27, and no-one embodies that motto better than Daimler. It is already tradition that Hall 14/15 at the exhibition center in Hannover is the "Daimler Hall." About 70 trucks, buses and vans will demonstrate Daimler's world of commercial vehicles. And this is to be taken literally: in addition to the vehicles for Europe, Daimler's Trucks & Buses for the World unit will present its global presence with vehicles for export markets in North America and Asia.
This includes the all-electric school bus, Jouley, from Thomas Built Buses for the North American market, a small series of which will go into production in 2019, and the Super Great, the truck flagship from FUSO, for the Asian market.
The most successful manufacturer of commercial vehicles will present its products on a total area of approximately 17 000 square meters – equivalent to almost three football pitches. This large space is essential to cope with the crowds of interested visitors. Approximately 250 000 people visited Daimler's trade-fair presentation during IAA 2016.
The division's participation in the trade fair with its six brands is the result of meticulous preparation: Construction work took eight weeks and the planning of the trade fair by an experienced team took about a year. The hall floor is covered with 2000 square meters of carpet and 9000 square meters of laminate. The stand architecture is supported by 500 tons of steel and framed by 2.2 kilometers of LED tubes. 2000 spotlights show all the exhibits in the right light; they are mounted on 5.5 kilometers of cross members and 11 kilometers of aluminum tubing. 33 kilometers of cables secure the power supply.
Above all, however, people are at the focus of attention: about 1000 employees will look after customers and trade visitors, whether at information counters or in catering, and especially with advice and expertise at the numerous exhibits.
World premieres of trucks, buses and vans
Whether Daimler Trucks, Daimler Buses or Mercedes-Benz Vans; whether vehicles or services – Daimler is a pioneer for environmentally friendly and resource-conserving drive systems, safety, automated driving, the megatrend of digitization and connectivity, and digital services.
A few examples of this from Daimler Trucks are the spectacular new Mercedes-Benz Actros with Active Drive Assist for semi-automated driving, the all-electric eActros, the Actros NGT powered with natural gas and the FUSO eCanter.
Daimler Buses will focus on the world premieres of the Mercedes-Benz eCitaro and the new minibuses, as well as the IAA premieres of the Mercedes-Benz Tourismo and Setra TopClass S 531 DT.
With the Active Brake Assist 4/5 emergency braking assistant, Preventive Brake Assist for city buses and Sideguard Assist for trucks and buses, Daimler is once again setting new standards for assistance and safety systems. And with Active Drive Assist in the new Actros, semi-automated driving is being introduced for the first time in a series-production truck.
Mercedes-Benz Vans defines the state of the art for vans today with the new Sprinter together with the all-electric eSprinter and eVito, while the Vision URBANETIC study provides a glimpse of a completely new way of using vans in the future. With its concept of a fully electric and autonomous chassis combined with exchangeable bodies for transporting goods or passengers, the van is ready for round-the-clock operation in the cities of tomorrow.
About the new Mercedes-Benz Actros
The new Actros is the undisputed star among trucks at the IAA. The mirror-cams, with numerous additional functions instead of conventional exterior mirrors, support the driver with significantly improved all-round visibility and also improve the truck's aerodynamics. Active Drive Assist opens the way to semi-automated driving through cooperation between various assistance systems. If required, the new active steering system intervenes with corrective steering movements. The new Active Brake Assist 5 can now also react to potential danger for pedestrians with full emergency braking. A key component of the assistance systems of the new Actros is Sideguard Assist, which was successfully launched as a world first two years ago.
About the new Mercedes-Benz eCitaro
The Mercedes-Benz eCitaro takes electric mobility with city buses to a new level. The eCitaro impresses with previously unknown energy efficiency, using innovative components. The range of the new eCitaro already covers around 30 percent of city-bus applications. With the next battery generation, solid batteries and fuel cells as a range extender, that coverage will increase to almost 100 percent in just a few years.
The eCitaro is embedded in Daimler Buses' eMobility System. This accompanies transport operators with the provision of thorough advice to support with intelligent charging management and employee training to specific services. The eMobility System and the Mercedes Benz eCitaro thus pave the way for the changeover to electric mobility with buses in cities.
About the new Mercedes-Benz Sprinter and the study Vision URBANETIC
Sprinter, Vito, Citan, X-Class – Mercedes-Benz Vans is the full-range supplier of light-duty commercial vehicles. This year's IAA focuses on the new Sprinter, the bestseller among large vans. Whether panel van, tourer or chassis; front-wheel drive, rear-wheel or all-wheel drive; low-emission diesel engine, all-electric or as a Concept Sprinter F-CELL with fuel cell drive – the Sprinter has the right answer to all questions, today and tomorrow. From an attractive design to new safety and assistance systems, from standard connectivity to a completely new cockpit with a groundbreaking infotainment system, the Sprinter continues to extend its leading role in the category of about 3.5 tons gross vehicle weight.
The spectacular Vision URBANETIC study shows what vans could look like the day after tomorrow. The basis is an autonomous and all-electric chassis in a completely new design. With exchangeable bodies for goods transport and passenger transport, the van takes on different tasks in urban areas depending on the day of the week, time of day and individual requirements. Behind this is an IT structure that analyses supply and demand in a defined area in real time. This results in an autonomous fleet that is efficiently and flexibly oriented to current mobility requirements. The ambitious goal is to transport more people and goods with fewer vehicles on an almost unchanged road infrastructure.
Pictures, graphics and videos of the event are available on the Internet as of September 18, 03:00 p.m.: d.ai/IAA2018
( Press Release Image: https://photos.webwire.com/prmedia/6/228819/228819-1.jpg )
Related Links
WebWireID228819

This news content was configured by WebWire editorial staff. Linking is permitted.
News Release Distribution and Press Release Distribution Services Provided by WebWire.