DuPont Nutrition & Health's New Naturally Sourced Emulsifier Beads Enable Efficient Production
Experience the leading technology in emulsifier processing with DIMODAN® HP 90-M, the latest addition to the DuPont™ Danisco® ingredient range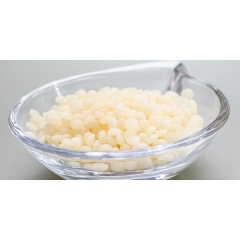 DuPont Nutrition & Health has developed a new, naturally sourced monoglyceride emulsifier that brings food manufacturers improved production and handling efficiencies.
Monoglycerides are among the most widely used emulsifiers in the food industry, but they can become lumpy under certain conditions. Many food manufacturers faced a challenge with product flowability when using powdered, inhomogenous emulsifiers. This led DuPont Nutrition & Health to develop the unique beaded format of DIMODAN® HP 90-M – a homogenous emulsifier that enhances food manufacturers productivity.
DIMODAN® HP 90-M from the DuPont™ Danisco® ingredient range comes in a beaded format that helps reduce lump formation, resulting in better product flowability. In addition, dust formation is significantly reduced during production, leading to improved safety and health conditions for the handlers. DIMODAN® HP 90-M delivers the same functionalities and quality as existing monoglyceride emulsifiers and can be applied in various applications including margarine, non-dairy creamers, whipping gels and many more applications.
"Standard monoglyceride emulsifiers come in a fine, powdered format with inhomogeneous particles that ultimately cause lumps and flow-related issues," said Sun Ligong, regional product manager. "Our beaded format is coarse with more homogeneous particles that prevents lumping and increases flowability. This brings a number of enhancements to the production and shipping stages for our customers who now have products with more consistency."
DIMODAN® HP 90-M is a naturally and sustainably sourced emulsifier, based on palm oil. As of January 2017, DuPont Nutrition & Health completed its switch to 100% certified sustainable palm oil and palm oil derivatives used in its global emulsifier production. This means that the company's entire global range of palm-based emulsifiers is now based on RSPO-certified sustainable palm oil and derivatives, which promotes the production of palm oil with greater consideration of its environmental and social impacts.
 The DIMODAN® HP 90-M is part of the broad DIMODAN® range from DuPont™ Danisco®, which is designed to help food manufacturers develop and produce hydrogenation-free products. Based on sunflower, rapeseed, palm or soya bean oil, these emulsifiers are commonly used in bakery, oils, fats, dairy, frozen desserts, confectionery and plastics, and are available in various formats and packaging.
For more information, visit http://www.danisco.com/product-range/emulsifiers/dimodanr/
About DuPont™ Danisco®
DuPont™ Danisco® is the brand for a range of ingredients that help provide enhanced bioprotection, an improved nutritional profile, and better taste and texture with greater cost efficiency and lower environmental impact, meeting the needs of manufacturers of food and beverages, dietary supplements and pet food. Through the work of the global network of food scientists and technologists in DuPont, the Danisco® range is supported by a uniquely broad spectrum of know-how across applications and processing. www.danisco.com
 
About DuPont Nutrition & Health
DuPont Nutrition & Health, a DowDuPont Specialty Products Division business, combines in-depth knowledge of food and nutrition with current research and expert science to deliver unmatched value to the food, beverage, pharmaceutical and dietary supplement industries. We are innovative solvers, drawing on deep consumer insights and a broad product portfolio to help our customers turn challenges into high-value business opportunities. More information is available at www.food.dupont.com
 
About DowDuPont Specialty Products Division
DowDuPont Specialty Products, a division of DowDuPont (NYSE: DWDP), is a global innovation leader with technology-based materials, ingredients and solutions that help transform industries and everyday life. Our employees apply diverse science and expertise to help customers advance their best ideas and deliver essential innovations in key markets including electronics, transportation, building and construction, health and wellness, food and worker safety. DowDuPont intends to separate the Specialty Products Division into an independent, publicly traded company. More information can be found www.dow-dupont.com
( Press Release Image: https://photos.webwire.com/prmedia/6/227682/227682-1.jpg )
Related Links
WebWireID227682

This news content was configured by WebWire editorial staff. Linking is permitted.
News Release Distribution and Press Release Distribution Services Provided by WebWire.