Leonardo supports the Italian Air Force's participation in 'Spartan Alliance', a virtual, networked air training exercise for complex missions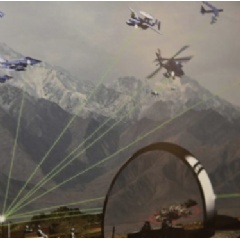 • Leonardo's RIACE system networked Air Force sites and operational assets, including the Air Force Experimental Flight Department's Integration Test Bed, Remotely-Piloted Air Systems (RPAS) and air defence systems
• A single synthetic "battlefield" shared between all simulators allowed participants to interact and jointly carry out mission activities 
• RIACE is another example of Leonardo's expertise in advanced simulation and training, with the Spartan Alliance exercise conducted immediately following the launch of the Italian Air Force/Leonardo International Flight Training School
Leonardo continues to work with the Italian Air Force to deliver advanced training and simulation activities. On the 18th-20th July, immediately following the public launch of the innovative public-private partnership between Leonardo and the Italian Air Force to create an International Flight Training School, the Company supported the Italian Air Force's participation in the 'Spartan Alliance' virtual air exercise. The collaboration saw Leonardo provide the Company's RIACE (Realistic Intelligent Agent Computer Environment) system, a distributed training solution that generates complex, realistic scenarios that replicate operational missions. RIACE brought together a number of different sites and assets into a merged synthetic environment, including Tornado, Eurofighter, T-346 and Predator aircraft, the Integration Test Bed at the Pratica di Mare air base, C2 systems, missile-defence systems and Joint Terminal Attack Controller (JTAC) units.
RIACE was developed to make the best use of Italian Air Force's existing simulation capabilities, maximising and expanding their training functionality and performance. During Spartan Alliance, the system proved its ability to deliver collective training in an artificial environment, allowing pilots flying in aircraft simulators at geographically-separate bases to train inside a common virtual scenario. Interaction within the simulated environment was 'man-in-the-loop', meaning that real people were engaged within an artificial environment. RIACE allows pilots to train for challening and complex scenarios, to interact with the command and control chain and to practice with allied forces in joint and coalition missions. The RIACE solution can also be used to test new systems and experiment with new tactics. All users involved (air crew, command and control, operations command, ISR systems, air traffic control and ground support) can take part in mission preparation and training, interacting with each other while remaining at their home sites.
With the support of the simulation infrastructure developed by Leonardo, the Italian Air Force was able to demonstrate its capabilities as one of the five leading military nations to take part in the Spartan Alliance: Italy, the US, the UK, Germany and France. 
The simulation expertise demonstrated during the Spartan Alliance exercise underpins the International Flight Training School, announced by Leonardo on the 17th of July. The launch of the IFTS marks Leonardo's entry into the market for military pilot training services. The IFTS is designed for pilots which will eventually fly front-line fighter jets, although in future the School's activities could expand to include training pilots of other fixed-wing aircraft, rotorcraft and Remotely-Piloted Air Systems (RPAS). The IFTS is based on a strong partnership between Leonardo and the Italian Air Force, enabling operational synergies and opening up new markets and opportunities for international collaborations. It will benefit from the technical excellence of an integrated training system based on the M-346 aircraft and innovative Live, Virtual and Constructive (LVC) simulation technology.
( Press Release Image: https://photos.webwire.com/prmedia/6/226889/226889-1.jpg )
Related Links
WebWireID226889

This news content was configured by WebWire editorial staff. Linking is permitted.
News Release Distribution and Press Release Distribution Services Provided by WebWire.