Coors Light partners with publishers and adventurers in a play to reach more drinkers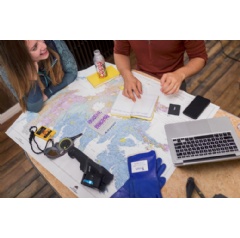 Coors Light sent Andrés Ruzo, a National Geographic Explorer and a geothermal scientist, to Iceland to explore volcanoes. It teamed up again with the publication to send oceanographer and submarine pilot Erika Bergman to Costa Rica to experience the world from a perch atop a jungle canopy.
The brand is sending British photographer Ruben Wu to Peru to capture pictures of glaciers as part of a partnership with CNN's Great Big Story. And it's catching big-wave surfer Emily Erickson of Hawaii as she takes on the giants off the coast of Chile in a tie-up with Outside Magazine.
By partnering with trusted media outlets to tell the stories of eight explorers and adventurers, the country's No. 2-selling beer is making its biggest push yet into nontraditional advertising, attempting to reach a generation of drinkers who watch less traditional television and possess a nearly impenetrable shield against traditional advertising. Coors Light this summer is diving headlong into branded content with partnerships that the advertising industry magazine Adweek calls "anything but boring."
The approach is driven by "the fact that drinkers are becoming harder to reach — they're watching less TV and spending more and more time on digital and mobile — a trend that's even more pronounced with today's 21-to-34-year-olds," says Jamie Lugo, an associate marketing manager for the brand. "Platforms like Nat Geo have millions of followers around the world, and that gives us a huge distribution platform to share our message with hard-to-reach drinkers."
National Geographic is the No. 1 brand on Instagram with more than 89 million global followers. It reaches more than 20 million consumers between ages 21-to-34, a key demographic for Coors Light.
With the campaign, Coors Light is aiming to reach drinkers with messages rooted in authenticity — messages, in other words, that don't feel like traditional television commercials. "We're trying to be authentic to our brand and authentic to each medium," Lugo says.
Each piece focuses on how the brand "celebrates the explorer spirit and those who thirst for more," a key tenet of its campaign and a recurring theme in its latest round of TV spots, Lugo says.
As part of Coors Light's partnership, each publication captured footage for branded documentaries, social posts and other videos and stories posted to their websites and social media channels. Each features an intro, outro or embedded messaging or images that outline the parallel between Coors Light and its provenance with each explorer and their journey. The first story, featuring Ruzo, landed on the Nat Geo website last week.
"The Coors Light brand wanted to be able to show their consumers — their fans — that they are about ambition, they are about doing things on a much bigger scale as well and seeing the world in new ways," National Geographic Senior Vice President of Branded Content Michael Wiese told Adweek. "We're both on a quest to go further together."
Lugo says all of the explorers the brand is featuring are "restless spirits always looking for the next big adventure. We want to be the brand that celebrates the spirits within them and refreshes them for what's next."
The project runs for the rest of the year, with new releases rolling out on a frequent cadence through the end of the year, Lugo says.
Ryan Marek, vice president of marketing for Coors Light, says the brand is not moving away from traditional channels like TV, radio and out-of-home ads like billboards, banners and the like, which "remain a critical component" to reach drinkers.
But, he says, "it's also not lost on us that traditional viewership continues to wane. Year over year, ratings go down and our consumers are harder to reach. We have to find new channels and mediums to really engage in conversations with them."
( Press Release Image: https://photos.webwire.com/prmedia/7/226845/226845-1.png )
Related Links
WebWireID226845

This news content was configured by WebWire editorial staff. Linking is permitted.
News Release Distribution and Press Release Distribution Services Provided by WebWire.