How to meet consumer expectations for a successful rollout of 5G services
The old saying "the customer is always right" still rings true in the era of 5G. To ensure its success, Ericsson has put together the best of its consumer studies and business insights to offer service providers a roadmap for the successful rollout of 5G.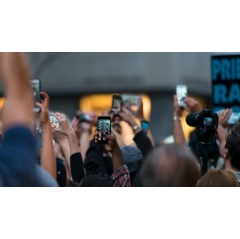 Commercial rollouts of 5G will start this year yet consumer perceptions remain unclear for many. What consumers expect, and how service providers can ensure that 5G is a success for consumers is the topic of our latest insights.
Ericsson ConsumerLab interviewed smartphone users across 50 countries to get a grasp on what factors will drive 5G success for consumers. Our conclusion: consumers don't want 'just another G' – they want a whole new experience.
To boil this down, Ericsson has meticulously matched the consumer insights with business and network evolution advice and came up with four areas for service providers to focus on:
1) Satisfying customers' need for more
2) 5G to be better than Wi-Fi
3) Apps, services, and devices for the 5G era
4) Keep 5G real for early adopters
These areas are outlined here with consumer insights and proposed solutions:
Satisfying customers' need for more
About 30 percent of smartphone users expect 5G to deliver speeds faster than current 4G speeds, and data use is a key driver for the demand in speed.
The solution: Build capacity where it's needed. Evolving the network towards 5G is the key to keep up with the demand for higher speeds and quality user experience. Consumers are more likely to remember bad experiences. To ensure cost-efficiency while delivering quality network coverage, the deployment of 5G capacity should start with the most congested sites.
5G to be better than Wi-Fi
A third of global consumers who prefer Wi-Fi for factors such as speed, reliability, security and video experiences, expect 5G to outperform Wi-Fi.
Solution: Challenge consumers' perception of Wi-Fi.  5G is an opportunity to challenge consumers' perception that Wi-Fi is a better value for money. With a single mobile service, based on a combination of 4G and 5G, consumers will gain a streamlined user experience, and Wi-Fi passwords may finally become a thing of the past.
Apps, services and devices for the 5G era
Half of global consumers want to upgrade to a 5G handset within a year of networks being available, while 18 percent say they will upgrade to a 5G handset as soon as networks are ready. Over 40 percent say that a whole new class of devices will be needed to handle 5G speeds.
Solution: Reveal 5G potential through iconic moments. Consumers won't necessarily pay more for mobile broadband just because it's delivered over 5G. The higher revenue potential must come from true customer-added value. New services will play a crucial role, along with use cases that bring the benefits of 5G. An iconic device may well be what's needed but long term, consumers will need several iconic moments from an aligned ecosystem of device and chipset makers, app developers, and service providers to truly show the potential of 5G technology.
Keep 5G real for early adopters
The success of 5G will hinge on its appeal among so-called 5G forerunners who represent 14 percent of global smartphone users. This tech-savvy consumer segment has high expectations on 5G. Marketing the new technology will require particular attention to get the most out of launching it early. Our study shows that over half of global consumers – especially the early adopters – agree that 3G services were marketed as 4G services, before 4G was widely available, and they expect the same to happen with 5G.
Solution: Continuously evolve the network and your marketing, stepwise. The deployment of 5G should be done gradually over time as an efficient process to boost the capacity of current 4G networks and enable customers to experience regular, incremental improvements over time. Rather than marketing 5G as a stand-alone technology – which could cause confusion – a gradual approach will allow operators to market new releases in a stepwise way and eventually focus on new services enabled by 5G.
Read more about the Factors for 5G Consumer Success
( Press Release Image: https://photos.webwire.com/prmedia/6/225263/225263-1.jpg )
Related Links
WebWireID225263

This news content was configured by WebWire editorial staff. Linking is permitted.
News Release Distribution and Press Release Distribution Services Provided by WebWire.