The secrets of Dunlopís Isle of Man TT tyre design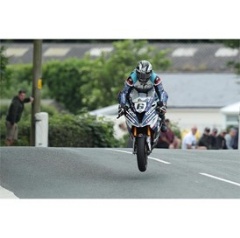 For the unique challenges of the Isle of Man TT Dunlop focuses on three areas; safety, stability and performance. The TT course is pretty unique at over 37 miles in length, racing through towns, countryside and up on to the mountain section. This presents many challenges as the tyres need to deliver consistent performance over a large range of conditions, including frequent asphalt changes, changes in temperature between the start and the mountain section, and the many compressions, manhole covers, cats-eyes, road markings & surface imperfections.†
Dunlop tyres have been designed to optimise performance and deliver more mileage without compromising handling and grip. Dunlop relentlessly pushes to improve every year they return to the island. They focus on not only producing tyres that offer outright pace, but also provide riders with the confidence to push throughout a long and physically challenging race so that by the final lap of a six-lap race they still have the same confidence and feeling as they did on lap one.†
Heat Control Technology
The first challenge for the tyres is the race start. Because thereís no warm-up lap everything must be as close to the optimum at the first turn as possible. The tyres spend longer than usual without the warmers before the start, so Dunlop has developed a technology called HCT (Heat Control Technology), which allows the tyres to retain their heat longer. HCT also prevents temperature spikes during the race, allowing the tyre to deliver consistent performance whether it is on a high-speed straight, or a high G turn. This technology has delivered again and again for Dunlop, bringing success not just at the Island, but in the FIM Endurance World Championship.†
NTec
Riders speaks about large compressions, jumps and wheelies, all of which feature frequently around the Island. To help with the undulating and inconsistent nature of the circuit, Dunlop employs its NTec casing to the tyres, a proven technology which has been continually evolving since it was first introduced to road racing in 2007. The NTec casing is particularly durable and designed to perform in extreme conditions and is an extremely stable platform in terms of performance.†
Jointless Belt (JLB)
The feeling of stability helps increase the confidence riders have in the tyres, whether it is in a high-speed turn or on one of the many jumps on the course and being smooth and consistent is key for confidence and understanding. Dunlopís Jointless Belt Construction (JLB) reduces tyre growth due to centrifugal forces at high speeds and results in smoother handling with straight line stability and reduced Ďweaveí effect. Dunlop has also focused on the damping of the tyres especially on the jumps or large compressions. The tyres will go through a large deflection and then immediately recover reducing the time the riders have to wait to be 100% committed.†
Jointless Tread (JLT)
Dunlopís Jointless Tread (JLT) helps ensure stable performance over the race distance. For a Superstock race distance of four laps (151miles), most riders will use one set of tyres for the entire race to reduce the time lost in the pits, though Dunlop does offer the option of a two-lap tyre. During their preparations, Dunlop will often run tyres to, and sometimes beyond, race distance to gauge performance, often finding that timings on the final mile are close to, if not equal to the first. Jointless Tread technology allows multiple compounds to be precisely positioned on the tyre to achieve advantages in durability, wear resistance, grip from the tread centre to shoulder, and high-speed tyre stability. This is great for Dunlopís riders, as it means they think less about tyre management, and minimise their time lost in the pits.†
Multi-Tread Technology (MT)
The TT circuit has famous high-speed straights and intricate, slow corners, a combination thatís difficult to master. On the long straights, the shoulders of the tyre cool so when the rider leans through the corner, the colder compound material might not have the grip thatís needed to carry speed through the corner. Dunlopís Multi-Tread compound technology was developed as an answer to dealing with situations like this. By introducing different compounds for different parts of the tyre, riders can have the best of both worlds Ė a centre compound that is durable, despite the high heat generation from straights, with a softer compound providing more grip through the corners.
Dunlopís Support Team
All Dunlopís effort to deliver the ideal tyre for the TT is supported by meticulous preparation. Dunlop provides a world class support service to the TT, with its most experienced race support staff. The trackside team helps the race teams with advice on tyre selection, tyre pressures and warmer usage, ensuring by race day, the optimum tyre performance has been found. The engineers will be frequently seen in and around the pitlane, collecting data to feed back to the teams and tyre designers.
( Press Release Image: https://photos.webwire.com/prmedia/6/225012/225012-1.jpg )
Related Links
WebWireID225012

This news content was configured by WebWire editorial staff. Linking is permitted.
News Release Distribution and Press Release Distribution Services Provided by WebWire.