HP Proves Diversity is Good for Business
Introduces Program Details and Partnerships in Advance of Cannes Lions - New #MoreLikeMe Initiative for Diverse Creatives
PALO ALTO, California –
WEBWIRE
–
Friday, June 1, 2018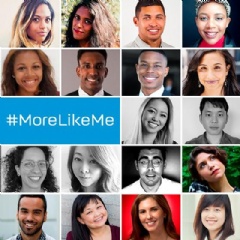 News Highlights:
In advance of the Cannes Lions Festival, HP unveils new data that suggests a more diverse marketing team – client, agency, production house – helps drive up purchase intent and media effectiveness
Introduces participants in Cannes Lions partnership program – #MoreLikeMe – a pilot for racially and ethnically diverse talent; announces Facebook joins the program
Announces mainstage session at Cannes Lions for HP CMO Antonio Lucio including British Vogue Editor-in-Chief, Edward Enninful, BAFTA-nominated actress, Thandie Newton and ADCOLOR founder, Tiffany R. Warren
Announces technology partnership with The Female Quotient's Girls' Lounge 
 Today, HP unveiled new data proving that ads created by diverse teams perform better. Measuring the impact of HP ads created before and after its 2016 diversity initiative was launched, Brand Monitor showed an impressive 6-point increase in purchase intent and HP Business Drivers in just one year. Marketing Mix Analysis, run by Nielsen, captured a 33% increase in revenue per impression. HP also worked with the Association of National Advertisers (ANA) to apply its #SeeHer Gender Equality Measurement (GEM™) methodology to company ads. It showed a 5-point increase in effectiveness, which places HP in the top quartile of brands.
HP is leading industry transformation with a comprehensive diversity and inclusion platform. After increasing the diversity of its leadership and marketing teams internally, HP launched the industry's first diversity scorecard challenge. This required its agencies to set targets and increase the number of women and people of color working on the HP account. With a disciplined approach to measuring progress, HP's top five roster agencies reported a 20-point increase in women working on HP account teams. 
HP was the first to sponsor Free the Bid, a non-profit initiative that asks agencies to include a female director on every triple-bid project. The year before, none of the HP films were directed by women. After the diversity challenge, 59% of HP's global campaign films have been directed by women – all Free the Bid directors. The initiative, which also asks production companies to sign more female directors and marketers, is making a dramatic change in the ad industry's hiring of female directors. The industry has increased its hiring and bidding of female directors by 400%.
"The facts are in, diverse teams perform better. Changing the makeup of our teams – client, agency, production house – and the way we work, positively influenced our ads. The results give us confidence and motivation to accelerate our efforts, " said Antonio Lucio, Chief Marketing and Communications Officer, HP Inc. "We will be adding GEM metrics to all our ad testing and will be the first brand working with The Female Quotient to create and implement a custom 'Algorithm for Equality'to measure workplace inclusion."
HP Cannes Lions Program
HP's Lucio will host a mainstage session with well known leaders, disruptors and iconic personalities. Speakers include cultural powerhouse, Edward Enninful, Editor-in-Chief, British Vogue; BAFTA-nominated actress, Thandie Newton; and agency disruptor, Tiffany R. Warren, Chief Diversity Officer at Omnicom and Founder & President at ADCOLOR.
The session, Diversity – A Values Issue and Business Imperative – Requires Bold Action, will underscore the power diversity has in delivering transformational business results, enhancing creative output and speaking to customers with relevance. Panelists will talk about the bold action, data and measurable results required to drive change, and ensure the visibility of role models for up and coming diverse talent. 
#MoreLikeMe Talent Announced
Building on HP's marketing Diversity Scorecard and to support its agencies in developing top talent and a more diverse talent pipeline, today HP and Cannes Lions are also announcing the members of #MoreLikeMe. The pilot program, designed to build and strengthen ethnic and racially diverse creative individuals, is part of the movement to grow the representation of people of color in the creative industry.
Each of HP's roster agencies – BBDO, Edelman, Fred & Farid, Giant Spoon and PHD – nominated candidates for the #MoreLikeMe program. The 18 #MoreLikeMe participants submitted essays discussing a variety of topics, including challenges experienced breaking into the advertising world and an exploration of the entertainment industry's progressive projects like Black Panther, Westworld and Coco. Essays also covered why they would be a valuable voice for diversity in the industry. The participants are African-American, Brazilian, Korean, Chinese, Taiwanese, Malaysian, Indian, Colombian and Vietnamese. 
In response to the initial announcement of the program, Facebook will also be nominating three participants from the industry – alumni of the 4A's Multicultural Advertising Internship Program who are championing diversity  – to join #MoreLikeMe. As part of the program, the company will also sponsor an Instagram Story School, host a session on Facebook's beach stage, as well as facilitate mentorship opportunities and meet-ups with #MoreLikeMe participants and HP.
The #MoreLikeMe pilot program participants are: 
Adriana Leite, Senior Copywriter, Fred & Farid
Andrew Shaffer, Associate Creative Director, BBDO
Angela Chan, Associate Strategy Director, PHD
Anuli Akanegbu, Senior Planner, Edelman
David Jacobsen, Senior Producer, Giant Spoon
Eileen Zhao, Senior Strategist, Fred & Farid
Jack Hwang, Junior Designer, Fred & Farid
Janina Lagemann-Doné, Senior Strategist, Giant Spoon
Josh Noa, Senior Strategist, Giant Spoon
Maria Paz Arosemena, Group Account Director, PHD
Nivie Roberts, Account Executive, BBDO
Tammy Le Vasan, Account Director, BBDO
Ti'Ara Brown, Senior Account Executive, Edelman
Trang Tran, Account Manager, PHD
Tyson Greaves, Account Supervisor, Edelman
4A's MAIP participants nominated by Facebook are:
Tim Austin, Art Director, KBS
Shaunah Zimmerman, Copywriter, Tribal Worldwide
Jezzika Chung, Copywriter, Anomaly
The rising stars will attend this year's Festival for a unique experience focused on mentoring and curated programming. The session will include a speed mentoring session in the Girls' Lounge, an exclusive luncheon with HP marketing leadership, and access to all of the Cannes Lions panels and workshops.
Visit the online press kit for #MoreLikeMe here
The Girls' Lounge
Today, HP also announces a new partnership with The Female Quotient. The collaboration debuts at their signature event, The Girls' Lounge, during Cannes Lions. In partnership with some of the world's leading brands, founder Shelley Zalis and her team at The Female Quotient create memorable pop-up experiences and impactful programming to advance gender equality in the workplace. HP will partner with the Female Quotient at additional global events including Advertising Week, World Economic Forum, the Consumer Electronics Show (CES) and SXSW to support programming that advocates for gender equality, transforming workplace culture and ultimately driving systemic change. 
About HP
HP Inc. creates technology that makes life better for everyone, everywhere. Through our portfolio of printers, PCs, mobile devices, solutions and services, we engineer experiences that amaze. More info about HP is available at: http://www.hp.com
About Cannes Lions
Cannes Lions International Festival of Creativity, also known as Cannes Lions, is the world's leading celebration of creativity in communications. It includes Lions Health, Lions Innovation and Lions Entertainment. Founded in 1954, the Festival takes place every June in Cannes, France. As the most prestigious international advertising and communications awards event, over 40,000 entries from all over the world are showcased and judged. 
The five-day Festival is the only truly global meeting place for professionals working in advertising and communications. Attendees from nearly 100 countries come to experience five days of workshops, exhibitions, screenings, master classes and high-profile seminars presented by renowned worldwide industry leaders. 
Winning companies receive the highly coveted Lion trophy, a global benchmark of creative excellence in the following areas: Brand Experience & Activation, Creative Data, Creative Effectiveness, Creative eCommerce, Design, Digital Craft, Direct, Film, Film Craft, Glass: The Lion for Change, Health & Wellness, Industry Craft, Innovation, Entertainment, Media, Mobile, Music, Outdoor, Pharma, PR, Print & Publishing, Product Design, Radio, Social & Influencer, Sustainable Development Goals, Titanium Lions. www.canneslions.com
( Press Release Image: https://photos.webwire.com/prmedia/6/224793/224793-1.jpg )
Related Links
WebWireID224793

This news content was configured by WebWire editorial staff. Linking is permitted.
News Release Distribution and Press Release Distribution Services Provided by WebWire.