A Motorhome Of Images
Motorhome people's passion for photography grows as they travel. Here are some ideas, tips and technologies to facilitate digital photography and social sharing when you're on the road.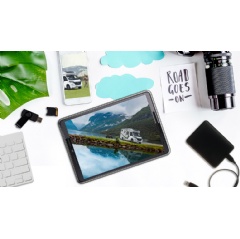 When we travel in our Ducato-based motorhome, our vehicle becomes a kind of home, at times an office, and often also an island for our hobbies. And what other passion is there that grows so strongly on holidays and journeys, as much as photography? Many of us are happy enough with shots taken on smartphones: they're quick, simple and easy to edit. But those who are not so easily satisfied and have a genuine interest in higher quality photography, prefer to use more classic photographic equipment, such as SLR or compact cameras.
Without going into too much technical detail, let's look at the tools, accessories and methods for transforming our recreational vehicle into a compact travelling photo studio.
Your camera
A good-quality camera is the key factor: whether reflex or compact, you can use it throughout your journey... even more so if it's a latest-generation model with Wi-Fi connection. This can be used to connect the camera to the world via smartphones, tablets and PCs, using apps or free software provided by the manufacturer. It also allows us to download images and videos onto any other Wi-Fi device without cables, and facilitates immediate photo-sharing on social networks or via email, using our smart-device connection.
The cloud
Once we have our camera and have created a photographic record of our motorhome trip, how can we store the material and make it available for viewing whenever we need it? Here too, we can use our smart device (smartphone or tablet) and exploit digital "clouds", i.e. so-called cloud services, which allow fast and practical online archiving. To do this, just open an account on an online cloud service platform, many of which are free, and that's it: once the account is open and you've established the connection between camera and smart device, start shooting and your pictures will be automatically archived on cloud, provided you can count on a quality internet connection.
Social networks and apps
Archived on cloud, the photos are now usable from our smartphone or tablet and if we need them, we can use one of the many available photo editing applications to get the result we want. Instagram—to use a fashionable example—is famous for the many filters it offers, which you can apply before sharing. Obviously, other more professional editing systems will allow you to control every image parameter separately. Once you have perfected your image to your complete satisfaction, you can share it via your favourite social networks. Your friends and acquaintances will then be able to admire the sights and scenes you've captured during your motorhome travel experiences.
Computers and memory cards
Remember that the most immediate and simple solution for storing images of your journey is to bring a sufficient number of memory cards with you. To manage your image files, however, you need a computer or a tablet, which makes downloading, optimising and posting photos really easy. But keeping a computer aboard your motorhome, especially if it stays parked for a while, may not be safe. A tablet offers the best and most portable option, since it can easily be carried in a small backpack that we can take with us wherever we go. In our motorhome, we should remember to keep our electronic devices charged: it's a good idea to get a power bank, which provides back-up energy that we can use to charge cameras, tablets and smartphones. That way, we'll never be caught at a moment when we can't take a photo!
Now that you're all ready for your photo reportage, you have only to decide where you want to go to in your Ducato-based motorhome, and what you want to show the world. Bon voyage!​
( Press Release Image: https://photos.webwire.com/prmedia/7/224675/224675-1.jpg )
Related Links
WebWireID224675

This news content was configured by WebWire editorial staff. Linking is permitted.
News Release Distribution and Press Release Distribution Services Provided by WebWire.