Wildfires are out of control – and they're affecting the entire planet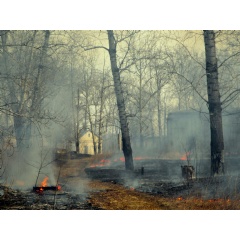 The Amur region in Russia is often reported as a region in flames, but this year is one of the worst. After a winter with very little snow, strong winds are spreading the fires even faster. Vast areas that used to be forests a few decades ago, are now burning wastelands.
Wildfires in Russia are treated as local emergencies — and Greenpeace volunteers are doing incredible work to respond, thanks to your support — but at this scale, what happens in Amur is affecting the entire planet.
Many countries around the world are struggling with similarly devastating wildfires; in Indonesia, the US, Canada and Brazil, fires are raging, having a huge impact on our climate.
The accelerating effect of wildfires on climate change isn't yet recognised in national plans to curb carbon emissions, but its significance is increasing fast.
That's why Greenpeace Russia is launching a new international initiative, Greenpeace Fire — to raise awareness about wildfires and how they're fuelling the increased frequency and intensity of extreme weather, as well as prompting action to reduce their severity.
How bad is it?
Two million hectares of land in Amur have been ravaged by wildfires since the beginning of the year, according to the Russian Federal Forestry Agency. Local authorities have declared a state of emergency. The fires are out of control.
The area burnt is six times larger than in the same period last year, and experts estimate that the fire has already released approximately 110 megatonnes of CO2 — that's almost twice Moscow's annual carbon emissions — in just one month.
Farmers and agricultural workers continue to set fires to clear dry grass, despite a ban in 2015. Garbage and vegetation burned around houses grows into forest fires. Even 'controlled burnings' by the national forest service eventually get out of hand.
The only wild areas in Amur province that are not currently engulfed in flames are those protected by permafrost.
How do wildfires hurt the climate?
Burning grass, trees or any plant matter releases planet-warming carbon dioxide. In simple terms, each wildfire heats up the planet. At the scale we're seeing in Amur, that's a large amount of CO2, and a major setback in efforts to meet Paris Climate Agreement goals.
Wildfires also create and spread soot. Black carbon is transported with the wind onto snow and Arctic ice which reduces their reflective properties. This increases the amount of solar radiation absorbed by the surface, which, in turn, accelerates the melting of snow and ice.
What can be done?
Globally, Greenpeace is pushing for wildfire emissions to be recognised in national carbon quotas and climate conservation plans — and for countries in rainforest and Boreal regions, including Russia, to take immediate action to limit fires within their borders.
In the Amur region, like in many places where wildfires spread, fires are often started by people, so education about causes, impacts and alternatives is crucial.
How you can help prevent wildfires
If you see a wildfire, immediately report it to your local authority. Never assume it has already been reported. If possible, give an accurate address or coordinates.
Up to 90% of wildfires are caused by people. They can be prevented by people too. Simple steps can prevent any looming disasters — never dispose burning cigarettes before completely extinguishing them and the same applies to bonfires; pour plenty water and stir the ashes well, so that the fire doesnn't rekindle. Never leave a fire unattended!
Donate to volunteer firefighters. It takes lots of training and hard work for these dedicated people to serve our communities. "We want to reach a new level and expand the team: talk more about wildfires, work more with children, and fight more fires," says Darya Kalinina, one of the volunteer firefighter coordinators. 
( Press Release Image: https://photos.webwire.com/prmedia/6/223889/223889-1.jpg )
Related Links
WebWireID223889

This news content was configured by WebWire editorial staff. Linking is permitted.
News Release Distribution and Press Release Distribution Services Provided by WebWire.