Thai Union Group 1Q sales down in challenging market environments
-1Q18 sales of THB 29.7 billion, down 5.5 percent from a year earlier, and 1Q18 net profit of THB 869 million, down 39.3 percent year-on-year
-Thai baht appreciation and higher raw material costs contribute to weaker profit
-Strong cash flow improves net debt-to-equity ratio
BANGKOK  –
WEBWIRE
–
Wednesday, May 9, 2018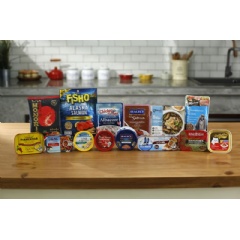 Thai Union Group PCL reported a 5.5 percent year-on-year decline in 2018 first quarter sales to THB 29.7 billion, mainly due to the impact of declining tuna sales and a strengthening Thai baht. Net profit was THB 869 million, down 39.3 percent from the same period last year.
Gross profit declined 26.2 percent from a year earlier to THB 3.36 billion, while the gross profit margin was 11.3 percent compared to 14.5 percent in 1Q17. Inventories of higher-priced raw materials, particularly in the tuna business, along with Thai baht appreciation, contributed to the weaker margin.
Thai Union's ambient sales in 1Q18 were THB 14.1 billion, down 1.6 percent year-on-year, and sales contribution from the frozen and chilled seafood business fell 8.9 percent year-on-year to THB 11.52 billion. PetCare and value-added product sales fell 8.2 percent to THB 4.08 billion over the same period last year. 
In the first quarter of 2018, North America contributed 40 percent of total sales, followed by Europe at 32 percent, the Thai domestic market at 12 percent, and other markets at 16 percent.
Tougher market competition in North America, together with US dollar depreciation, saw the sales of ambient, frozen and chilled seafood, particularly shrimp and lobster, decline in both value and volume in this key region. 
However, Thailand, China and the Middle East continued to grow, with sales contributions improving due to the launch of new products and increased marketing and sales activities.
SG&A (selling, general and administration) to sales ratio improved at 11.23 percent in 1Q18, compared to 11.79 percent in the same period last year. Despite weaker profitability, the company's strong cash flow prompted debt repayment and improved its net debt-to-equity ratio to 1.35 times in the first quarter of 2018, compared to 1.38 times at the end of 2017. 
"Despite pressures from high raw material inventory costs and challenging market environments, our net profit was supported by other incomes and prudent foreign exchange management," said Thiraphong Chansiri, CEO of Thai Union.
"Thai Union will continue to work harder to weather the industry's volatility. Currently, the pressure from rising raw material prices is beginning to relax as tuna product prices show signs of a more moderate increase," Chansiri added.
Thai Union has continued its focus on expansion with an agreement to acquire 45 percent of TUMD Luxembourg S.a.r.l (TUMD). TUMD wholly owns three Russian companies: Dalpromryba Limited Liability Company; Torgovo-Promyshlenny Kompleks "Dalpromryba" Limited Liability Company; and Maguro Limited Liability Company. These companies are collectively known as the DPR Group (DPR). 
DPR is a retail focused fish and seafood business, and it is Russia's number one canned tuna producer. Thai Union opted to make the investment in DPR because its manufacturing and distribution platform offers significant opportunities for further growth and development. DPR, which has sales of around US$45m, operates in both frozen and ambient segments, and owns brands such as Maguro, Captain of Tastes and Rybar.
Thai Union's 45 percent shareholding of TUMD will be acquired with a combination of new and vendor shares for approximately US$16m. Through a series of options, Thai Union expects to increase its shareholding first to 51 percent, and then gradually to 80 percent over the next three years. The transaction is subject to shareholders agreement approval by the Russian Federal Anti-Monopoly Service. 
Russia has a large and growing economy with a relatively low consumption of tuna, which is steadily increasing. It is expected that sales of tuna, and other seafood, will continue to increase given improving living standards and general health awareness. Working together with Thai Union, DPR will look to further strengthen its position in the market, with a plan to double sales to US$100m within the next five years
With this acquisition, Thai Union will have critical coverage of almost all key European seafood markets, driving exposure to fast growing emerging markets.
Thai Union's investment in innovation is delivering positive results with its new Yellowfin Tuna Slices and tuna sausage—the latter a healthier alternative to traditional sausage products. The two products were successfully innovated at the company's Global Innovation Incubator (Gii).
Yellowfin Tuna Slices are the world's first pre-sliced, pre-seasoned tuna made from whole yellowfin tuna loins developed to give deli customers a healthier, convenient alternative to traditional luncheon meats. In March, Yellowfin Tuna Slices won the 2018 Seafood Excellence Award in the Best New Foodservice Product category at the Seafood Expo North America in Boston. Further, Yellowfin Tuna Slices made its European debut at the Seafood Expo Global in Brussels in April where it was also a finalist for the Seafood Excellence Global Awards.
Yellowfin Tuna Slices are currently being rolled out across U.S. food service channels through Thai Union's market-leading international brand Chicken of the Sea. Additionally, Yellowfin Tuna Slices are beginning to be commercialized in Europe and the Middle East.
Thai Union is continuing to implement initiatives and activities in line with its sustainability strategy, SeaChange®. In March, the company solidified its commitment to combat marine plastic pollution, by joining forces with the Global Ghost Gear Initiative in a drive to reduce the growing problem of abandoned, lost and discarded fishing gear worldwide.
In April, Thai Union was awarded "Most Committed to Corporate Governance" and "Best at Corporate Social Responsibility" in Thailand from the 18th annual Asia's Best Managed Companies Poll by FinanceAsia.  
In February, Thai Union and Nestlé S.A. inaugurated a demonstration boat to promote and raise understanding of human and labor rights of workers in the Thai fishing industry. Both companies, in collaboration with Vérité, refurbished a traditional Thai fishing boat, transforming it into a vessel demonstrating good living and working conditions. This includes adequate and clean food and drinking water, appropriate rest, dining and leisure areas on board, first-aid kit, and toilet facilities with proper sanitation standards.
Additionally, Thai Union recently launched a short film documenting how its innovative digital traceability pilot program, which the company implemented alongside a coalition of industry and government groups, has helped boost human rights in the seafood industry. The video explored how marine terminals were successfully installed on fishing vessels in Thailand, and introduced audiences to the crew members, captains and fleet owners trained on chat applications which enable them to connect with families and peers around the world while at sea—an industry first for Thai fisheries.
"Thai Union has fully embraced its role as a leader for positive change as one of the largest seafood companies in the world," said Chansiri. "Looking forward, Thai Union will continue to work to meet the nutritional needs of the global population in a way that is sustainable and protects our oceans now and for our future generations."
###
ABOUT THAI UNION PCL 
Thai Union Group PCL is the world's seafood leader bringing high quality, healthy, tasty and innovative seafood products to customers across the world for more than 40 years.
Today, Thai Union is regarded as the world's largest producer of shelf-stable tuna products with annual sales exceeding THB 135 billion (US$ 4.030 billion) and a global workforce of over 49,000 people who are dedicated to pioneering sustainable, innovative seafood products.
The company's global brand portfolio includes market-leading international brands such as Chicken of the Sea, John West, Petit Navire, Parmentier, Mareblu, King Oscar, and Rügen Fisch and Thai-leading brands SEALECT, Fisho, Qfresh, Monori, Bellotta and Marvo.
As a company committed to innovation and globally responsible behavior, Thai Union is proud to be a member of the United Nations Global Compact, and a founding member of the International Seafood Sustainability Foundation (ISSF). In 2015, Thai Union introduced its SeaChange® sustainability strategy. Thai Union's on-going work on sustainability issues was recognized by its inclusion in the Dow Jones Sustainability Index Emerging Markets (DJSI) in 2014. In 2017, Thai Union was named to the DJSI for the fourth consecutive year. Thai Union is also part of the FTSE4Good Emerging Index.
( Press Release Image: https://photos.webwire.com/prmedia/6/223859/223859-1.jpg )
Related Links
WebWireID223859

This news content was configured by WebWire editorial staff. Linking is permitted.
News Release Distribution and Press Release Distribution Services Provided by WebWire.