Diamond Route Japan: Northern Prefectures Form New Tourist Area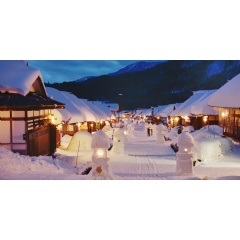 Three prefectures to the north of Tokyo have banded together to form a dazzling new tourist area dubbed the Diamond Route.
Japan's historically wild and untamed north is full of culture, tradition, and a strong samurai legacy, yet remains relatively undiscovered by tourists both domestic and international. However, a new initiative by three northern prefectures aims to change all that. 

Ibaraki, Tochigi and Fukushima prefectures - all within around 2.5 hours travel north of Tokyo - have joined forces to promote themselves as a unified tourist area in the north of Japan under the catchy moniker of The Diamond Route. The name of the project is based on the idea that the three prefectures are "full of sparkling treasures" - from history, culture and nature to food and outdoor sports - that can offer visitors "the experience of a lifetime in the heart of Japan", as well as the diamond shape that the main destinations on the route make when joined together by lines on a map.
The Diamond Route offers a collection of ideas for places to visit in the region, focussing on six key areas spread across the three prefectures. It assumes that visitors will use Tokyo to the south as the most convenient jumping off point for accessing the region, but allows for free travel between the destinations once there. The six key areas are: 1) Nikko in Tochigi prefecture, 2) Iwaki and 3) Mito in Ibaraki prefecture, and the 4) Aizu / Mt. Bandai / Kitakata area, 5) Koriyama / Shirakawa area, and 6) Ouchijuku, all in Fukushima prefecture - read more about each of these below. Each of the areas is distinct, easy to travel around and within, and contains scores of local treasures for visitors to discover and experience. 

The Route's offerings across all six main areas are categorized into four themes - History, Outdoor, Health, and Nature - that together span the full range of holiday activities and attractions, including festivals, mountains, gardens, boat cruises, shrines and temples, waterfalls, museums, canyons, lakes, villages, castles, aquariums, hot springs, flower parks, and more. Get a tantalizing glimpse of the delights that await on an exciting adventure to Japan's wild and untamed north by watching these videos of each of the themes:
History - Feel the Real Samurai Spirit
Outdoor - Extreme Sports in Action
Health - Submerge in Local Hot Springs

Nature - Discover Local Beauty

Leading travellers through alpine towns and villages and across lakes, plains and seas, the Diamond Route traces lines that follow radical changes in Japanese history, culture and geography. Whether travelling by car, bus, or a charming local train winding through the mountains, visitors will find the time-honoured scenery and traditions of Japan waiting for them to discover. Simple enough to plan for first-timers, yet local enough to offer completely new experiences even for repeaters, The Diamond Route has something to offer northern Japan explorers of all kinds.
The Diamond Route's collection of tempting destinations is available in book, app and web format. Access the website at http://diamondroutejapan.com/2018/ or download the app on the App Store here or Google Play here. 
Key Destinations on the Diamond Route
Nikko (Tochigi)
Nikko is both a renowned town and a National Park full of nature and history. As home to Toshogu, one of Japan's most lavishly decorated shrines/mausoleums, it's also the final resting place of Tokugawa Ieyasu, the powerful leader whose shogunate ruled Japan for over 250 years. Nikko is a must-see, whether at the beginning or the end of your trip.
Ouchijuku (Fukushima)
A ride on the classic Aizu Railway brings you to Ouchijuku, an Edo period post town that looks just as it did during its heyday hundreds of years ago, complete with original thatched-roof houses and devoid of visible power lines. A day in the town is best spent at a slow pace as you soak up the atmosphere of days gone by, but it's also well worth staying the night at one of the town's old-fashioned inns if time permits.
Aizu / Mt. Bandai / Kitakata (Fukushima)
Heading further north to you'll find Aizu Wakamatsu, a town with a strong samurai history and the location of historic samurai battles, and Kitakata, full of quaint streets lined with original merchants' warehouses. Meanwhile, if it's nature you're looking for, then Mt. Bandai's impressive volcano and picturesque surrounding lakes are the perfect side trip.
Koriyama / Shirakawa (Fukushima)
This part of the route is all about nature, temples, and historical remains. In the stretch between these two towns you'll find lakeside gardens, mountain views, and plenty of onsen (hot springs) to relax in. Shirakawa is also the ancient gateway to Japan's northern regions, with historical traces, such as the original shogunal checkpoint, dating back to the 8th century.
Iwaki (Ibaraki)
One of the most beautiful ways to get to or from Tokyo is to pass through the coastal areas of Ibaraki and Fukushima prefectures. Along the way you'll discover such delights as the seaside charms of Iwaki's famous aquarium and spa resort, Hitachi Seaside Park, resplendent with brightly coloured flowers whatever the season, and the towering Ushiku Buddha, the world's third tallest statue.
Mito (Ibaraki)
Mito, the capital of Ibaraki prefecture, is known for its internationally renowned Art Tower Mito cultural complex, symbolised by the 100-metre tall zigzagging silver metal tower protruding from its centre, and Kairakuen Garden, one of the country's best Japanese gardens, home to 3,000 plum trees which burst into a profusion of pinks and whites at the end of winter. 
To stay up to date with all the latest happenings in Japan follow us on Facebook or Twitter.
( Press Release Image: https://photos.webwire.com/prmedia/7/223477/223477-1.jpg )
Related Links
WebWireID223477

This news content was configured by WebWire editorial staff. Linking is permitted.
News Release Distribution and Press Release Distribution Services Provided by WebWire.