Sustainable value creation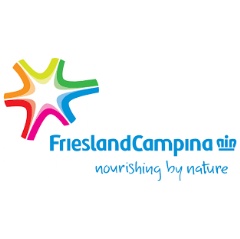 FrieslandCampina 2017 CSR Results
FrieslandCampina's purpose – nourishing by nature – stands for better nutrition for the world's consumers, a good living for our farmers, now and for generations to come. These three pillars form the basis of FrieslandCampina's strategy to which the CSR themes are linked. The sustainability report 2017 provides insight into the Cooperative's and Company's sustainability strategy, initiatives and performance over the past year. FrieslandCampina's contribution is linked to the Sustainable Development Goals of the United Nations.
CSR in 2017:
Member dairy farmers installed 5,800 solar panels (this corresponds to the electricity consumption of 450 households). A grant has been awarded or an application has been submitted for many of these panels.
79.4 percent of member dairy farmers gives its cows sufficient opportunity to graze, an increase of 1.2 percent.
The emission of greenhouse gases throughout the entire chain 'from grass to glass' declined: in production and transport with 4.6 percent and at member dairy farms with8.4 percent.
Better nutrition
FrieslandCampina works on a healthier product range, is transparent in its communications about its products and supports educational programmes about healthy nutrition. In 2017, at 81 percent, the percentage of basic food products is once again higher than the 70 percent target. The Company uses a global set of scientific nutritional criteria for its consumer products in this: the FrieslandCampina Global Nutritional Standards. By far the largest part (64 percent) complies with these criteria, for example in the areas of the amount of calories, sugar, salt and fat.
Good income and continuity
FrieslandCampina's goal is to add as much value as possible to the milk so as to make the maximum possible contribution to dairy farmer incomes and the continuity of dairy farms. In 2017, in the context of the Dairy Development Programme (DDP), a total of 375 training sessions were organised in Vietnam, Indonesia, Malaysia, Thailand, Uganda, Ethiopia and Nigeria. In total, 20,347 farmers participated in these sessions, 8.5 percent more than in 2016. In total, currently more than a quarter of a million local farmers in Africa, Asia and Eastern Europe are members of the Dairy Development Programme (DDP). In addition, member dairy farmers and employees share their knowledge relating to dairy farming, dairy processing and marketing with forty dairy cooperatives in Asia and Africa.
Now and in the future
FrieslandCampina is working on climate-neutral growth. The aim calls for the emission of greenhouse gases to remain the same as in 2010. This also applies in case of an increase in milk production. In 2017 there was a decline in the emission of greenhouse gases at production facilities and during transport (4.6 percent), for the purchase of milk and milk powder (18 percent) and at member dairy farms (8.4 percent).
At the same time, FrieslandCampina aims to reduce the use of scarce natural resources such as water, raw materials and fossil fuels. 2017 is the first year in which all of FrieslandCampina's production facilities in Europe made 100 percent use of green electricity. This corresponds to 80 percent of the total electricity consumed by the Company worldwide. As part of the Solar project, FrieslandCampina applied for a grant for 800,000 solar panels in 2017. Half of this grant has since been awarded. 5,800 solar panels were installed on the roofs of member dairy farms.
In 2017, water consumption dropped by 7.5 percent and three quarters of the waste is actually reused. An increase of 5 percent. The results in the area of pasture grazing are also hopeful. FrieslandCampina provides premiums as an incentive to increase the number of grazing cows in the landscape. In 2017 almost 80 percent of member dairy farmers practised some form of grazing.
Sustainable Development Goals
The FrieslandCampina route2020 strategy and the nourishing by nature purpose are in line with the Sustainable Development Goals. The United Nations has developed these Sustainable Development Goals (SDGs): seventeen ambitious goals relating to topics such as responsible production and consumption, climate, sustainable communities, health and well-being, as well as efforts to fight poverty and starvation. These development goals have been endorsed by 193 countries and give governments and the business sector a roadmap for a fairer and more sustainable future. The Sustainable Development Goals that are most relevant to FrieslandCampina are: 'Zero hunger' (SDG 2), 'Good health and well-being' (SDG 3), 'Affordable and clean energy' (SDG 7), 'Decent work and economic growth' (SDG 8), 'Responsible consumption and production' (SDG 12) and 'Partnerships for the goals' (SDG 17).
The CSR Report 2017 can be found on our website.
( Press Release Image: https://photos.webwire.com/prmedia/6/222998/222998-1.png )
Related Links
WebWireID222998

This news content was configured by WebWire editorial staff. Linking is permitted.
News Release Distribution and Press Release Distribution Services Provided by WebWire.