CP continues to engage in good faith bargaining with TCRC, IBEW; significant gap remains
Calgary, AB –
WEBWIRE
–
Tuesday, April 17, 2018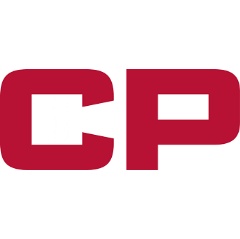 Canadian Pacific Railway Limited (TSX: CP) (NYSE: CP) and two of its unions – the Teamsters Canada Rail Conference – Train & Engine (TCRC) and the International Brotherhood of Electrical Workers (IBEW) – are currently working through the collective bargaining process.
Despite CP's best efforts, a significant gap remains between the company and these two unions. In the event an agreement cannot be reached, a work stoppage could occur as early as 0001 on Saturday, April 21, 2018.
"We have been working hard with both unions for months, and continue to meet in order to negotiate an agreement that balances the needs of these two unions with the needs of our entire workforce, our customers and our shareholders," said Keith Creel, CP President and CEO. "I made labour outreach my top priority when I became CEO and I continue to focus my efforts on this key area."
CP has reached long-term agreements with other Canadian unions, including three that were successfully negotiated in 2017, all with the objective of ensuring continuity of reliable and cost-effective rail service, while being fair and equitable to CP's employees. Specifically, CP adopted a "pattern" framework to address issues tabled at bargaining and have successfully reached agreement through to 2022 with: TCRC – Maintenance of Way; United Steel Workers; and CP Police Association.
A work stoppage involving the TCRC and the IBEW will severely impact CP's ability to continue to provide safe and efficient freight and passenger/commuter service. All customers and commodities would be impacted at a time when demand is soaring.
"We have connected with our freight customers and with the CEOs of the passenger rail services that run on our line advising them of the potential impacts," Creel said. "We understand the impact this would have on commuters using the West Coast Express on the Lower Mainland, Réseau de transport métropolitain in Montreal and Metrolinx in the Toronto-area. In an attempt to avoid this inconvenience and the significant disruption to the travelling public, CP reached out to the IBEW today to request that they allow their members to continue to serve the railway lines on which passenger rail service are hosted - unfortunately, it was a request they denied."
CP and the TCRC leadership successfully negotiated a one-year extension of the Collective Agreement in September 2017, unfortunately that agreement was not ratified by the membership. Despite CP's best efforts to achieve an agreement with the TCRC, the union still has essentially 108 outstanding demands to our five, equivalent to more than a quarter billion dollars over three years, or an average increase of 24% a year over the three years to the TCRC payroll cost. CP's five items relate to providing consistent customer service and achieving schedule predictability for the betterment of the Canadian economy and transportation supply chain reliability. There are approximately 3,000 conductors and engineers represented by the TCRC.
Approximately 360 Signal Maintainers are represented by the IBEW.  These employees protect the integrity of the railway signal system in addition to maintaining protection devices at crossings. Despite CP's best efforts, the IBEW still has 85 outstanding issues to our four, equivalent to an additional $27 million over three years, or an average increase of 25% a year over the three years. CP's four items reflect collaboration, mutual benefit, safety, efficiency and quality of life.
"We continue to meet and remain hopeful that fair agreements can still be reached with both sides; agreements that identify win-win solutions based on common ground," Creel said. "People and safety are part of CP's core foundations and we are committed to safe operations and a well-rested workforce is an important part of that. We are more than open to considering scheduling and time off options with the TCRC, and have even proposed pilot projects to do that. However, any proposed changes need to work in concert with our commitment to our 12,000 strong CP family, customers, shareholders and the overall economy."
During Conciliation in March, and after both unions rejected all company offers, both unions stated that all of their demands must be addressed. The company provided the TCRC and IBEW with a written proposal to enter into Voluntary Mediation/Arbitration, to avoid a work stoppage and avoid damages to our customers, the Canadian economy, Canadian commuters and the broader CP family – an offer both unions declined.
Meetings with the TCRC and the IBEW are planned for next week and CP will continue to bargain in good faith.
Forward looking information
This news release contains certain forward-looking information within the meaning of applicable securities laws relating, but not limited to, collective bargaining between CP and its labour unions, potential work stoppage and CP's business, operations and service. This forward-looking information also includes, but is not limited to, statements concerning expectations, beliefs, plans, goals, objectives, assumptions and statements about possible future events, conditions, and results of operations or performance.  Forward-looking information may contain statements with words or headings such as "financial expectations", "key assumptions", "anticipate", "believe", "expect", "plan", "will", "outlook", "should" or similar words suggesting future outcomes.   
Undue reliance should not be placed on forward-looking information as actual results may differ materially from the forward-looking information. Forward-looking information is not a guarantee of future performance. By its nature, CP's forward-looking information involves numerous assumptions, inherent risks and uncertainties that could cause actual results to differ materially from the forward-looking information, including but not limited to the following factors: changes in business strategies; general North American and global economic, credit and business conditions; risks in agricultural production such as weather conditions and insect populations; the availability and price of energy commodities; the effects of competition and pricing pressures; industry capacity; shifts in market demand; changes in commodity prices; uncertainty surrounding timing and volumes of commodities being shipped via CP; inflation; changes in laws and regulations, including regulation of rates; changes in taxes and tax rates; potential increases in maintenance and operating costs; uncertainties of investigations, proceedings or other types of claims and litigation; labour disputes; risks and liabilities arising from derailments; transportation of dangerous goods; timing of completion of capital and maintenance projects; currency and interest rate fluctuations; effects of changes in market conditions and discount rates on the financial position of pension plans and investments; and various events that could disrupt operations, including severe weather, droughts, floods, avalanches and earthquakes as well as security threats and governmental response to them, and technological changes. The foregoing list of factors is not exhaustive.  These and other factors are detailed from time to time in reports filed by CP with securities regulators in Canada and the United States. Reference should be made to "Item 1A - Risk Factors" and "Item 7 - Management's Discussion and Analysis of Financial Condition and Results of Operations - Forward-Looking Information" in CP's annual and interim reports on Form 10-K and 10-Q. Readers are cautioned not to place undue reliance on forward-looking information. Forward looking information is based on current expectations, estimates and projections and it is possible that predictions, forecasts, projections, and other forms of forward-looking information will not be achieved by CP. Except as required by law, CP undertakes no obligation to update publicly or otherwise revise any forward-looking information, whether as a result of new information, future events or otherwise.
About Canadian Pacific
Canadian Pacific is a transcontinental railway in Canada and the United States with direct links to major ports on the west and east coasts, providing North American customers a competitive rail service with access to key markets in every corner of the globe. CP is growing with its customers, offering a suite of freight transportation services, logistics solutions and supply chain expertise. Visit cpr.ca to see the rail advantages of CP. CP-IR
( Press Release Image: https://photos.webwire.com/prmedia/6/222814/222814-1.png )
Related Links
WebWireID222814

This news content was configured by WebWire editorial staff. Linking is permitted.
News Release Distribution and Press Release Distribution Services Provided by WebWire.