Danh Vo: Take My Breath Away on View through May 9 at the Guggenheim Museum
WEBWIRE
–
Wednesday, April 11, 2018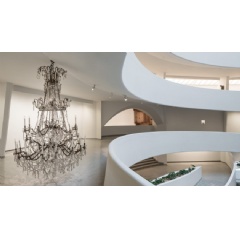 FINAL WEEKS
Danh Vo: Take My Breath Away
Through May 9, 2018
The first comprehensive survey in the United States of work by Danish artist Danh Vo (b. 1975, Ba Ria, Vietnam), Danh Vo: Take My Breath Away, offers an illuminating overview of Vo's production from the past 15 years, including several new projects created on the occasion of the Guggenheim presentation. Filling the ramps of the Frank Lloyd Wright–designed rotunda and comprising more than one hundred objects, the exhibition interweaves installations, sculptures, photographs, and works on paper from various points in the artist's career, amplifying their thematic resonances. Throughout, Vo dissects the public forces and private desires that define individual experience. His work addresses sweeping cultural and political themes, but refracts them through intimate personal narratives—what the artist calls "the tiny diasporas of a person's life." Following the New York exhibition, a presentation of Danh Vo: Take My Breath Away will be on view at SMK/National Gallery of Denmark, Copenhagen, from August 30 through December 2, 2018.
Blog posts related to the exhibition are available at guggenheim.org/blogs. Additional features, including video content on the exhibition and audio clips of the artist speaking about his work, are posted at guggenheim.org/danhvo.
ALSO ON VIEW
Current exhibitions include Guggenheim Collection: Brancusi, a selection of sculptures from the museum's holdings, and the Thannhauser Collection, showcasing works by artists including Vasily Kandinsky, Henri Matisse, and Pablo Picasso.
PUBLIC PROGRAMS
Danh Vo artist talk
Friday, April 27, 6:30pm
A rare opportunity to hear the artist speak about his work. The program concludes with an exhibition viewing and reception. $15, $10 members. All free student tickets for this program have been claimed. Students with a valid school ID may register for a discounted ticket price of $5.
guggenheim.org/danhvo
Danh Vo Symposium: Take My Breath Away
Saturday, April 28, 4pm
In a series of afternoon presentations, a group of preeminent scholars discuss their research on Danh Vo's multivalent artistic practice. Speakers include: Joshua Chambers-Letson, Northwestern University; Patricia Falguières, School for Advanced Studies in Social Sciences (EHESS), Paris; Tom McDonough, Binghamton University, State University of New York. Tickets include museum entry at the conclusion of the program. $10, $5 members, free for students with RSVP.
guggenheim.org/danhvo
Xiu Xiu: Deforms the Unborn
Tuesday, May 8, 7 pm
Experimental band Xiu Xiu premieres an extended-length track about the agonizing experience of demonic possession, based on firsthand accounts of exorcisms in modern history. This new composition was inspired by Danh Vo's body of work titled after obscenities uttered in William Friedkin's classic horror film The Exorcist (1973). During the concert the museum will remain open, granting visitors a special opportunity to view the exhibition in its final days. $25, $20 members, $15 students. Includes access to the exhibition and bar. For more information, visit https://www.guggenheim.org/event/xiu-xiu-deforms-the-unborn
Danh Vo: Take My Breath Away is organized by Katherine Brinson, Daskalopoulos Curator, Contemporary Art, with Susan Thompson, Associate Curator, and with additional support from Ylinka Barotto, Assistant Curator.
Funding for Danh Vo: Take My Breath Away is provided by Art Mentor Foundation Lucerne. Additional support is provided by the Juliet Lea Hillman Simonds Foundation, the National Endowment for the Arts, the Obel Family Foundation, the Jacques and Natasha Gelman Foundation, Beckett-Fonden, and the Danish Arts Foundation. The Leadership Committee for this exhibition is gratefully acknowledged for its support, with special thanks to Mara and Marcio Fainziliber, Cochairs; Stefan Edlis and Gael Neeson; Marian Goodman Gallery, New York, London, Paris; kurimanzutto, Mexico City; Robert Soros; Faurschou Foundation; Inigo Philbrick and Francisca Mancini; The Pritzker Traubert Foundation; Murray Alexander Abramson; Peter Bentley Brandt; Galerie Buchholz, Berlin/Cologne/New York; Galerie Chantal Crousel, Paris; Xavier Hufkens; The Jamil Collection; Naomi Milgrom and John Kaldor; Charlotte Feng Ford; and Thea Westreich Wagner and Ethan Wagner. The catalogue for this exhibition is supported by the New Carlsberg Foundation.
VISITOR INFORMATION
Admission: Adults $25, students/seniors (65+) $18, members and children under 12 free. The Guggenheim's free app, available with admission or by download to personal devices, offers an enhanced visitor experience. The app features content on special exhibitions as well as access to more than 1,500 works in the Guggenheim's permanent collection. Additionally, information about the museum's landmark building is available in English, French, German, Italian, and Spanish. Verbal Description guides for select exhibitions are also included for visitors who are blind or have low vision. The Guggenheim app is supported by Bloomberg Philanthropies.
Museum Hours: Sun–Wed, 10 am–5:45 pm; Fri, 10 am–5:45 pm; Sat, 10 am–7:45 pm; closed Thurs. On Saturdays, beginning at 5:45 pm, the museum hosts Pay What You Wish. Starting June 9, Pay What You Wish will begin at 5 pm. For general information, call 212 423 3500 or visit the museum online at: guggenheim.org.
( Press Release Image: https://photos.webwire.com/prmedia/6/222580/222580-1.jpg )
Related Links
WebWireID222580

This news content was configured by WebWire editorial staff. Linking is permitted.
News Release Distribution and Press Release Distribution Services Provided by WebWire.