Grounds for safer driving
Sweet smell of success as Scania engineers make safety technology breakthrough.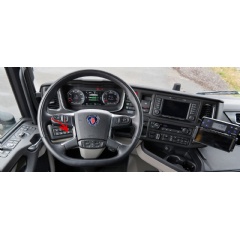 Driver drowsiness and distraction account for up to 40 percent of severe accidents, and these types of incidents are often more serious because drivers cannot mitigate the effects of the accident by braking.

But now Scania is introducing a new warning system that alerts drivers when they feel tired, using data from several sources to analyse the driver's level of awareness.

The warning is issued in two steps; the first indicates the driver appears to be distracted, the second suggests it is time for a break. This second warning takes the shape of a coffee cup symbol.

Beneficial effects of coffee aroma

However, a symbol is in itself not necessarily enough to prevent an accident. So, Scania's engineers have come up with the Driver's Energised Awakening Machine or DREAM, for short. It is based on research from the 1980s which shows the beneficial effects of coffee aroma.

In pioneering experiments headed by sensory scientists by Hugh Stynche and Mal O'Dor, sleep-deprived lab subjects inhaled coffee aroma. The scientists reported in the Journal of Olfactory Knowledge Experts that the expression levels of 13 selected genes differed between the test subjects subjected to coffee aroma and those not subjected. Some of the genes among the coffee-sniffing subjects had more proteins, with healthful antioxidant properties known to protect nerve cells from stress-related damage.

A respite for weary drivers

This inspired Scania's engineers. "We knew that drivers would have difficulties in immediately taking rests along the motorway and that it might take a while before reaching a truck stop. We wished to provide a respite that would allow them to safely drive to the nearest stop," says Scania's Senior Sensory Manager, Björn Fikabru.

When the second warning phase is activated the driver can press the coffee button in the instrument cluster. This releases a two-millilitre coffee aroma spray into the Heating, Ventilation and Air Conditioning (HVAC) system.

"The effects are momentary but sufficient to provide the needed energy for up to 10–15 kilometres of safer driving," explains Cognitive Engineer My Kopp.

In tests at the Scania R&D facility in Södertälje, randomly-selected drivers were monitored between 2 and 4 a.m. while operating a driving simulator. The tests confirmed Stynche and O'Dor's findings, and the energy boost feature goes into production from May 2018. "If it helps avoid accidents, it's more than worth the added cost," says Fikabru.

Could pine scent be next?

This innovative approach opens new opportunities to make use of olfactory-induced driver alerts. "We know how effective these triggers are to the human brain and are already examining further applications, such as pine scent which in research has proven to have a calming effect," says Kopp.
( Press Release Image: https://photos.webwire.com/prmedia/7/222082/222082-1.jpg )
Related Links
WebWireID222082

This news content was configured by WebWire editorial staff. Linking is permitted.
News Release Distribution and Press Release Distribution Services Provided by WebWire.