20th Anniversary of the L'Oréal-UNESCO for Women in Science Programme: An Exceptional List of Laureates for 2018
The L'Oréal Foundation and UNESCO are preparing to honor five exceptional female scientists with the 2018 L'Oréal-UNESCO For Women in Science Awards at a ceremony on 22 March at UNESCO's headquarters in Paris.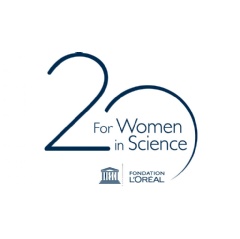 The ceremony will follow a major scientific conference, organized by the L'Oréal Foundation and UNESCO on 21 March. These events will recognize leading women scientists and shine a spotlight on 15 talented young female scientists. They will also provide an opportunity to celebrate the 20th anniversary of the For Women in Science programme.
Women continue to be under-represented in public and professional life, particularly in science, where the "glass ceiling" is still a reality. Today, just 28% of scientists are women. And only 3% of Nobel Prizes for Science have been awarded to women since the awards began in 1901.
Despite this, there are many eminent women scientists, and raising their profile is vital to promoting greater gender equality in science. Every year for the past 20 years, the L'Oréal Foundation has recognized five exceptional female scientists, in partnership with UNESCO, and taken action to improve the balance of women and men in science.
 
The 2018 Laureates: Exceptional Women In Science
On 22 March, five leading female scientists will receive the L'Oréal-UNESCO For Women In Science Award in the field of life sciences. Each laureate will receive a prize of €100,000 and be honored for her contribution in the fields of medicine, palaeontology, molecular biology, ecology and developmental biology.
Over the last 20 years, the L'Oréal-UNESCO the For Women in Science programme has raised the profile of 102 laureates and supported more than 3,000 young female scientists, helping them benefit from increased recognition within the scientific community. Three of these laureates have received Nobel Prizes for Science.
To further promote these women in science, the L'Oréal Foundation is raising public awareness of their achievements. It has launched an international communications campaign in seven international airports (Paris, New York, Beijing, London, Dubai, Sao Paulo and Johannesburg) and on the streets of Paris, in partnership with JCDecaux and Aéroports de Paris.
The 2018 L'Oréal-Unesco For Women In Science Laureates
AFRICA AND THE ARAB STATES
Professor Heather ZAR
Professor and Chair, Department of Paediatrics & Child Health, Red Cross War Memorial Children's Hospital
Director SAMRC Unit, University of Cape Town, South Africa

For establishing a cutting-edge research program on pneumonia, tuberculosis and asthma, saving the lives of many children worldwide.
ASIA-PACIFIC
Professor Mee-Mann CHANG
Professor, Institute of Vertebrate Palaeontology and Palaeoanthropology
Member of Chinese Academy of Sciences, Beijing, China
For her pioneering work on fossil records leading to insights on how aquatic vertebrates adapted to live on land.
EUROPE
Professor Dame Caroline DEAN
Professor, John Innes Centre, Norwich Research Park, United Kingdom
For her groundbreaking research on how plants adapt to their surroundings and climate change, leading to new ways for crop improvement. 
LATIN AMERICA
Professor Amy T. AUSTIN
Professor, IFEVA-CONICET, Facultad de Agronomía, Universidad de Buenos Aires, Argentina
For her remarkable contributions to understanding terrestrial ecosystem ecology in natural and human-modified landscapes
NORTH AMERICA
Professor Janet ROSSANT
Senior Scientist, The Hospital for Sick Children, Toronto, Canada
University Professor, University of Toronto, Canada
President, Gairdner Foundation, Canada 
For her outstanding research that helped to better understand how tissues and organs are formed in the developing embryo. 
The 2018 L'Oréal-Unesco For Women In Science International Rising Talents 
Over the last 20 years, the L'Oréal Foundation and UNESCO have supported 3,022 talented young female scientists through research fellowships. These L'Oréal-UNESCO For Women in Science fellowships are awarded annually at national and regional ceremonies held in 117 countries.
275 young women benefit from national and regional fellowships each year. Of these 275, the International Rising Talents programme selects the 15 most promising scientists.
The 15 young female talents who will be honored in 2018 are:
AFRICA AND THE ARAB STATES
Dr. Areej Abuhammad, Levant & Egypt

A crystal for a cure

Danielle Twilley, Afrique du Sud

Targeting angiogenesis for the treatment of melanoma

Dr. Hanifa Taher Al Blooshi, United Arab Emirates

Sustainable products for major oil spills clean-up

Dr. Ibtissem Guefrachi, Tunisia

Plants point to ways of overcoming antibiotic resistance

ASIA-PACIFIC

Dr. Weang Kee Ho, Malaysia

Targeted screening for breast cancer

Dr. Hiep Nguyen, Vietnam

A 21st century first-aid kit

Dr. Yukiko Ogawa, Japan

Lightening the load: next-generation structural materials

EUROPE

Dr. Radha Boya, United Kingdom

Making tiny pipes for transport and filtration

Dr. Agnieszka Gajewicz, Poland

Safety first in developing new materials

Dr. Anna Kudryavtseva, Russia

The mysteries behind tumour malignancy

Associate Prof. Duguy Sag, Turkey

Triggering the immune system to fight cancer

Dr. Ai Ing Lim, France

The origins of immune system intelligence

LATIN AMERICA

Dr. Selene Lizbeth Fernandez Valverde, Mexico

The secrets of genomic "dark matter"

Dr. Rafaela Salgado Ferreira, Brazil

Computing power in the service of neglected diseases

NORTH AMERICA

Dr. Anela Choy, United States of America

Ocean food webs and human societies
( Press Release Image: https://photos.webwire.com/prmedia/6/221646/221646-1.jpg )
Related Links
WebWireID221646

This news content was configured by WebWire editorial staff. Linking is permitted.
News Release Distribution and Press Release Distribution Services Provided by WebWire.