The IOC, UN Women, UNESCO, P&G and NBC Sports are changing the conversation about women in sport
On the margins of the 62nd Session of the United Nations Commission on the Status of Women, the International Olympic Committee (IOC), UN Women, UNESCO, Procter & Gamble and NBC hosted an event focusing on "Racing Towards Gender Equality: The media's portrayal of women athletes and its effects on women's participation in sports"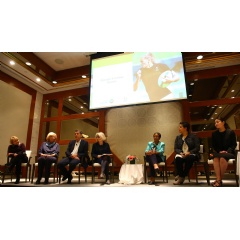 IOC/Mike Stobe
The event, moderated by acclaimed NBC Sports commentator Andrea Joyce, brought together athletes, gender equality experts, public and private sector representatives, media, and other Olympic Movement stakeholders to highlight the importance of balanced media portrayal in ensuring equal representation of women and men in sports. Featured speakers included Donna de Varona – two-time Olympic gold medallist in swimming, Emmy-winning sports broadcaster, activist and IOC Women in Sport Commission member – as well as Maia Shibutani – two-time Olympic bronze medallist, three-time World Championship medallist and two-time US national champion in ice dancing.
"We are all here to change the conversation about women in sport," said IOC Strategic Communications Director and event host Rebecca Lowell Edwards. "We cannot truly be 'Faster, Higher, Stronger' when half of us are not proportionally represented on the playing field, in an official uniform, in commissions and federations, or with a coach's whistle. We know progress will take a true team effort, and that's why we joined together today with wonderful partners, each with a superb track record of empowering women and girls around the world."
The event continued with perspectives from Donna de Varona and Maia Shibutani, leading Olympic athletes from two different generations. Both athletes expressed hope for the future of women in sport, highlighting the progress that has been made to remove barriers, and the need to do more. "I've been fortunate to have my brother as my skating partner," commented Shibutani. "As soon as we step on the ice as a team, we know we are on an even playing field and respect each other. Having that support is amazing, and that's what the standard should be."
 "This discussion has been happening for a very long time and now is the time to act," added de Varona. "We need a platform that drives this agenda, and the Olympic Movement is filling that void today. We've done great in the field of play, but need to do the same in leadership and decision-making."
The athletes' discussion was followed by a panel featuring gender equality champions from public and private sector partners, including Khetsiwe Dlamini, UN Women Chief of Staff and acting Director of the Strategic Partnerships Division; Marc S. Pritchard, Chief Brand Officer, Procter & Gamble; and Saniye Gülser Corat, Director of the Division of Gender Equality, UNESCO.
"We want to see Planet 50-50 – a gender-equal world - by 2030, which is the target date for the Sustainable Development Goals," said Dlamini. "The race to gender equality by 2030 is enabled by sport. It's a race against poverty, hunger, lack of access to health, education and leadership. It's a race toward gender equality. It's urgent that we finish the race. This means equal opportunities to play, equal pay, and equal representation of women and girls in sport. With the IOC, we make an unstoppable team."
Representing one of the leading private sector advocates for women's empowerment, Pritchard talked about how P&G uses its advertising power to help eliminate gender bias. "We as a company decided to make a real difference in gender equality because we believe there should be equal representation, equal jobs, equal pay, equal respect," he explained. "That's when we committed to use our voice in advertising as a way to promote gender equality. Our goal is Ads can be a force for good because they can promote positive conversations, influence attitudes, and change behaviour to help make our world a better place. And, when the world is more equal, it leads to more growth."   
"Only four per cent of sports media content is devoted to women's sports, and only 12 per cent of sports news is presented by women," continued Corat. "Sports coverage is hugely powerful in shaping norms and stereotypes about gender. The media has the ability to challenge these norms, covering more women's competitions and training, including more women as sports broadcasters, and promoting a fair portrayal of sportspeople irrespective of gender."
The IOC has put gender equality at the centre of its mission and made great strides in advancing gender parity in the sporting arena and beyond. Today, more female athletes participate in the Olympic Games than ever before. As an example, the first edition of the Olympic Winter Games in Chamonix in 1924 featured just 13 women, all of them figure skaters. Almost a century later, at PyeongChang 2018, a record 1,242 female athletes were in action, making up 42 per cent of all the competitors. Recently, the IOC Executive Board approved 25 key recommendations from the IOC Gender Equality Review Project, which focus on changing the conversation about women in sport holistically – from participation to representation and decision-making.
"The 25 recommendations are right on point in getting us to where we want to be," said de Varona. "But change doesn't come from just putting a policy out there. We need to make sure they are implemented successfully."
IOC's event partners are also at the forefront of efforts to eliminate gender barriers using the power of sport. Among UN Women's many initiatives, "One Win Leads to Another" builds the leadership skills of adolescent girls through quality sports programmes, improving their ability to influence decisions that impact their lives at all levels. P&G works with athletes and organisations globally, and creates ground-breaking campaigns like #LoveOverBias to spark conversations and raise greater awareness about gender equality.
Through its involvement in the #SeeHer campaign, NBC Sports is committed to celebrating America's female athletes and increasing their visibility across its platforms. On World Radio Day 2018, UNESCO and radio stations globally called for fairer coverage of sportswomen through their #HerMomentsMatter campaign, and are continuing the call through their Women Make the News initiative Her Headline. 
To watch key highlights from the 14 March event on media and gender equality, visit https://www.facebook.com/unwomen.
To learn more about the IOC's efforts in advancing gender equality, go to the IOC Gender Equality E-Platform. To participate in the social media conversation, use the hash tags #RacingtoGenderEquality and #IOCGenderEquality.
IOC
The International Olympic Committee was created in 1894 and remains committed over 100 years later to building a better world through sport.  With the release of its latest report of the IOC Gender Equality Project and 25 Recommendations, the IOC continues to address the challenges of creating greater access and opportunities for women and girls to participate in sport, and thus ensure dialogue, action and change through gender equality.
UN Women
UN Women is the UN organisation dedicated to gender equality and the empowerment of women. A global champion for women and girls, UN Women also coordinates and promotes the UN system's work in advancing gender equality, and in all deliberations and agreements linked to the 2030 Agenda, working to position gender equality as fundamental to the Sustainable Development Goals and a more inclusive world.
UNESCO 
UNESCO (the United Nations Educational, Scientific and Cultural Organisation) is responsible for coordinating international cooperation in key areas to build peace in the minds of men and women.  Gender equality is a global priority for UNESCO and inextricably linked to its efforts to promote free, independent and pluralistic media, including gender equality in media operations and content.
P&G 
P&G (Procter and Gamble) serves consumers in over 180 countries around the world with one of the strongest portfolios of trusted, quality, leadership brands.  With operations in 70 countries and a Worldwide Olympic Partner, P&G is working with athletes and organisations globally to help create a better world – free from gender bias and with an equal voice and equal representation for women and men – by using its voice, influence, reach and ground-breaking campaigns like #LoveOverBias to spark conversations and raise greater awareness about gender equality.
NBC Sports Group
NBC Sports Group serves sports fans 24/7 with premier live events, insightful studio shows, and compelling original programming. The sports media company consists of NBC Sports, NBC Olympics, NBCSN, Golf Channel, NBC Sports Regional Networks, NBC Sports Radio and NBC Sports Digital, which includes NBCSports.com, NBCOlympics.com, GolfChannel.com, the digital assets of the NBC Sports Regional Networks, Rotoworld, the NBC Sports Talk franchise, multiple apps, and two transactional sports businesses, GolfNow and SportsEngine.
Videos
YouTube: www.youtube.com/iocmedia
Photos
For an extensive selection of photos available shortly after each event, please follow us on Flickr.
To request archive photos and footage, please contact our Images team at: images@olympic.org.
Social media
For up-to-the-minute information on the IOC and regular updates, please follow us on Twitter, Facebook and YouTube.
( Press Release Image: https://photos.webwire.com/prmedia/7/221536/221536-1.jpg )
Related Links
WebWireID221536

This news content was configured by WebWire editorial staff. Linking is permitted.
News Release Distribution and Press Release Distribution Services Provided by WebWire.