After a strong 2017, good prospects also for 2018: Daimler Buses expects significant growth in unit sales and earnings
Stuttgart –
WEBWIRE
–
Monday, March 5, 2018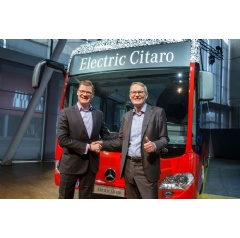 Daimler's bus division in 2017: significant growth in unit sales, earnings at the high prior-year level, ongoing market leadership in core markets 
Optimistic forecasts also for 2018: unit sales and EBIT expected to be significantly higher than in 2017 
Mercedes-Benz provides a glimpse of the fully electric city bus: series-produced vehicles to be delivered to the first customers this year 
Investment of approximately 200 million euros by 2020 in the future areas of connectivity, automated driving and electric drive 
Hartmut Schick: "Our year 2017 was successful and 2018 will be another special year for us: We are opening up a new era of public transport with our locally emission-free Mercedes-Benz Citaro." 
Daimler Buses sold 28,700 buses and bus chassis worldwide in 2017 (2016: 26,200). The Daimler bus division thus defended its absolute market leadership in its most important core markets: EU30 (European Union, Switzerland, Norway), Brazil, Argentina and Mexico. Revenue increased by 4 percent to 4.4 billion euros. The division's EBIT of 243 million euros was at the high prior-year level (2016: 249 million euros). 
Hartmut Schick, Head of Daimler Buses and Chief Executive of EvoBus GmbH: "Our year 2017 was successful. The market recovery in Latin America made a positive contribution to Daimler Buses' nine-percent growth in unit sales. In Brazil alone, we sold 46 percent more buses in 2017 than in the previous year. In Asia, our unit sales increased by 33 percent and deliveries of complete buses in Europe were at the high prior-year level. This represents an outstanding performance by our worldwide bus team and we can be proud of it! We are optimistic for the current year as well, and expect unit sales and earnings to be significantly higher than in 2017." 
Locally emission-free: the fully electric Mercedes-Benz Citaro in use with customers as of late 2018  
Schick continued: "On the product side, 2018 will be a very special year for us: Today, we are providing a first look at the series-produced version of our fully electric Mercedes-Benz Citaro city bus. The prototype has already completed an extensive cycle of tests and trials, so we are opening up a new era of public transport." 
The first of these vehicles will be delivered in late 2018 and will be put into use in the framework of customer-oriented driving tests. Rhein-Neckar-Verkehr GmbH, the public-transport company in the Rhine-Neckar metropolitan region, signed a memorandum of understanding with the Daimler subsidiary EvoBus GmbH in November 2017. Series production of the Mercedes-Benz Citaro with fully electric drive will start at the bus plant in Mannheim towards the end of the year. 
The electric Citaro is part of Daimler Buses' "eMobility" overall system. Before customers purchase a bus, the focus is on expert advice, the so-called e-consulting. Specialists from EvoBus analyze each of the customer's lines, a simulation program then calculates the electricity consumption for the future electric buses in the system. This consultation results in precise recommendations and calculations of energy consumption, the required charging infrastructure, the recommended power capacity for the depots' electricity supply, and recommendations for charging management. In the future, a special e-mobility service from the Omniplus services brand will be available for service, maintenance and repairs. 
Sophisticated thermal management ensures practical energy efficiency  
Prototypes of the city bus have already completed an extensive cycle of tests and trials. For example, they have successfully passed through winter trials at the Arctic Circle and summer trials under very high temperatures. The development team focused in particular on thermal management, because the energy consumption of a fully electric city bus is decisively influenced by energy requirements for cooling and especially for heating the large interior with doors frequently opening and closing in regular service. The extensive practical tests show that thermal management is one of the outstanding features of the fully electric Citaro. It guarantees exceptional energy efficiency and thus lays the foundation for a practical range for the new city bus. 
With regard to range specifications, Mercedes-Benz prefers a worst-case scenario based on the demanding SORT2 standardized city driving cycle. On that basis, the Citaro equipped with a full set of batteries achieves a range of 150 kilometers in summer. This means that certain bus routes could already be served by an electric bus without any interim charging. 
CASE strategy at Daimler Buses: investment of 200 million euros by 2020  
"But we are working hard not only on the fully electric city bus; partially automated driving also continues to have high priority at Daimler Buses," added Hartmut Schick. "So we will invest approximately 200 million euros by 2020 alone in the implementation of the CASE strategy, in order to shape the future of mobility. We offer solutions enabling passengers to travel safely, flexibly and free of emissions." 
At Daimler, CASE stands for the future areas of connectivity (Connected), automated driving (Autonomous), flexible use (Shared & Services) and electric drive (Electric). 
Further strengthening of core business: product offensive with new models  
In addition to its clear focus on the bus of the future, Daimler Buses is of course also systematically optimizing its traditional product portfolio and strengthening the existing core business: Daimler Buses continued its model offensive in 2017, with the Mercedes-Benz Citaro hybrid for example. Hybrid drive is available for a large number of model variants of the bestselling Citaro city bus, also for the Citaro NGT, which runs on natural gas. This further reduces the fuel consumption of the already very efficient conventional Citaro, together with the new electro-hydraulic steering, depending on use and equipment levels. 
Another milestone is the new version of the successful Mercedes-Benz Tourismo coach. New assistance and safety systems such as Active Brake Assist 4 (ABA4) with pedestrian recognition make the Tourismo even safer. Its fuel consumption is reduced compared with its predecessor by the optimized aerodynamics and the further improved bodywork. 
The most important new product from the Setra coach brand is the new S 531 DT double-decker bus. Due to its improved aerodynamics, it consumes significantly less fuel than its predecessor. In addition, it features an emergency braking system with obstacle and pedestrian recognition as standard equipment. Another world premiere for buses is available as an optional extra: Sideguard Assist for the driver's blind spot. It uses radar sensors to monitor the lane on the right over the complete length of the bus, and provides a warning when turning of any pedestrians, cyclists or stationary obstacles in the line of the bus's turn. 
Developing new markets: part of the growth strategy at Daimler Buses  
Another focus at Daimler Buses is on the promising new markets. One example is a milestone in Africa: Mercedes-Benz has launched two new bus models in Kenya, an important African market. The leading bus manufacturer has thus reacted to steadily increasing regional demand for comfortable and safe buses for personal transport in East and Central Africa. Both models are assembled in cooperation with the local sales partner DT Dobie Kenya in Nairobi for the domestic market there. The Mercedes-Benz 917 city bus is designed for urban, school and shuttle operation and the Mercedes-Benz 1730 is designed for long distances. 
In the development of the new bus models, Daimler Buses profits from its global positioning. At present, the great majority of Kenyan buses are based on truck chassis, which offer passengers only low levels of comfort due to their comparatively firm suspension and high entry. However, the two new bus models are based on tried-and-tested bus chassis from the Daimler plants in Chennai (India) and Sao Bernardo do Campo (Brazil). Both of them have already proven their worth on difficult surfaces. 
Daimler is expanding its bus business also in East Asia, and will start selling Mercedes-Benz buses in Taiwan in 2018. The chassis are adapted to meet local requirements and come from the Mercedes-Benz plant in Sao Bernardo do Campo (Brazil). The local partner MFTB Taiwan Company Ltd. – a joint venture between the Daimler commercial-vehicles subsidiary FUSO and the Taiwanese Shung Ye Group – builds up the chassis into complete vehicles. MFTB Taiwan Company Ltd. has hitherto sold only FUSO buses; Mercedes-Benz buses now supplement the portfolio in the premium segment. The sales partner has already ordered the first hundred chassis units. Market entry in Taiwan is an important step in the context of Daimler Buses' global growth strategy. With a volume of approximately 3000 units above eight tons, the bus market in Taiwan is comparable with European markets such as Spain or Italy. 
In North America, Daimler Buses took an important step at the beginning of the year: Since January 2018, REV Coach LLC has been the new general agency for Setra buses in the United States and Canada. The goal is to utilize additional sales potential through a stronger market presence. This will also be supported by an improved customer service: As of July 2018, REV Coach will take over the after-sales service for Setra buses as well. In the context of their strategic partnership, Daimler Buses and REV Coach have also agreed to examine further opportunities in the North American market. The REV Group is a leading producer and distributor of special vehicles in the United States. 
Further information on the Daimler Buses annual press conference and on the fully electric Mercedes-Benz Citaro city bus can be found at www.d.ai/eWorkshopCitaro
( Press Release Image: https://photos.webwire.com/prmedia/6/221037/221037-1.jpg )
Related Links
WebWireID221037

This news content was configured by WebWire editorial staff. Linking is permitted.
News Release Distribution and Press Release Distribution Services Provided by WebWire.