CP to purchase its common shares under specific share repurchase program as part of its normal course issuer bid
WEBWIRE
–
Thursday, February 15, 2018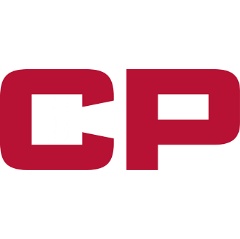 Canadian Pacific Railway Limited (TSX: CP) (NYSE: CP) announced today that it will repurchase common shares from a third-party seller under a share repurchase program (the "Program"). The Program will form part of CP's normal course issuer bid for up to 4,384,062 common shares announced on May 10, 2017 (the "NCIB").
CP will enter into a share repurchase agreement (the "Agreement") with a third party to purchase common shares through daily purchases between February 20, 2018 and May 14, 2018, subject to a maximum, in aggregate, of 325,000 common shares under the Program. Pursuant to the terms of the Agreement, and subject to the terms of an issuer bid exemption order issued by the Ontario Securities Commission (the "Order"), an affiliate of the third party will purchase on the open market an equivalent number of CP common shares as the number sold to CP. CP is prohibited from purchasing any other common shares during the term of the Program. The price that CP will pay for any common shares purchased by it from the third party under the Agreement will be at a discount to the prevailing market price of CP's common shares on the Canadian markets at the time of the purchase.
CP currently intends to purchase the aggregate maximum of 325,000 common shares under the Program; however, the number of common shares purchased pursuant to the Program may be less than the maximum if, among other things, it is not possible to purchase common shares within the price range established by CP, if trading is suspended, or as a result of market factors.  In accordance with the terms of the Order, following completion of the Program, CP will issue a news release providing information regarding the purchases made pursuant to the Program including the number of common shares purchased and aggregate purchase price paid.
Pursuant to the terms of the Agreement and the Order, all purchases made by the third party's affiliate on the TSX and other Canadian markets pursuant to the Program will be made in accordance with the TSX rules applicable to the NCIB, subject to limited exceptions as provided in the Order. Common shares acquired by CP will be cancelled.
During trading blackout periods, purchases of common shares under the Program will be made in accordance with irrevocable instructions established by CP at a time when CP is not in a trading blackout or in possession of material undisclosed information.
Forward Looking Statement
This news release contains certain forward-looking information within the meaning of applicable securities laws relating, but not limited, to the specific share repurchase program forming part of CP's normal course issuer bid and potential future purchases of CP common shares under the normal course issuer bid. This forward-looking information includes, but is not limited to, statements concerning expectations, beliefs, plans, goals, objectives, assumptions and statements about possible future events, conditions, and results of operations or performance. Forward-looking information may contain statements with words or headings such as "financial expectations", "key assumptions", "anticipate", "believe", "expect", "plan", "will", "outlook", "should" or similar words suggesting future outcomes.
Undue reliance should not be placed on forward-looking information as actual results may differ materially from the forward-looking information. Forward-looking information is not a guarantee of future performance. By its nature, CP's forward-looking information involves numerous assumptions, inherent risks and uncertainties that could cause actual results to differ materially from the forward-looking information, including but not limited to the following factors: changes in business strategies; general North American and global economic, credit and business conditions; risks in agricultural production such as weather conditions and insect populations; the availability and price of energy commodities; the effects of competition and pricing pressures; industry capacity; shifts in market demand; changes in commodity prices; uncertainty surrounding timing and volumes of commodities being shipped via CP; inflation; changes in laws and regulations, including regulation of rates; changes in taxes and tax rates; potential increases in maintenance and operating costs; uncertainties of investigations, proceedings or other types of claims and litigation; labour disputes; risks and liabilities arising from derailments;  transportation of dangerous goods; timing of completion of capital and maintenance projects; currency and interest rate fluctuations; effects of changes in market conditions and discount rates on the financial position of pension plans and investments; and various events that could disrupt operations, including severe weather, droughts, floods, avalanches and earthquakes as well as security threats and governmental response to them, and technological changes. The foregoing list of factors is not exhaustive.
These and other factors are detailed from time to time in reports filed by CP with securities regulators in Canada and the United States. Reference should be made to "Risk Factors" and "Management's Discussion and Analysis of Financial Condition and Results of Operations – Forward-Looking Information" in CP's annual and interim reports on Form 10-K and 10-Q. Readers are cautioned not to place undue reliance on forward-looking information. Forward looking information is based on current expectations, estimates and projections and it is possible that predictions, forecasts, projections, and other forms of forward-looking information will not be achieved by CP. Except as required by law, CP undertakes no obligation to update publicly or otherwise revise any forward-looking information, whether as a result of new information, future events or otherwise.
About Canadian Pacific
Canadian Pacific is a transcontinental railway in Canada and the United States with direct links to major ports on the west and east coasts, providing North American customers a competitive rail service with access to key markets in every corner of the globe. CP is growing with its customers, offering a suite of freight transportation services, logistics solutions and supply chain expertise. Visit cpr.ca to see the rail advantages of CP. CP-IR
( Press Release Image: https://photos.webwire.com/prmedia/6/220355/220355-1.png )
Related Links
WebWireID220355

This news content was configured by WebWire editorial staff. Linking is permitted.
News Release Distribution and Press Release Distribution Services Provided by WebWire.