Marriott International's Select-Service Hotels Tier are Primed for Unprecedented Growth in Asia-Pacific with Exciting New Openings in 2018
Seven international hotel brands offer high quality standards at affordable price points in emerging destinations and key capital cities across the region
WEBWIRE
–
Wednesday, December 13, 2017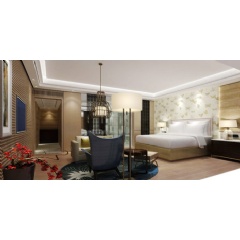 Marriott International Inc's (NASDAQ: MAR) Select-Service brands are driving its robust expansion in the Asia Pacific region this year. With a diverse portfolio of of 21 brands of which seven are Select-Service brands with hotels open or under development, including Fairfield by Marriott, Courtyard by Marriott, Four Points by Sheraton, Aloft, Moxy, Element and AC Hotels, the Select-Service tier is leading the rapid expansion of Marriott International's footprint in Asia-Pacific with most rooms signed in 2017 and the momentum continues into 2018.
The rapid growth of Select-Service hotels in Asia-Pacific is enabling travelers to experience the quality of international brand names at affordable price points in some of the region's most exciting cities and upcoming destinations.
"Travelers will have more choices in new and exciting travel locales, especially in second and third tier cities, without ever having to compromise on the brand quality and service excellence that is the hallmark of Marriott International worldwide," said Peggy Fang Roe, Chief Sales and Marketing Officer Asia-Pacific, Marriott International. "The Select-Service portfolio is picking up momentum in key markets including Greater China, India and Indonesia. There's also strong potential in South Korea, Australia, Japan and Southeast Asia."
"This unparalleled growth exemplifies how travelers can have memorable experiences at every price point. Travelers can choose from the reliable comforts of our Classic Select brands whilst staying at Fairfield, Courtyard and Four Points hotels. Or stay at our Distinctive Select hotels that embrace individual interests and passions, from live music and fun features, to contemporary modern design and greener extended stays, at Aloft, Moxy, Element and AC Hotels," said Mike Fulkerson, Vice President, Brand & Marketing Asia-Pacific, Marriott International.
With the ability to now combined points from best-in-class Marriott Rewards, SPG and Ritz-Carlton Rewards loyalty programs, members may earn and redeem at our wide portfolio of 30 brands globally, as well as having unprecedented access to once-in-a-lifetime experiences.
GUESTS GET ACCESS TO INTERNATIONAL BRAND STANDARDS AND TIME-HONOURED HOSPITALITY WITH CLASSIC SELECT SERVE BRANDS
COURTYARD BY MARRIOTT, FOUR POINTS BY SHERATON AND FAIRFIELD BY MARRIOTT
Popular among both business and leisure travelers, the Courtyard by Marriott brand recently opened the Courtyard by Marriott Changsha and the Courtyard by Marriott Tianjin, growing the brand's presence in second and third tier Chinese cities, with additional openings in Zhengzhou, Shanghai and Chengdu slated for 2018.  In China, there are now 19 Courtyard hotels open with another 38 in the signed pipeline.
In Singapore's Novena healthcare hub, the October 2017 opening of the Courtyard by Marriott Singapore Novena marked the brand's debut in the city-state. Courtyard is poised to venture further into Southeast Asia's emerging markets with the opening of the Courtyard by Marriott Siem Reap Resort. Scheduled for an early-2018 opening, the resort will be the first for the brand in Cambodia and features The Upper Deck, a spectacular rooftop bar overlooking mesmerizing sunsets over UNESCO World Heritage Site Angkor Wat. The brand debut in Cambodia should be shortly followed by the opening of the Courtyard by Marriott Phnom Pehn during the second half of 2018. Signings of Courtyard by Marriott hotels in Nha Trang, Vietnam and Yangon, Myanmar are also in the pipeline and forecasted to open within the .
Known for its Best Brews™ program offering local craft beers on tap, every Four Points by Sheraton hotel provides an authentic sense of place. The brand continues to be among Marriott International's most popular in Asia-Pacific with 13 new projects signed to date in 2017.  The March 2017 opening of Four Points by Sheraton Melbourne Docklands embodied the brand's relaxed, friendly ambiance geared towards savvy, independent travelers and represented Asia-Pacific to kick-off the global Four Points Brew Off campaign, whereby two local breweries went head-to-head to become the Four Points Best Brew served on tap at the hotel. Four Points is positioned to further expand in the Pacific region next year with the expected openings of the Four Points by Sheraton Auckland, the first Marriott International property to open in New Zealand, and the Four Points Sydney Central in the second half of 2018.
Next year should also see the Four Points brand charter to new frontiers including a first for the brand in Vietnam with the Four Points by Sheraton Danang. The brand is also scheduled to open its second in Korea – the Four Points by Sheraton Seoul, Gangnam.
Fairfield by Marriott, a Classic Select brand celebrating its 30th anniversary this year is spearheading the current growth in the region. In the fast-growing upper midscale hotel segment, Fairfield hotels target business and leisure travelers looking for quality and value. In the Asia-Pacific region, the opening of the Fairfield Nanning Nanhu Parkmarked the debut of the Fairfield brand in Greater China – the first of 100 hotels expected to open in Greater China over the next five years as part of an exclusive development agreement between Marriott International and Dossen International Group. There are eight more Fairfield hotels scheduled to open in China 2018, including the Fairfield by Marriott Guangzhou Tianhe Park and the Fairfield by Marriott Hangzhou East.
The brand is also assertively expanding in South Asia, primarily in India where it currently has five properties with recent openings in emerging destinations including Amritsar, Coimbatore and Indore, and soon plans to expand its portfolio with the exciting opening of the Fairfield by Marriott Agra scheduled in 2018, bringing visitors within easy access to the iconic Taj Mahal. Marriott's Fairfield pipeline in India now numbers 14 signed hotels including a multi-unit transaction of five hotels recently signed, all of which are slated to open in 2018. The opening of the Fairfield Kathmanduin May 2017 at the heart of the main tourist hub, Thamel, marked Marriott International's first hotel into Nepal.
Fairfield will make its brand debut in South Korea with two exciting openings, the Fairfield by Marriott Seoul, the largest Fairfield by Marriott hotel in the world with 553 rooms, and the Fairfield by Marriott Busan Haeundae, both scheduled to open summer of 2018.  A second Fairfield by Marriott in Busan, this one in the Songdo district, is expected to open in 2019.
In the region, there are 12 Fairfield hotels open and the company is targeting to triple its footprint by 2019.
DISTINCTIVE SELECT BRANDS OFFER STYLISH AND UNIQUE EXPERIENCES AT AFFORDABLE PRICE POINTS WITH OPENINGS IN KEY CAPITAL CITIES AND RESORT DESTINATIONS
ALOFT HOTELS, MOXY HOTELS, ELEMENT HOTELS AND AC HOTELS
With more than 100 hotels now open in 19 countries around the world, Aloft Hotels is one of the fastest growing brands in hospitality and offers a tech-forward, vibrant experience and a modern style that is different by design. This year, Aloft Hotels made its debut in Australia with the Aloft Perth in May and in Indonesia with the Aloft Jakarta Wahid Hasyim in November. Exciting openings slated for 2018 include the Aloft Shanghai Zhangjiang Haike and the Aloft New Delhi Aerocity, which will showcase how the different-by-design Aloft brand caters to a growing market of tech-forward, hyper-connected global travelers and urbanites who thrive in social spaces through its experiments with emerging technologies designed to enhance the guest experience. From ChatBotlr to Emoji Room Service to Live at Aloft Hotels, forward-thinking initiatives in music, design, and technology have made Aloft the must-have brand for a category of traveler yet to be born. Regular Live at Aloft nights, whereby upcoming bands perform live the hotel's W XYZ bar, is part of the brand's programing that supports local music scenes worldwide and culminates in Project Aloft Star, amplified by MTV music competitions across Asia-Pacific annually.
The sassy, irreverent Moxy, another Distinctive Select brand, debuted in Asia-Pacific in 2017 with the opening of the Moxy Bandung in October, as well as the openings of the Moxy Tokyo Kinshicho and the Moxy Osaka in Japan in November. This affordable, millennial-friendly brand caters to the extroverted Next Gen traveler in the form of Instagram-worthy social zones, plugins for personal devices, superfast free WiFi and self-service grab-and-go refreshment bars. Early growth estimates predict that Moxy is the brand to watch out for as it could reach 150 hotels globally within the next ten years.
Element Hotels debuted in 2008 and is designed for today's healthy, 'eco-conscious' active traveler whether they're staying for several days or several months. Stylish and sustainable throughout, Element offers extended stay comfort with a conscience and lots of signature amenities from its healthy RISE breakfast and RELAX evening reception to saline swimming pools, spacious fitness centers, bikes to borrow and electric vehicle charging stations. In May 2017, the opening of Element Kuala Lumpur marked the brand's Southeast Asian debut. The opening of Element Chongli in July 2017 marked the brand's in Asia-Pacific, which is situated in the Thaiwoo Ski Resort, Zhangjiakou, China ー an official venue for the 2022 Winter Olympic Games. Element Bali and Element Xiamen Haicang are slated to open its doors to holidaymakers in 2018.
With the signing of the AC Hotel Tokyo this past October, AC Hotels is scheduled to debut in Asia when the hotel opens in 2020.  AC Hotels combine European soul with Spanish roots, reinventing business travel with amenities such as its AC Lounges, which are co-working spaces by day that transform into buzzing tapas bars by night, and mobile check-in and check-out facilities. Launched in Europe in 2011 as a joint venture with Spanish hotelier Antonio Catalan, the ideas and design behind the properties are complemented by a European soul and Spanish roots. AC Hotels by Marriott currently offers a portfolio of more than 100 hotels in Brazil, Denmark, Italy, France, Mexico, Portugal, Spain, Turkey, and the United States. The brand embodies a sleek and modern approach to design combined with unique elements which embody the character of each destination.  Another AC hotel is planned for Shenyang, China, and expected to open in 2020.
To find out more information, please visit www.marriott.com.
###
Note on forward-looking statements: This communication contains "forward-looking statements" within the meaning of U.S. federal securities laws, including expected future hotel openings and locations that are not historical facts. We caution you that these statements are not guarantees of future performance and are subject to numerous risks and uncertainties, including supply and demand changes for hotel rooms, competitive conditions in the lodging industry; relationships with clients and property owners, the availability of capital to finance hotel growth, and other risk factors that we identify in our most recent quarterly report on Form 10-Q that we filed with the U.S. Securities and Exchange Commission. Any of these factors could cause actual results to differ materially from the expectations we express or imply in this communication. We make these forward-looking statements as of the date of this communication, and undertake no obligation to publicly update or revise any forward-looking statement, whether as a result of new information, future events or otherwise.
About Marriott International, Inc.
Marriott International, Inc. (NASDAQ: MAR) is based in Bethesda, Maryland, USA, and encompasses a portfolio of more than 6,400 properties in 30 leading hotel brands spanning 126 countries and territories. Marriott operates and franchises hotels and licenses vacation ownership resorts all around the world. The company also operates award-winning loyalty programs: Marriott Rewards®, which includes The Ritz-Carlton Rewards®, and Starwood Preferred Guest®.
( Press Release Image: https://photos.webwire.com/prmedia/6/217812/217812-1.jpg )
Related Links
WebWireID217812

This news content was configured by WebWire editorial staff. Linking is permitted.
News Release Distribution and Press Release Distribution Services Provided by WebWire.