The BNP Paribas Foundation and the Bill & Melinda Gates Foundation, under the patronage of the President of the French Republic launch One Planet Fellowship
The BNP Paribas Foundation and the Bill & Melinda Gates Foundation, under the patronage of the President of the French Republic launch One Planet Fellowship, a programme leveraging French, African and European expertise to support research on climate adaptation in Africa
WEBWIRE
–
Tuesday, December 12, 2017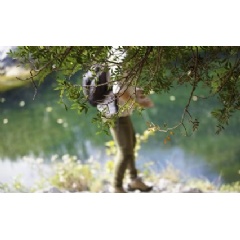 The BNP Paribas Foundation and the Bill & Melinda Gates Foundation, in partnership with the Agropolis Foundation, and under the auspices of the French ministry of Higher education, Research and Innovation, today announced the creation of One Planet Fellowship, a $15 million 5-year programme.
Funded on an equal basis by the Bill & Melinda Gates Foundation and the BNP Paribas Foundation, this philanthropic programme's objective is to support 600 African and European researchers working to help Africa adapt to climate change. It also aims to bolster the African and European scientific community working in this field.
The agreement was announced during the One Planet Summit in Paris on 12 December 2017, by Bill Gates, Bill & Melinda Gates Foudantion Co-chair and Trustee and BNP Paribas CEO Jean-Laurent Bonnafé, in the presence of the President of the French Republic, Emmanuel Macron, and African Women in Agricultural Research and Development (AWARD) Director, Dr Wanjiru Kamau-Rutenberg in attendance.
One Planet Fellows will collaborate in research and higher education projects that aim to advance agriculture and climate change issues, funded by the Agropolis Foundation over a five-year period with a budget of €5M.
Africa is particularly vulnerable to climate change. The continent is likely to suffer serious consequences, such as prolonged periods of drought and lower crop yields. Given the urgency of the situation and the anticipated long-term impacts on the environment, it is vital to promote the development of relevant policies at the local level today. Such policies can only be drawn up on the basis of solid scientific knowledge.
The BNP Paribas Foundation and the Bill & Melinda Gates Foundation, respectively committed to the fight against climate change and eradicating extreme poverty, are therefore launching today the One Planet Fellowship. The purpose of this philanthropic effort, which will be run by African Women in Agricultural Research and Development (AWARD), is to provide additional resources to African research and support the work of the next generation of scientists who will have to deal with a new set of challenges
One Planet Fellowship will on the one hand help to finance the research carried out by African scientists into climate change adaptation, focusing particularly on issues that small farmers will have to cope with, and on the other hand help to strengthen the capabilities of the African and European science communities through training programmes combining mentoring, study trips and networking opportunities for young researchers.
The One Planet Fellowship, which enjoys the official patronage of the President of France, has a total budget of $15 million, funded on an equal basis by the Bill & Melinda Gates Foundation and the BNP Paribas Foundation.
"Undertaking research into climate change adaptation enables us to gain a better understanding of the current and future risks and identify the best solutions to address them. I firmly believe that in the research field, sharing knowledge and working together are key to finding more effective solutions to climate change issues." explained BNP Paribas CEO Jean-Laurent Bonnafé.
"The foundation is delighted to support the creation of the One Planet Fellowship program," said Nick Austin, Ph.D., director of Agricultural Development at the Bill & Melinda Gates Foundation. "We believe it's critical to nurture a new generation of climate scientists, particularly African scientists, who can build on existing agricultural research and innovations to deliver new climate adaptation solutions to help smallholder farmers and their families in the decades to come."
"Building an African and European scientific community that stands together with rigour and commitment to fight against climate change and adapt agriculture is both a human and a scientific challenge. It calls for all people of good will to join and prepare our common future", explained Pascal Kosuth, Director of the Agropolis Foundation. 
Mobilising 600 African and European scientists to work on Africa's adaptation to climate change
120 African researchers will be selected on the basis of their climate change adaptation research projects.Each of them will receive a joint mentoring' – from a scientist in Africa and in Europe - which will involve a period of several months working in a laboratory in Europe. In turn, they will then mentor two young researchers, one from an African institution and one from Europe. The programme will involve a total of 600 scientists over a period of five years.
In addition, these researchers will interact with projects, funded by the Agropolis Foundation, addressing climate change-related problems faced by agriculture.
In France, the researchers will be hosted in Montpellier by the Agropolis Foundation, which, together with its partners, constitutes a world-class scientific community of 2,700 researchers and teachers specialising in the fields of agriculture, food science, biodiversity and the environment. Funding members and partners include the French Agricultural Research Centre for International Development (CIRAD), the French National Institute of Agricultural Research (INRA), the French Research Institute for Development (IRD), Montpellier SupAgro (French National Institute of Higher Education in Agricultural Sciences), the University of Montpellier and the French National Centre for Scientific Research (CNRS), all engaged in Montpellier University of Excellence (MUSE).
This new programme represents an additional step in the ongoing efforts made by the BNP Paribas Foundation to support research into ways and means of combating climate change. These targeted efforts started with the creation in 2010 of the Climate Initiative, a philanthropy programme with a budget of €6 million over three years (2017, 2018, 2019), and which provides backing to climate research projects following a careful process of selection by scientists reputed in their fields of research. Today the Climate Initiative is providing financial support to eight projects involving 178 researchers, engineers and academics from 73 universities and research institutes working on issues ranging from the study of past climates to the current impact of climate change on coral reefs.
One Planet Fellows will collaborate in research and higher education projects that aim to advance agriculture and climate change issues, funded by Agropolis Fondation over a five-year period with a budget of €5M.
About the Bill & Melinda Gates Foundation:
Guided by the belief that every life has equal value, the Bill & Melinda Gates Foundation works to help all people lead healthy, productive lives. In developing countries, it focuses on improving people's health and giving them the chance to lift themselves out of hunger and extreme poverty. In the United States, it seeks to ensure that all people—especially those with the fewest resources—have access to the opportunities they need to succeed in school and life. Based in Seattle, Washington, the foundation is led by CEO Dr. Susan Desmond-Hellmann and Co-chair William H. Gates Sr., under the direction of Bill and Melinda Gates and Warren Buffett.
About the Agropolis Foundation
The Agropolis Foundation promotes and supports high-level research and higher education in agricultural sciences and sustainable development. Emanation of the world-class Montpellier scientific community it connects it with an international network of over 400 foreign partner institutions, including the AWARD program presented above. In the past 10 years the Agropolis Foundation has granted €40 million to scientific projects on cultivated plant diversity, biology and breeding, crop protection, sustainable agriculture and food systems, agro-ecological transition, adaptation to climate change, food processing and quality, socio-economics and public policies.
BNP Paribas is a leading bank in Europe with an international reach. It has a presence in 74 countries, with more than 192,000 employees, including more than 146,000 in Europe. The Group has key positions in its three main activities: Domestic Markets and International Financial Services (whose retail-banking networks and financial services are covered by Retail Banking & Services) and Corporate & Institutional Banking, which serves two client franchises: corporate clients and institutional investors. The Group helps all its clients (individuals, community associations, entrepreneurs, SMEs, corporates and institutional clients) to realise their projects through solutions spanning financing, investment, savings and protection insurance. In Europe, the Group has four domestic markets (Belgium, France, Italy and Luxembourg) and BNP Paribas Personal Finance is the European leader in consumer lending. BNP Paribas is rolling out its integrated retail-banking model in Mediterranean countries, in Turkey, in Eastern Europe and a large network in the western part of the United States. In its Corporate & Institutional Banking and International Financial Services activities, BNP Paribas also enjoys top positions in Europe, a strong presence in the Americas as well as a solid and fast-growing business in Asia-Pacific.
About the BNP Paribas Foundation
Under the oversight of the Foundation of France, the BNP Paribas Foundation has been a major player in corporate philanthropy for 30 years. It is also encouraging and contributing to the      BNP Paribas' philanthropic policy growth in all parts of the world wherever the Bank operates. The BNP Paribas Foundation's activities are aimed at multidisciplinary philanthropy, supporting innovative projects dedicated to culture, social inclusion and the environment. It pays close attention to the quality of its commitment to its partners through a long-term commitment. Since 1984, over 300 cultural projects, 40 research programs and a thousand social and educational initiatives have earned its support in France and around the world.
( Press Release Image: https://photos.webwire.com/prmedia/6/217755/217755-1.jpg )
Related Links
WebWireID217755

This news content was configured by WebWire editorial staff. Linking is permitted.
News Release Distribution and Press Release Distribution Services Provided by WebWire.