Our 5 NYTBR "10 Best Books of 2017"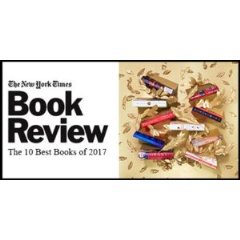 Selected by editors of the New York Times Book Review, here are the 5 fiction and nonfiction books published by our imprints, among their presentation of "The 10 Best Books of 2017."
The full list is published online, and will appear in the publication's December 10 print edition.
AUTUMN by Ali Smith (Pantheon Books) 
The extraordinary friendship of an elderly songwriter and the precocious child of his single-parent neighbor is at the heart of this novel that darts back and forth through the decades, from the 1960s to the era of Brexit. The first in a projected four-volume series, it's a moving exploration of the intricacies of the imagination, a sly teasing-out of a host of big ideas and small revelations, all hovering around a timeless quandary: how to observe, how to be. Read NYT review of "Autumn"
EXIT WEST by Mohsin Hamid (Riverhead Books) 
A deceptively simple conceit turns a timely novel about a couple fleeing a civil war into a profound meditation on the psychology of exile. Magic doors separate the known calamities of the old world from the unknown perils of the new, as the migrants learn how to adjust to an improvisatory existence. Hamid has written a novel that fuses the real with the surreal — perhaps the most faithful way to convey the tremulous political fault lines of our interconnected planet. Read NYT review of "Exit West"
THE EVOLUTION OF BEAUTY: How Darwin's Forgotten Theory of Mate Choice Shapes the Animal World — and Us by Richard O. Prum (Doubleday)

If a science book can be subversive and feminist and change the way we look at our own bodies — but also be mostly about birds — this is it. Prum, an ornithologist, mounts a defense of Darwin's second, largely overlooked theory of sexual selection. Darwin believed, in addition to evolving to adapt to the environment, some other force must be at work shaping the species: the aesthetic mating choices made largely by females. Prum wants subjectivity and the desire for beauty to be part of our understanding of how evolution works. A passionate plea that begins with birds and ends with humans and will help you finally understand, how in the world we have an animal like the peacock. Read NYT review of "The Evolution of Beauty"
GRANT by Ron Chernow (Penguin Press)
Even those who think they are familiar with Ulysses S. Grant's career will learn something from Chernow's fascinating and comprehensive biography, especially about Grant's often overlooked achievements as president. What is more, at a time of economic inequality reflecting the 19th century's Gilded Age and a renewed threat from white-supremacy groups, Chernow reminds us that Grant's courageous example is more valuable than ever, and in this sense, "Grant" is as much a mirror on our own time as a history lesson. Read NYT review of "Grant"
PRIESTDADDY by Patricia Lockwood (Riverhead Books)
In this affectionate and very funny memoir, Lockwood weaves the story of her family — including her Roman Catholic priest father, who received a special dispensation from the Vatican — with her own coming-of-age, and the crisis that later led her and her husband to live temporarily under her parents' rectory roof. She also brings to bear her gifts as a poet, mixing the sacred and profane in a voice that's wonderfully grounded and authentic. This book proves Lockwood to be a formidably gifted writer who can do pretty much anything she pleases. Read NYT review of "Priestdaddy"
( Press Release Image: https://photos.webwire.com/prmedia/6/217289/217289-1.jpg )
Related Links
WebWireID217289

This news content was configured by WebWire editorial staff. Linking is permitted.
News Release Distribution and Press Release Distribution Services Provided by WebWire.