Internet of Things solution to enhance F1® fan experience wins $50,000 top prize of 2017 F1® Connectivity Innovation Prize
Winning idea uses IoT, mobile technologies and ubiquitous connectivity to revolutionise the Grand Prix™ experience for fans
Abu Dhabi, UAE –
WEBWIRE
–
Thursday, November 23, 2017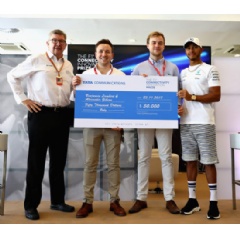 The best thing about this competition is that it gives the power to the fans – it's a way for them to imagine what they'd want the sport to be like in the future and share their vision with us. – Lewis Hamilton, Mercedes-AMG Petronas Motorsport Driver
Tata Communications, the Official Connectivity Provider to Formula 1® and the Official Managed Connectivity Supplier of Mercedes-AMG Petronas Motorsport, has today unveiled Benjamin Lambert and Alexander Gibson from the United Kingdom (UK) as the grand prize winners of the 2017 F1® Connectivity Innovation Prize. During a ceremony in the run-up to the 2017 FORMULA 1 ETIHAD AIRWAYS ABU DHABI GRAND PRIX, four-time Formula One World Drivers' Champion Lewis Hamilton handed the winners a cheque for USD $50,000 and a bespoke trophy.
Lewis Hamilton, Mercedes-AMG Petronas Motorsport Driver and a judge for the 2017 F1® Connectivity Innovation Prize, said, "The best thing about this competition is that it gives the power to the fans – it's a way for them to imagine what they'd want the sport to be like in the future and share their vision with us. The winning idea shows how fans could get closer to the action and access new kinds of data and insights on each driver, team and turn on the circuit. It's incredible to think what a difference this could make to the sport."
Now in its fourth year, the F1® Connectivity Innovation Prize aims to inspire fans worldwide to use their technical know-how and passion for F1® racing and come up with ideas for solutions that could enhance the way people are able to enjoy the sport, or the teams' competitiveness. The theme of this year's two technology challenges set by Formula 1®  and Mercedes-AMG Petronas Motorsport was the Internet of Things (IoT). Benjamin Lambert and Alexander Gibson's winning idea is a solution that could enhance the fan experience at each Grand Prix™ through the IoT, mobile technologies and embedded connectivity. From the moment fans arrive at the circuit until the end of the race weekend, they could use their mobile phone to connect to dozens of sensors at the circuit to access data and insights on their favourite team or driver, get a mixed reality view of driver lines and braking zones on the surface of the race track, or buy refreshments and souvenirs.
Ross Brawn, Managing Director of Motorsports, Formula 1®, and this year's F1® Connectivity Innovation Prize guest judge who helped pick the ultimate winner, said, "Formula 1® is the world's most technologically advanced sport. Yet there's a whole new dimension we could add to the Grand Prix™ experience by harnessing the power of Internet connectivity, mobile technologies, and real-time data. Solutions like the winning idea could transform the F1® racing experience for millions of fans at circuits all over the world, making the whole weekend more interactive, immersive and thrilling than ever before."
Benjamin Lambert and Alexander Gibson said, "This competition has given us the unique opportunity to share our vision for the future of the sport with the biggest names in F1®. We are delighted that the judges saw how a creative combination of the IoT, mobile technologies and embedded connectivity could revolutionise the Grand Prix™ experience for fans."
Julie Woods-Moss, President, Chief Marketing and Innovation Officer, Tata Communications, said, "Ubiquitous connectivity and real-time data analytics are amongst the most disruptive forces shaping how businesses operate and how people engage with the world around them. There are immense opportunities for F1® to leverage cutting-edge IoT enabled applications for fresh insights – like the winning idea of this year's competition so brilliantly demonstrates."
In addition to Lewis Hamilton and Ross Brawn, the F1® Connectivity Innovation Prize judging panel included: John Morrison, Chief Technical Officer of Formula 1®; James Allison, Technical Director of Mercedes-AMG Petronas Motorsport;  Martin Brundle, former F1®race driver and F1® commentator for Sky Sports F1®; and Mehul Kapadia, Managing Director of Tata Communications' F1® Business.
-------
About Tata Communications
Tata Communications Limited (CIN no: L64200MH1986PLC039266) along with its subsidiaries (Tata Communications) is a leading global provider of A New World of Communications™. With a leadership position in emerging markets, Tata Communications leverages its advanced solutions capabilities and domain expertise across its global network to deliver managed solutions to multi-national enterprises and communications service providers.
The Tata Communications global network includes one of the most advanced and largest submarine cable networks and a Tier-1 IP network with connectivity to more than 240 countries and territories across 400 PoPs, as well as nearly 1 million square feet of data centre and colocation space worldwide.
Tata Communications' depth and breadth of reach in emerging markets includes leadership in Indian enterprise data services and leadership in global international voice communications. Tata Communications Limited is listed on the Bombay Stock Exchange and the National Stock Exchange of India.
About Formula 1®
Formula 1® racing, which began in 1950, is the world's most prestigious motor racing competition and is the world's most popular annual sporting series. In 2016 it was watched by 400 million unique television viewers from over 200 territories. The 2017 FIA Formula One World Championship™ runs from March to November and spans 20 races in 20 countries across five continents. Formula One World Championship Limited is part of Formula 1, and holds the exclusive commercial rights to the FIA Formula One World Championship™.
Formula 1 is a subsidiary of Liberty Media Corporation (NASDAQ: LSXMA, LSXMB, LSXMK, BATRA, BATRK, FWONA, FWONK) attributed to the Formula One Group tracking stock.
Forward-looking and cautionary statements
Certain words and statements in this release concerning Tata Communications and its prospects, and other statements, including those relating to Tata Communications' expected financial position, business strategy, the future development of Tata Communications' operations, and the general economy in India, are forward-looking statements. Such statements involve known and unknown risks, uncertainties and other factors, including financial, regulatory and environmental, as well as those relating to industry growth and trend projections, which may cause actual results, performance or achievements of Tata Communications, or industry results, to differ materially from those expressed or implied by such forward-looking statements. The important factors that could cause actual results, performance or achievements to differ materially from such forward-looking statements include, among others, failure to increase the volume of traffic on Tata Communications' network; failure to develop new products and services that meet customer demands and generate acceptable margins; failure to successfully complete commercial testing of new technology and information systems to support new products and services, including voice transmission services; failure to stabilize or reduce the rate of price compression on certain of the company's communications services; failure to integrate strategic acquisitions and changes in government policies or regulations of India and, in particular, changes relating to the administration of Tata Communications' industry; and, in general, the economic, business and credit conditions in India. Additional factors that could cause actual results, performance or achievements to differ materially from such forward-looking statements, many of which are not in Tata Communications' control, include, but are not limited to, those risk factors discussed in Tata Communications Limited's Annual Reports. The Annual Reports of Tata Communications Limited are available at www.tatacommunications.com. Tata Communications is under no obligation to, and expressly disclaims any obligation to, update or alter its forward-looking statements.
( Press Release Image: https://photos.webwire.com/prmedia/6/216990/216990-1.jpg )
Related Links
WebWireID216990

This news content was configured by WebWire editorial staff. Linking is permitted.
News Release Distribution and Press Release Distribution Services Provided by WebWire.