NH Hotel Group strengthens its business plan to achieve €100 million net profit in 2019
NH Hotel Group holds its first Investor Day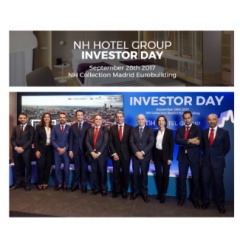 The Group expects to deliver EBITDA of around €300 million in 2019
The Company has mapped out its priorities for 2019, which are articulated around revenue management, efficiency and deleveraging, while tapping its current strengths to take advantage of incremental repositioning and organic growth opportunities 
Framed by earnings momentum, coupled with deleveraging, the Company has committed to a stable dividend policy over the medium term under which it will pay out 50% of recurring profit annually
"NH Hotel Group is in an ideal position to make the most of the sector's multiple opportunities between now and 2019". So said Ramón Aragonés, CEO of NH Hotel Group, summing up the scope and objectives of the Company's new business plan, which was presented to around 100 investors over the course of its first Investor Day.
The Company's new guidance calls for recurring net profit of around €100 million in 2019, annual revenue growth of around 4.5% and deleveraging to a debt-to-EBITDA ratio of between 1.5x and 2.0x, depending on the debt conversion scenarios.
In parallel, it has raised its EBITDA guidance for this year from €225 million to €230 million (growth of 27% from the €186 million recorded in 2016) and expects normalized EBITDA to reach roughly €300 million by 2019, driven by the organic growth and repositioning initiatives contemplated in the new business plan.
The Group has devised a shareholder remuneration policy in line with its debt reduction plans, framed by the philosophy of paying out 50% of recurring net profit in the medium term. Shorter term it is planning to pay a dividend of €0.10 in 2018 and €0.15 in 2019.
Strategy 2017-2019
Following a period marked by the heavy investments in brand repositioning and improvement of the guest experience, NH Hotel Group finds itself in a stronger position to tackle the growth opportunities looming between 2017 and 2019.
Over the coming years, the Company plans to monetise the efforts made to develop and segment its brands, manage its revenues, lift its quality proposition and reposition its establishments, while continuing to enhance its efficiency and reduce debt in parallel. 
Specifically, NH Hotel Group plans to further increase its exposure to the upper segment, expanding the portfolio of establishments operated under its NH Collection and nhow brands. The Company will take advantage of its current strengths to expand its geographic footprint - at all times upholding strict return criteria - in both established destinations and new high-potential tourist markets.
The new plan is also designed to further fine-tune the Group's asset portfolio: the idea is to boost portfolio profitability by pursuing an asset-light growth model, while selectively exiting mature markets in which it has a lot of capital invested, taking advantage of prevailing liquidity and market appetite.
In addition to continuing to enhance the quality perceived by its guests, the Group will expand its management capabilities by rolling out increasingly efficient dynamic pricing strategies enabled by the use of big data, extending the sustainable growth in business volumes and profitability the Company has been reporting consistently.
Lastly, efficiency will be a key focal point. In 2017, the Company has already deployed several important initiatives, including the Group's new business model, structuring the entire hotel portfolio into three business units (Southern Europe, Northern Europe and America). This model is enabling the Company to react swiftly to change, eliminate redundancy and implement new initiatives more easily. 
The Investor Day opening presentation was given by Alfredo Fernández Agras, Chairman of the Board of Directors, who said that the strong improvement in the Group's earnings is the result of coordination between the management team and the Board itself: [i"The alignment of business interests and best practices has fostered value generation for our shareholders and sustained earnings growth during the last 15 months"[/i]. The Chairman of the Board also reiterated the core goal of "maintaining a sustainable and reasonable dividend policy".
NH Hotel Group's first Investor Day lasted for much of the day, with all members of the Company's Executive Committee participating. The CEO presented them one by one to the investors in attendance, underscoring "the Group's extraordinary team of professionals, who are crucial to deliver our objectives and represent a key competitive advantage in an industry such as ours".
Guidance for 2019: pro forma EBITDA of around €300 million and net profit of €100 million
Beatriz Puente, CFO of NH Hotel Group, expressed her conviction that the Group would deliver its guidance. She attributed her conviction to the levers underpinning the new business plan: increasingly profitable premium brands; dynamic pricing strategies; hotel repositioning opportunities and an unwavering focus on efficiency. Execution of the plan will translate into significant growth in cash generation and the ability to pay down debt, putting NH Hotel Group in a position of clear strength to pursue new opportunities.
The new projections call for the elimination of €18 million of operating expenses between 2017 and 2018, which would leave the Company with one of the highest revenue-to-EBITDA conversion ratios in the sector.
Ramón Aragonés, the Group's CEO, summed things up, saying that the new plan is "the result of the involvement and extraordinary effort of the entire management team. It is an achievable plan that will put NH Hotel Group in another dimension".
About NH Hotel Group
NH Hotel Group (www.nhhotelgroup.com) is a world-leading urban hotel operator and a consolidated multinational player. It operates close to 400 hotels and almost 60,000 rooms in 30 markets across Europe, the Americas, Africa and Asia, including top city destinations such as Amsterdam, Barcelona, Berlin, Bogota, Brussels, Buenos Aires, Düsseldorf, Frankfurt, London, Madrid, Mexico City, Milan, Munich, New York, Rome and Vienna.
( Press Release Image: https://photos.webwire.com/prmedia/7/214540/214540-1.png )
Related Links
WebWireID214540

This news content was configured by WebWire editorial staff. Linking is permitted.
News Release Distribution and Press Release Distribution Services Provided by WebWire.