Increased arterial stiffness linked to restrictive spirometry pattern and reduced forced vital capacity
The association was present in both men and women, according to a new study in the journal CHEST®
GLENVIEW, IL –
WEBWIRE
–
Friday, September 29, 2017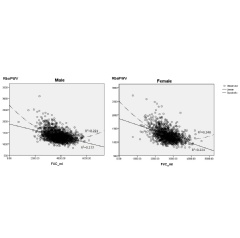 Increased arterial stiffness is a known predictor of cardiovascular diseases in different populations, including healthy subjects and patients with hypertension, diabetes, or renal disease. A new study examining arterial stiffness in a large population determined that both restrictive spirometry pattern and reduced forced vital capacity (FVC) were associated with a higher risk of arterial stiffness not only in men but also in women. The investigators found that arterial stiffness increased fourfold when FVC decreased. Their findings are published in the August issue of CHEST.
Arterial stiffness refers to an artery's diminished ability to expand and contract with changes in pressure. The less elasticity an artery has, the harder the heart has to work to pump blood through it, which can contribute to cardiovascular problems. Studies have shown that diseases like chronic obstructive pulmonary disease (COPD) that impede breathing can lead to arterial stiffness. For this study, investigators used brachial ankle pulse wave velocity (baPWV) to measure arterial stiffness.
"The most significant results of our study were that FVC was negatively associated with the brachial ankle pulse wave velocity (baPWV) level in both genders, and restrictive spirometry pattern was positively associated with increased arterial stiffness in both males and females after adjustment for other clinical variables," explained lead investigators Jin-Shang Wu, MS, Yi-Ching Yang, MPH, and Chih-Jen Chang, MD, Department of Family Medicine, College of Medicine, National Cheng Kung University, Taiwan.
This study included more than 2,900 participants (1,709 men and 1,252 women from 18-88 years of age) who underwent a health examination at National Cheng Kung University Hospital from October 2006 to August 2009.
Some prior studies had shown an association between arterial stiffness and reduced FVC but failed to define pulmonary function impairment as the restrictive type. Other studies used only a few subjects or only focused on men. "To our knowledge, this is the first study finding an inverse relationship between restrictive spirometry pattern/reduced FVC and arterial stiffness," said the authors. "The mechanism of reduced lung function and arterial stiffness is not fully understood, but their relationship may be linked by a cardiovascular risk factor and systemic inflammation."
As the rate of cardiovascular disease continues to climb around the globe, finding more ways to identify problems early becomes increasingly important. This link between reduced spirometry pattern and increased arterial stiffness is an important piece of information that may provide better insights for intervention and prevention.
"Clinically, assessment and follow-up of arterial stiffness should be considered in individuals with restrictive spirometry pattern," advised the authors.
---
The article is "Restrictive Spirometry Pattern Is Associated with Increased Arterial Stiffness in Men and Women" by I-Hsuan Wu, Zih-Jie Sun, Feng-Hwa Lu, Yi-Ching Yang, Chieh-Ying Chou, Chih-Jen Chang, and Jin-Shang Wu (http://dx.doi.org/10.1016/j.chest.2017.03.039). It appears in the journal CHEST, volume 152, issue 2 (August 2017) published by Elsevier. It is openly available at http://journal.chestnet.org/article/S0012-3692(17)30709-2/fulltext.
This study was supported by the Department of Family Medicine, National Cheng Kung University Hospital, Taiwan.
About the Journal CHEST® 
The journal CHEST®, the official publication of the American College of Chest Physicians, features the best in peer-reviewed, cutting-edge original research in the multidisciplinary specialties of chest medicine: pulmonary, critical care and sleep medicine; thoracic surgery; cardiorespiratory interactions; and related disciplines. Published since 1935, it is home to the highly regarded clinical practice guidelines and consensus statements. Readers find the latest research posted in the Online First section each week and access series that provide insight into relevant clinical areas, such as Recent Advances in Chest Medicine; Topics in Practice Management; Pulmonary, Critical Care and Sleep Pearls; Ultrasound Corner; Chest Imaging and Pathology for Clinicians; and Contemporary Reviews. Point/Counterpoint Editorials and the CHEST Podcasts address controversial issues, fostering discussion among physicians.
About American College of Chest Physicians (CHEST)
CHEST is the global leader in advancing best patient outcomes through innovative chest medicine education, clinical research and team-based care. Its mission is to champion the prevention, diagnosis and treatment of chest diseases through education, communication and research. CHEST serves as an essential connection to clinical knowledge and resources for its 19,000 members from around the world who provide patient care in pulmonary, critical care and sleep medicine. For more information, visit www.chestnet.org.
About Elsevier
Elsevier is a global information analytics business that helps institutions and professionals progress science, advance healthcare and improve performance for the benefit of humanity. Elsevier provides digital solutions and tools in the areas of strategic research management, R&D performance, clinical decision support, and professional education; including ScienceDirect, Scopus, SciVal, ClinicalKey and Sherpath. Elsevier publishes over 2,500 digitized journals, including The Lancet and Cell, more than 35,000 e-book titles and many iconic reference works, including Gray's Anatomy. Elsevier is part of RELX Group, a global provider of information and analytics for professionals and business customers across industries. www.elsevier.com
( Press Release Image: https://photos.webwire.com/prmedia/6/214486/214486-1.png )
Related Links
WebWireID214486

This news content was configured by WebWire editorial staff. Linking is permitted.
News Release Distribution and Press Release Distribution Services Provided by WebWire.