Academy Museum Receives Landmark $50-Million Gift from Cheryl and Haim Saban
Ron Meyer to lead newly established museum board of trustees.
The Academy Museum of Motion Pictures –
WEBWIRE
–
Thursday, September 28, 2017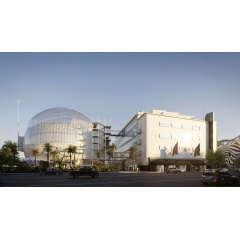 Museum Leadership, Curatorial Staff, and Plans for Museum Experience Unveiled
The Academy Museum of Motion Pictures announces a landmark donation of $50 million from philanthropists Cheryl and Haim Saban. This commitment—the largest gift to the Academy Museum Campaign—brings the museum's fundraising success to $288 million, nearly 75% of its $388 million goal. In recognition of their generosity, the May Company Building will now be named the Saban Building. The Museum further announces that Ron Meyer, the distinguished entertainment industry executive, will head its newly established Board of Trustees. Meyer is Vice Chairman of NBCUniversal and with 23 years as the head of the studio, he is the longest serving studio chief. He is also a co-founder and former President of Creative Artists Agency. In addition, the Museum also unveils a first glimpse at concepts for the museum content, including the permanent exhibition, located in the 1939 former May Company building on Wilshire and Fairfax in Los Angeles. The first of its scope and scale devoted to exploring the art and science of movies and moviemaking, the Renzo Piano Building Workshop-designed Museum is scheduled to open in 2019.
Kerry Brougher, Director of the Academy Museum, says, "We could not be happier with the momentum the museum is experiencing on all fronts—from fundraising and governance to content and construction. We are thankful to Cheryl and Haim Saban and to Ron Meyer for their vital support and leadership in bringing the Academy Museum to the world."
Bob Iger, Chairman and CEO of The Walt Disney Company and Chair of the Museum Campaign Committee, says, "We are deeply grateful to Cheryl and Haim for understanding the need for a superb museum of film in the moviemaking capital of the world. With their tremendous commitment, they set a magnificent example for others and bring our dream closer to reality."
Cheryl and Haim Saban have demonstrated a lifetime of passionate devotion to philanthropic endeavors and have donated over $325 million to charitable organizations to date. Together, the Sabans started the Saban Family Foundation in 1999, which supports medical, children's and education programs, including Children's Hospital Los Angeles, the Saban Community Clinic, Soroka Children's Hospital in Israel, the Motion Picture and Television Fund, the Friends of the IDF, the Saban Leadership Seminars through the American Israel Education Foundation, the Brookings Institution, the Saban Theatre, Cedars-Sinai Medical Center, and the Academy of Television Arts & Sciences Foundation.
Haim Saban, Chairman and CEO of Saban Capital Group, Inc., and his wife Cheryl, say, "We are delighted to further our commitment to Los Angeles with this gift to the Academy Museum of Motion Pictures. This new home for film will offer incredible experiences for visitors from our community and around the world to enjoy the rich history of our industry. We feel honored to contribute to its creation and thrilled to have our name associated with this historic building and visionary project."
Ron Meyer says, "I am proud, and humbled, to chair and build the Academy Museum's new Board of Trustees. The museum has already made great strides in raising funds and developing plans for what will become an essential cultural destination for Los Angeles. It is an honor to be part of such a significant project."
John Bailey, President, Academy of Motion Picture Arts and Sciences, says, "Thanks to the vision of the Academy's Board of Governors, our goal for a museum celebrating the art and sciences of the movies is around the corner. We are proud of our collaborative achievements and believe Ron Meyer, and his Board of Trustees, will be excellent stewards for our project moving forward."
Mayor Eric Garcetti says, "People from across the globe come to Los Angeles to be inspired, and to see things they have only imagined become real through storytelling. It is only fitting that the filmmaking capital of the world will soon have a space dedicated to its industry and artistry. The Academy Museum of Motion Pictures will add another world-class institution to our city's cultural landscape, and touch the lives of Angelenos and visitors for generations to come."
The Museum Experience
The Academy Museum will be the world's premier institution dedicated to the art and science of movies and moviemaking. Brougher has three essential goals: to convey the power of movies, to give viewers a look behind the scenes into how movies are made, and to explore movies' impact on culture and our lives.
Pritzker Prize-winning architect Renzo Piano with Renzo Piano Building Workshop has designed two distinct buildings that will form the Academy Museum's 300,000- square-foot campus: the Saban Building—a designated Los Angeles Historic-Cultural Monument—and a soaring spherical addition that features a state-of-the-art theater and a terrace topped with a spectacular glass dome. More than a museum, Museum Director Kerry Brougher envisions a dynamic film center that is simultaneously experiential, immersive, experimental, educational, and entertaining. The buildings will include 50,000 square feet of gallery space, two theaters, cutting-edge project spaces, an outdoor piazza, the rooftop terrace with sweeping views of the Hollywood Hills, an active education studio, a restaurant, and store.
Dawn Hudson, CEO of the Academy, says, "The millions of people around the world who make and love movies will be able to come to the epicenter of filmmaking and experience the magic of this art form. They'll see firsthand the vast collections of the Academy and the work of our members. And, they'll be able to do that all year—not just on Oscar night."
A permanent exhibition tracing the evolution of moviemaking is planned for the second and third floors of the museum. Combining sets, large-scale moving images, costumes, props, sound installations, and dramatic immersive environments, this journey will evoke the power and emotion of film as visitors move through time. The second floor showcases the earliest experiments in converting still images into the illusion of lifelike movement, the invention of new methods of storytelling on screen, and the evocation of atmosphere and mood through the fundamentals of light and shadow. It culminates with Hollywood's Golden Age and the systemization of the studio's dream factory. On the third floor, visitors will encounter how filmmakers broke free in the post-studio era and moved beyond the soundstage and into the real world. The final section of the exhibition takes them to faraway galaxies and to places they could only dream of going as they witness the constant quest to push beyond the possible to invent new worlds. Separate from the core exhibition, the third floor also features an Oscars experience, using innovative technology to place visitors on Hollywood's most prestigious red carpet and stage and give them the rare chance to hold a real Oscar as they accept their award.
Brougher announces that the designers for the core exhibition are the celebrated film production designer Rick Carter, a two-time Academy Award® winner (for Avatar, 2010 and Lincoln, 2013), and the London-based firm of Gainsbury & Whiting, acclaimed for its designs of exhibitions including the Alexander McQueen retrospective Savage Beauty at the Metropolitan Museum of Art in New York and Louis Vuitton Marc Jacobs at the Musée des Arts Decoratifs in Paris.
In addition to this long-term installation, the museum's temporary galleries will be venues for a lively program of ever-changing exhibitions. These presentations will include retrospectives of major filmmakers, focused explorations of a specific aspect of filmmaking, artist projects and thematic explorations of cultural and social issues, and focused explorations of a specific aspect of filmmaking.
The 1,000-seat theater located in the spherical building will not only be an unforgettable part of each visitor's experience, but will also become a hub for major film events including premieres, openings and special presentations with the world's leading filmmakers. A more intimate 288-seat theater will be the museum's "cinematheque," offering screenings ranging from Saturday morning matinees for children of all ages to global cinema series. Both theaters will be home to an array of live performances, lectures, panels, and other events that will bring the most notable artists working in film to Los Angeles. Both theaters will be equipped to present film with multidimensional sound experiences and superior screen quality.
Museum Leadership and Curatorial Teams
The Academy Museum's senior leadership team includes Rich Cherry, Chief Operating Officer; Katharine DeShaw, Deputy Director, Advancement and External Relations; and Deborah Horowitz, Deputy Director, Creative Content and Programming.  The Museum's curatorial team includes Jessica Niebel, Acting Head of Curatorial Affairs; Doris Berger, Exhibition Curator; Ryan Linkof, Associate Curator; Bernardo Rondeau, Associate Curator and Head of Film Programs; J. Raul Guzman, Curatorial Assistant; Dara Jaffe, Curatorial Assistant; Robert Reneau, Film Program Coordinator; and Ana Santiago, Curatorial Assistant.
World-Class Collections
The Academy Museum has actively been acquiring three-dimensional, motion picture objects since 2008. Its holdings now number approximately 2,500 items, representing motion picture technology, costume design, production design, makeup and hairstyling, promotional materials, and awards. 
Highlights include the ruby slippers by Adrian from The Wizard of Oz (1939); the doors to Rick's Café Américain from Casablanca (1942); a collection of objects from Shirley Temple including the tap shoes and portable wooden practice-steps given to her by legendary dancer Bill "Bojangles" Robinson for their famed dance routine in 1934's The Little Colonel; the original production-used Steadicam created by Garrett Brown; the Aries 1B spaceship model from 2001: A Space Odyssey (1968) the only surviving full-sized shark model from the original mold used on Jaws (1975); a creature head from Alien (1979), designed by H.R. Giger; and handmade characters and a set from LAIKA's films Coraline (2009), ParaNorman (2012), The Boxtrolls (2014), and Kubo and the Two Strings (2016).
The Academy Museum's collection has grown through recent, generous gifts from the Jim Henson Company and the Henson Family, Mattel, Inc., Pixar Animation Studios, the Shirley Temple Black Foundation, the Akram Miknas Pre-Cinema Collection, Universal Studios and Ron Howard, Anjelica Huston, Jeffrey Kurland, and JC Backings.
The Museum will also draw from the unparalleled collection of the Academy, which contains a vast range of motion picture production and history-related objects and technology, works on paper, still and moving images covering the history of motion picture in the United States and throughout the world. The collections include more than 12 million photographs, 190,000 film and video assets, 80,000 screenplays, 50,000 posters, and 20,000 production and costume design drawings. The collection also includes more than 1,600 special collections of film legends such as Cary Grant, Katharine Hepburn, Alfred Hitchcock, and John Huston. These special collections contain production files, personal correspondence, clippings, contracts, manuscripts, scrapbooks, storyboards, and more. The Academy's collecting divisions work collaboratively to acquire, preserve, digitize, and exhibit the broad range of materials entrusted to their care by generations of filmmakers and collectors.
The Campaign for the Academy Museum
The Campaign for the Academy Museum Board is chaired by Bob Iger and co-chaired by Annette Bening and Tom Hanks. Its goal is to raise $388 million to support the construction of the buildings as well as its opening exhibitions and programs.
( Press Release Image: https://photos.webwire.com/prmedia/6/214384/214384-1.jpg )
Related Links
WebWireID214384

This news content was configured by WebWire editorial staff. Linking is permitted.
News Release Distribution and Press Release Distribution Services Provided by WebWire.