Digital school bag for apprentices at Bosch
IT skills as important as basic arithmetic operations
Stuttgart, Germany –
WEBWIRE
–
Thursday, September 28, 2017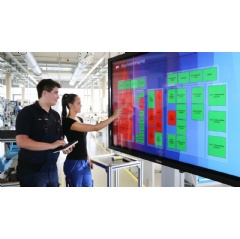 "In the connected world, IT skills are as important as basic arithmetic operations."
Configuring robots, programming apps, equipping machinery with technology for connected industry, training experienced associates and executives, and gaining experience abroad − such tasks are not those of an experienced engineer, but rather of apprentices at Bosch. Their digital school bag is jam-packed. "In order to shape the digital transformation, well-trained skilled workers with IT expertise are essential," says Christoph Kübel, member of the board of management and director of industrial relations at Robert Bosch GmbH. As a result, Bosch is incorporating new content into the curriculum for occupations such as mechatronics engineers, industrial mechanics, and electronics technicians for automation technology. Modern teaching and learning methods, such as e-learning and Industry 4.0 learning islands, create an attractive learning environment, teach participants how to use new technologies at the company, and prepare them for the digital future. "You can only shape the connected world if you understand it. In the connected world, IT skills are as important as basic arithmetic operations," Kübel says with firm conviction.
"In the connected world, IT skills are as important as basic arithmetic operations." Christoph Kübel, member of the board of management and director of industrial relations at Robert Bosch GmbH
Currently, more than 5,000 young men and women are completing occupational training at Bosch in Germany. Around two-thirds of the 1,500 new apprentices are starting technical-industrial training or IT training this year. Nearly one out of every four apprentices is a student in a dual or cooperative degree program, combining courses with professional work experience. The share of women at Bosch in technical professions involving occupational training stands at 16 percent. That figure is approximately twice as high as the national average for such occupations, which is less than 10 percent. Bosch is offering around 1,500 apprenticeships for 2018 as well. People who are interested can apply online at www.bosch-karriere.de/ausbildung (German only).
Collaboration, customer focus, and a willingness to learn
The digital transformation is placing new demands on associates. "For me, collaboration, customer focus, and a willingness to learn are three key concepts for the future working world. Our responsibility is to teach our apprentices the necessary skills, and to proactively provide them with the qualifications that they need to take on the tasks of tomorrow," Kübel explains. Between 2015 and 2020 alone, more than one-third of the key skills that are necessary for today's jobs are going to change, according to the World Economic Forum's Future of Jobs report. Production-relevant information is available in real time and has to be analyzed, closely linked processes are making control and decision-making tasks more complex, and shorter innovation cycles and technological developments require possessing up-to-date knowledge. Since associates are collaborating more frequently on mixed, interdisciplinary teams, communication skills are also becoming more important.
Digital first in occupational training
Bosch currently offers training at more than 40 locations in Germany. The occupational training departments constantly fine-tune what and how they teach in line with the requirements of today and tomorrow. ""The principle of 'digital first' applies with regard to occupational training. This affects what we teach on one hand, and the occupations and courses of study for which we offer training on the other," Siegfried Czock, head of occupational and professional training policies at Bosch, explains." Czock notes that new skills, such as the configuration of robots, are taught within existing job profiles. At the same time, the number of job profiles and courses of study with a large IT component are increasing. For example, Bosch now also trains IT specialists in Reutlingen and offers a general computer science program at Stuttgart-Feuerbach.
Apprentices in Bamberg program apps that they use to organize their workshop. Simon Niedt de Matos, an apprentice on his way to becoming a mechatronics engineer, is one of them. "We have programmed an app that enables us to book machinery," he says. "At the end of the week, we then see which machines experienced heavy use and need servicing. I think it's great that we can program apps as part of our occupational training even though we aren't computer scientists."
"The principle of 'digital first' applies with regard to occupational training." Siegfried Czock, head of occupational and professional training policies at Bosch
Digital fitness for apprentices and trainers
"In order to get our apprentices into digital shape, we provide them with new teaching and learning methods, in addition to new educational content," Czock says. For example, occupational training in Bamberg is nearly paper-free. Apprentices in their first and second year of training receive tablets that contain all of the necessary training documents. "This 'digital school bag' promotes independent, self-guided learning and the ability to acquire knowledge and share it digitally. Instead of providing traditional instruction, our trainers can focus on assisting their apprentices and giving them individual support," Czock says, describing the benefits of this approach.
All apprentices and students at Bosch also have access to an e-learning platform featuring topics that cover automotive technology and content from Bosch Rexroth's Drive & Control Academy. The information is presented in the form of e-training courses, specialist literature, videos, and training documents.
The company also learns from its young associates. At the Bosch location in Bühl, apprentices train skilled workers and executives on how to handle video cameras and the legal issues that need to be observed. "We developed the training concept ourselves and are now taking on the role of the trainer. In doing so, I have learned how to share my knowledge with various target groups in a straightforward and effective way," Emanuel Fritz, an apprentice on his way to becoming a mechatronics engineer, says in describing his learning success.
In order to integrate new methods and media into the everyday training routine in a targeted manner, Bosch also trains its trainers. "Our trainers should know and take advantage of the possible uses of various methods, digital tools, and platforms," Czock emphasizes. "In this way, we as a company can best prepare our apprentices for the future."
Tags: apprenticeship, digitalization, future of work, new work
More information
Occupational training at Bosch
About Bosch
The Bosch Group is a leading global supplier of technology and services. It employs roughly 390,000 associates worldwide (as of December 31, 2016). The company generated sales of 73.1 billion euros in 2016. Its operations are divided into four business sectors: Mobility Solutions, Industrial Technology, Consumer Goods, and Energy and Building Technology. As a leading IoT company, Bosch offers innovative solutions for smart homes, smart cities, connected mobility, and connected manufacturing. It uses its expertise in sensor technology, software, and services, as well as its own IoT cloud, to offer its customers connected, cross-domain solutions from a single source. The Bosch Group's strategic objective is to deliver innovations for a connected life. Bosch improves quality of life worldwide with products and services that are innovative and spark enthusiasm. In short, Bosch creates technology that is "Invented for life." The Bosch Group comprises Robert Bosch GmbH and its roughly 440 subsidiaries and regional companies in some 60 countries. Including sales and service partners, Bosch's global manufacturing and sales network covers nearly every country in the world. The basis for the company's future growth is its innovative strength. At 120 locations across the globe, Bosch employs some 59,000 associates in research and development.
The company was set up in Stuttgart in 1886 by Robert Bosch (1861-1942) as "Workshop for Precision Mechanics and Electrical Engineering." The special ownership structure of Robert Bosch GmbH guarantees the entrepreneurial freedom of the Bosch Group, making it possible for the company to plan over the long term and to undertake significant upfront investments in the safeguarding of its future. Ninety-two percent of the share capital of Robert Bosch GmbH is held by Robert Bosch Stiftung GmbH, a charitable foundation. The majority of voting rights are held by Robert Bosch Industrietreuhand KG, an industrial trust. The entrepreneurial ownership functions are carried out by the trust. The remaining shares are held by the Bosch family and by Robert Bosch GmbH.
Additional information is available online at www.bosch.com, iot.bosch.com,www.bosch-press.com, www.twitter.com/BoschPresse
( Press Release Image: https://photos.webwire.com/prmedia/7/214350/214350-1.jpg )
Related Links
WebWireID214350

This news content was configured by WebWire editorial staff. Linking is permitted.
News Release Distribution and Press Release Distribution Services Provided by WebWire.