Tate Publishes Annual Report 2016/17
WEBWIRE
–
Tuesday, September 19, 2017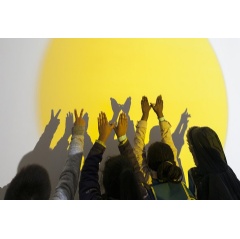 Olafur Eliasson Yellow versus Purple 2003 © Olafur Eliasson
Tate published its Annual Report for 2016/17. The opening of the Blavatnik Building in June 2016 firmly established Tate Modern as one of the world's greatest buildings for art in the twenty-first century, and the newly opened spaces attracted over a million visitors in the first month and a record 6.4 million visitors over the year. The announcement of the first woman to be appointed Director of Tate, Maria Balshaw, was made in January 2017. Formerly Director of the Whitworth (University of Manchester) and Manchester City Galleries, she succeeded Nicholas Serota who stepped down from the role in May.
The collection displays at Tate Modern were comprehensively rehung to reflect ever broader geographies and to redress the gender balance, with work by more than 300 artists from over 50 countries.
Tate recorded outstanding visitor figures overall - 8.4 million across its four sites - the most in a single year. At Tate Britain, David Hockney was the second most popular show in Tate's history after Matisse: The Cut-Outs, drawing in 478,082 visitors.
Tate is broadening its audiences by looking at the value of art to society. Central to this has been the launch of a pioneering learning project at Tate Modern and Tate Liverpool: Tate Exchange, the first such project on this ambitious scale anywhere in the world. Working with more than 60 institutions, many of them not directly related to the arts, and inviting the public to contribute to events and workshops, this attracted over 230,000 people in its first year, many of whom had never been to an art gallery. The first year of Tate Exchange was supported by Freelands Foundation, Arts Council England, Paul Hamlyn Foundation, Red Hat Inc and Tate Patrons.
Circuit, a four-year network for young people supported by Paul Hamlyn Foundation, concluded in 2017 with a substantial and lasting legacy. Led by Tate and involving six partner galleries in the UK, the project is set to influence the way museums work with 15 to 25 year olds in the future, providing a rich seam of research illuminated by the 175,000 people who took part. Tate's relationship with this age group through its 150 strong Tate Collectives group, who programme their own displays, evening events and activities, has drawn people in who are now building their own careers in the arts and the creative industries.
Emphasis was placed this year on ramping up the digital offer. Two new interactive digital spaces were opened in the Blavatnik Building and a new mobile phone app was launched to inspire the public on their gallery journey, finding the nearest places to eat, shop and hang out. These projects were made possible through Tate's partnership with Bloomberg Philanthropies. The long-term Bloomberg strand, the TateShots series of films, celebrated its tenth anniversary in 2017. Almost 500 short films have been published, attracting millions of views online. Film-making has taken the organisation across the globe, this year to Bangalore, Buenos Aires and Shanghai, among others, to document leading international artists in their studios.
Sharing the collection is a core part of Tate activity and in 2016/17 the gallery lent to many more venues overall, with the number internationally up by almost 30 per cent. In total 1,079 works went to 233 venues worldwide across 29 countries. For the first time, works were sent to Singapore and Cyprus. Many of Tate's specially curated exhibitions of collection works were presented to audiences on the other side of the world. Nude: Art from the Tate Collection went to Sydney and a second iteration of this went to Auckland. An exhibition of works by Freud, Bacon and others was lent to the J. Paul Getty Museum in Los Angeles where it attracted over 167,000 visitors.
In the UK, 513 works were lent to 113 venues. Building on the success of the tour of Constable's Great Salisbury painting, Tate began a new programme with the exquisite, recently acquired oil painting by William Stott of Oldham, Le Passeur (The Ferryman) 1881. This work will go to venues in Scotland, England and Wales supported by National Lottery players through the Heritage Lottery Fund, Art Fund, John Ellerman Foundation and Art Fund.
1,113 works entered the collection this year with a collective value of £27.4 million. Key acquisitions included Ai Weiwei's Tree 2010, Luc Tuymans's Issei Sagawa 2014, a significant group of works by Louise Bourgeois, Barbara Hepworth's Epidauros II 1961, Jane Alexander's African Adventure 1999 – 2002 and David King's outstanding collection of Russian posters.
Work has almost concluded on the major capital project at Tate St Ives which will fully open in October 2017. The gallery attracts over 200,000 visitors a year and brings £11 million to the local economy so the improved facilities with spectacular spaces for larger-scale, temporary exhibitions will significantly enhance the offer for visitors. The capital project is supported by National Lottery players through the Heritage Lottery Fund, Arts Council England and the Coastal Communities Fund. An extensive community engagement programme is also being delivered with support from National Lottery players through the Heritage Lottery Fund.
The full report can be viewed here: http://www.tate.org.uk/about-us/tate-reports
Paul Hamlyn Foundation
Paul Hamlyn Foundation was established by Paul Hamlyn in 1987. Upon his death in 2001, he left most of his estate to the Foundation, creating one of the largest independent grant-making foundations in the UK. Our mission is to help people overcome disadvantage and lack of opportunity, so that they can realise their potential and enjoy fulfilling and creative lives. We have a particular interest in supporting young people and a strong belief in the importance of the arts. www.phf.org.uk
About Bloomberg Philanthropies
Bloomberg Philanthropies works in over 120 countries around the world to ensure better, longer lives for the greatest number of people. The organisation focuses on the five key areas of creating lasting change: Arts, Education, Environment, Government Innovation and Public Health. Bloomberg Philanthropies encompasses all of Michael R Bloomberg's charitable activities including his foundation and his personal giving. In 2016, Bloomberg Philanthropies distributed $600 million. For more information, pleases visit www.bloomberg.org or follow on Facebook, Instagram, Snapchat and Twitter.
Heritage Lottery Fund
Thanks to National Lottery players, we invest money to help people across the UK explore, enjoy and protect the heritage they care about - from the archaeology under our feet to the historic parks and buildings we love, from precious memories and collections to rare wildlife. www.hlf.org.uk.
John Ellerman Foundation
The John Ellerman Foundation is an independent grant-making foundation, supporting charities that make a practical difference to people, society and the natural world. We support charities working in the Arts, Environment and Welfare, and whose work has reach and significance across the UK. The Regional Museums and Galleries Fund aims to help organisations enhance and sustain curatorial development to attract a broader public.
Art Fund
Art Fund is the national fundraising charity for art. In the past five years alone the Art Fund has given £34 million to help museums and galleries acquire works of art for their collections. It also helps museums share their collections with wider audiences by supporting a range of tours and exhibitions, including ARTIST ROOMS and the 2013-18 Aspire tour of Tate's Salisbury Cathedral from the Meadows by John Constable, and makes additional grants to support the training and professional development of curators. Art Fund is independently funded, with the core of its income provided by 123,000 members who receive the National Art Pass and enjoy free entry to over 240 museums, galleries and historic places across the UK, as well as 50% off entry to major exhibitions and subscription to Art Quarterly magazine. In addition to grant-giving, Art Fund's support for museums includes Art Fund Museum of the Year, and a range of digital platforms. Find out more about Art Fund and the National Art Pass at www.artfund.org.
Coastal Communities Fund
The Coastal Communities Fund (CCF) encourages the economic development of UK coastal communities by giving funding to create sustainable economic growth and jobs. Since the start of the CCF in 2012 they have awarded grants to 277 organisations across the UK to the value of £170 million. This funding is forecast to deliver over 16,000 jobs and help attract over £316 million of additional funds to coastal areas. The Big Lottery Fund has delivered the CCF on behalf of UK Government and the Devolved Administrations in Northern Ireland, Scotland and Wales. The UK Government announced in 2015 that the CCF will be extended to 2021 with at least £90m of new funding available for the period 2017/18 to 2020/21.
Arts Council England
Arts Council England champions, develops and invests in artistic and cultural experiences that enrich people's lives. We support a range of activities across the arts, museums and libraries – from theatre to digital art, reading to dance, music to literature, and crafts to collections. Great art and culture inspires us, brings us together and teaches us about ourselves and the world around us. In short, it makes life better. Between 2015 and 2018, we plan to invest £1.1 billion of public money from government and an estimated £700 million from the National Lottery to help create these experiences for as many people as possible across the country. www.artscouncil.org.uk
( Press Release Image: https://photos.webwire.com/prmedia/7/213838/213838-1.jpg )
Related Links
WebWireID213838

This news content was configured by WebWire editorial staff. Linking is permitted.
News Release Distribution and Press Release Distribution Services Provided by WebWire.