Amazon Best Seller "Save Your Life – A Guide To Detoxification For 21st Century Illnesses," Free September 7, 2017 through September 11, 2017
Albuquerque, NM –
WEBWIRE
–
Tuesday, September 5, 2017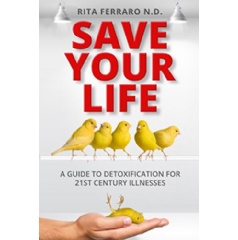 "Save Your Life – A Guide To Detoxification For 21st Century Illnesses" by Rita Ferraro, ND
"God helps those who help themselves"
Rita Ferraro, ND is delighted to present her new book, "Save Your Life – A Guide to Detoxification for 21st Century Illnesses."
In "Save Your Life – A Guide to Detoxification for 21st Century Illnesses," Rita Ferraro, a Doctor of Naturopathy, addresses chronic diseases as the consequences of toxic air, water, and food. It is designed for people who want an alternative to allopathic medicine. Cutting edge detoxification methods set her apart from her colleagues in this easy-to-follow guide, in arming you in navigating horrible if not impossible illnesses. Her unique detoxification strategies were designed to be cost affordable and easy enough to be done at home.
In 1997, Rita Ferraro ND suffered with Chronic Fatigue Syndrome, Fibromyalgia, Multiple Chemical Sensitivity, Toxic Encephalopathy, Lyme Disease, Parasites, Biochemical Depression and Severe Mercury poisoning. After being misdiagnosed and heavily medicated, she recognized the failure of allopathic medicine to offer her a chance for recovery and sought relentlessly to save her own life. Twenty years later, "Save Your Life" is her labor of love.
Dr. Ferraro's intent is to offer hope and guidance to people suffering from devastating illnesses in our increasingly toxic world. "Save Your Life" is a trail blazer for others to follow. She wrote this book so YOU won't have to go through what she did. Despite the seriousness of Chronic Illness, Dr. Ferraro draws on humor and grace to help you take control over illnesses that might otherwise be treated with lots of pills and their side effects instead of natural alternatives yielding powerful results.
Rita Ferraro's "Save Your Life – A Guide to Detoxification for 21st Century Illnesses" will be free and available for download on Amazon for 5 days (9/7/2017 through 9-11-2017). Download your e-book at "Save Your Life – A Guide to Detoxification for 21st Century Illnesses."
"Save Your Life" has so far reached #5 on Amazon's Best Seller list in the Diseases and Physical Ailments/Physical Impairments category with a 5 Star average review rating by those who have purchased the book.
Here's what some of the reviewers have said:
"I owe my life to Rita Ferraro. Without her timely and wise advice, I would have almost certainly died back there in the 90's before my 30th birthday. Now I have my health back. I have a degree in natural health, and have a successful traditional naturopathic practice. In a way all the people who have in turn reported benefits from my care in some way owe that to Rita. I am just paying it forward. For those with the types of illnesses we battled 'Save Your Life' can do just that. It is sound, well researched information that empowers you to begin making rapid recovery mostly by taking your health into your own hands. It is a well-designed, and well laid out book that even the sickest, most brain fogged Chronic Fatigue, Lyme patient, or other chronically ill patient can put into practical application. I encourage any chronically ill person to read this book, or anyone with a suffering family member to buy this book and put the methods into action right away." - Jack Miller CTN of Natural Health Sciences of Arizona.
"Fantastic treatise on overcoming 21st Century Illness. It takes 50 years for a good idea to become medicine. With the average age of my clients between 40 and 60 we need this information NOW! There is a difference between knowledge and wisdom. This book reflects wisdom of one who has overcome." - Michael Payne of Living Well Today International
"This book is of a women's 20 year journey from hell and back. She shares her story with candor and with grace. As an acupuncturist and herbalist for 14 years, I have never seen so much information written in a step by step guide on detoxification. I will integrate this treasure into my practice and recommend it to my patients. Thank you to Rita Ferraro." - Jaclyn Oddi, DOM
For More Information:
For questions or to schedule an interview with Dr. Ferraro, about this Press Release, please contact Rita Ferraro, ND at ritafs56@msn.com
About the Author:
Rita Ferraro, ND was a psychotherapist in New York City until she fell ill. In 1997, Rita suffered from chronic illnesses including Chronic Fatigue Syndrome,/ME, Multiple Chemical Sensitivity, Mercury poisoning, Interstitial Cystitis, Lyme Disease, Biochemical Depression, Fibromyalgia and Toxic Encephalopathy. After being misdiagnosed and improperly medicated, she sought to save her own life. She moved to the mountains of Santa Fe, NM and became an environmental refuge… Rita is a passionate solution finder. Eighteen years later she is a Naturopath, Certified Nutrition Counselor and Master Herbalist, an author, and speaker at conferences and webinars. She lives in the mountains of New Mexico where she forest bathes, and plays her guitar.
( Press Release Image: https://photos.webwire.com/prmedia/59104/213074/213074-1.jpg )
Related Links
WebWireID213074
Contact Information

Rita Ferraro ND
Author
Rita Ferraro ND
(1) (505) 903-9595

This news content may be integrated into any legitimate news gathering and publishing effort. Linking is permitted.
News Release Distribution and Press Release Distribution Services Provided by WebWire.