#createthenew - me Convention Frankfurt, 15-17 September 2017: Mercedes-Benz and SXSW introduce new panels and talks for me Convention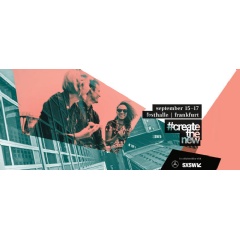 The programme for the me Convention – the new format for topics of the future running from 15 to 17 September 2017 in the Frankfurt Festhalle – is still expanding. Mercedes-Benz and South by Southwest (SXSW) have recruited more speakers for its panel sessions, expert and inspiration talks. International experts from the worlds of technology, design and creative industries will exchange views on the issues of new creation, new urbanism, new leadership, new realities and new velocity.
About New Creation
Manufacturing and distribution used to be the biggest barriers to creation. New technologies enable artists, designers, citizens and entrepreneurs to create on demand, but time and attention have become scarce resources. Storytelling becomes more visual, news is constant, and people are increasingly asked to make snap judgements and take immediate action, which shapes our reality in the physical world. What are the opportunities and consequences of new methods of production? What are the business opportunities and responsibilities within this new system?
The latest in New Creation:
Jim Richardson
Founder of MuseumNext
Panel "Museums 2.0: Digital Society in a Microcosm"
Jim Richardson headed up a creative agency for 16 years, working with some of the world's most renowned museums. During that time, he started wondering how increasing automation was changing the expectations of audiences. This ultimately led to a blog that he started in 2007, "What's next for museums?". Two years later, he launched the MuseumNext Conference, now held at cultural capitals around the world.
Dr. Kelly Snook
Music producer, engineer and data sonification researcher
Inspiration talk about Concordia
Dr Kelly Snook holds a Ph.D. in Aeronautics and Astronautics from Stanford University and currently serves as Professor of Media Arts Technology at the University of Brighton. She has played a major part in developing "mi.mu gloves", which enable music and visuals to be controlled with human movements. Her current research project is the development of Concordia, an immersive musical instrument for scientific exploration.
Other speakers: Oliver Blank, Natasha Jimenez, Nick Foster, Christian "Mio" Loclair, Nicole L'Huillier, Moira Gunn, Nadya Peek, Josh Rubin, Chris Michaels, Sophie Lamparter
About New Urbanism
The evolution of our living environments from housing as a service to smart, connected homes and the expansion of urban centers around the world is now underway. This developing infrastructure has implications for the environment, human health and society that we're just beginning to understand. How do we intentionally shape our cities and surrounding areas to create safe, affordable, convenient, engaging, equitable and healthy communities?
The latest in New Urbanism:
Vonnie Estes
Biotechnology expert
Panel "Uprooting our Assumptions About Food"
Vonnie Estes, one of the most successful female leaders of the biofuel industry, started her career in agricultural biotechnology and developed methods that make agricultural food production more sustainable. A visit to Brazil more than ten years ago sparked her interest in cellulosic biofuels.
Oona Horx-Strathern
CEO of Zukunftsinstitut Horx, trend researcher
Inspiration talk "From Smart City to Mindful City: Connectivity in the Age of Individualisation"
Oona Horx-Strathern has worked for more than 20 years as a trend researcher, consultant, speaker and author. Her passions are architecture and design, urban development, socio-demographic change and smart technology. She has written books about the history of future studies and has collaborated on numerous studies at the Zukunftsinstitut. She and her husband, Matthias Horx, built the Future Evolution House in Vienna.
Other speakers: Martin Weber, Doug Newcomb, Danny Shapiro, Sarah Marie Thornton, Jette Hopp, Mark Post, Bryan Lee, Bryan Lee, David Silver, Clare Jones
About New Realities
We are creating new realities by seamlessly blending analogue and digital technologies. Artificial Intelligence now makes decisions about who we hire, how we police communities, and will increasingly shape how we interact with each other. At the same time, bioscience and genetic engineering allow us to literally shape evolution in a few years, as opposed to generations. What will we gain by blurring the borders between real and artificial, human and machine, natural and man-made? How can we adapt to these new realities, what are the ethical implications, and how will the realities we create today shape our collective future?
The latest in New Realities:
Rana June
Founder and CEO of Lightwave
Expert talk
Rana June works at the meeting point of data, art, and analysis. With her company, Lightwave, she develops creative solutions that allow emotions to be measured, analysed and visualised. Her work ranges from inspiring physical installations all the way to studies that incorporate biofeedback, heartbeats, and facial coding.
Dr. Sarah Richardson
Co-Founder of MicroByre
Expert talk on synthetic biology and gene editing
A computational and molecular biologist, Dr. Richardson specializes in the design of genomes. She earned a Ph.D. in Human Genetics and Molecular Biology from the Johns Hopkins University School of Medicine. At the Lawrence Berkeley National Laboratory she worked on massive scale synthetic biology projects and the integration of computational genomics with experimental genomics. She studied CRISPR systems and the construction of genetic toolkits for non-model organisms and as a co-founder of MicroByre she was in 2017 welcomed into the third cohort of Cyclotron Road fellows hosted at the Lawrence Berkeley National Laboratory. She spends every day thinking about the domestication of non-model bacteria.
Other speakers: Katherine Maher, Buzz Aldrin, Ambarish Mitra, Neil Harbisson, Sasha Samochina, Kei Shimada, Sophia Roosth, Erika Milczek
About New Leadership
Traditional leadership and business models are rapidly evolving. Employees create, organize and lead actively while leaders - to a greater extent - involve their personnel into decisions and processes. Increased latitude, exchange and trust leads to more productivity, efficiency, flexibility and innovational drive within companies. What are the most effective strategies, technologies and possibilities within this new relationship to work and leadership?
The latest in New Leadership
Marta Riggins
Global Marketing Director, Creative Content & Communities - LinkedIn Talent Solutions of LinkedIn
Panel "Recruiting the Skills Required for the 21st Century"
Marta Riggins has 13+ years of experience in marketing, human resources and strategic partnerships in the entertainment and tech industries. She is currently the Global Marketing Director of Creative, Content & Communities within the Talent Solutions Group at LinkedIn. She is passionate about what she calls "B2E (Business to Employee) Marketing" – developing employer brand strategy, recruiting top talent and fostering an inclusive employee experience. She loves best practice sharing and creating community across the Talent and HR Industry. Marta is a studier of culture, lifestyle, workplace and media trends and is passionate about making the workplace more meaningful and better for all.
Mark Newman
Founder of HireVue
Panel "Recruiting the Skills Required for the 21st Century"
As the founder of HireVue, Mark Newman's passion centers on the belief that people are more than just a resume or profile. Through digital, video and mobile technologies, Mark Newman first introduced the world to on demand interviews, improving the way companies build and coach their teams, and helping candidates tell their stories - anywhere, anytime. 
Other speakers: Colin Wright, Tim Leberecht, Mike Horn, Anne-Marie Imafidon, Alissia Iljaitsch, Miriam Meckel, Amy Vernetti, Floriane de Saint Pierre, Arthur Nobel, Paul Boross
About New Velocity
These days we expect services and products to be available on demand. We have now accelerated things which a few decades ago required long and complex processes: societies transform quickly, technological innovations spring up daily, cities change their faces overnight. Following generations will become faster, more dynamic and adaptive, quickly - but how does that affect our wellbeing and environment? What are the benefits or the consequences of this rapidly changing world and how can we ensure that the future is evenly and equitably distributed? Is it possible for humans to keep up with the exponential rate of change?
The latest in New Velocity
William Hurley (aka Whurley)
Founder and CEO of Honest Dollar
Expert talk
Whurley is the founder and CEO of Honest Dollar, a fintech startup bringing honesty, transparency, and simplicity to the financial services industry. Whurley's career has spanned over 20 years working for some of the most innovative companies on the planet including Apple and IBM. Whurley made Austin his home since 1994 and has seen and helped the city transform into a hub for tech innovation. 
Other speakers: Gelong Thubten, Greg de Temmerman
-------
Tickets for the me Convention can be purchased online:
https://me-convention.sxsw.com/products.
If you are interested in getting media credentials, please sign up by completing the accreditation form on the "press" page at http://www.me-convention.com/press. Here you can also find press releases and picture material for download.
Contact me Convention: press@me-convention.com
( Press Release Image: https://photos.webwire.com/prmedia/6/211154/211154-1.jpg )
Related Links
WebWireID211154

This news content was configured by WebWire editorial staff. Linking is permitted.
News Release Distribution and Press Release Distribution Services Provided by WebWire.