Corel Painter 2018 Redefines Realism in Digital Paint, Bridges the Gap Between 2D and 3D Art Creation
Carve, scrape, and blend using Thick Paint. Create stunning models with 2.5D Texture Brushes that raise textures off the canvas
Ottawa, ON, Canada –
WEBWIRE
–
Friday, June 30, 2017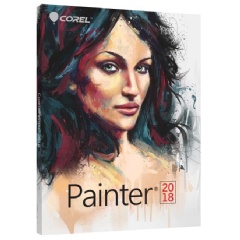 Redefining realism in digital paint, new Painter 2018 sets the standard for digital art.
Corel introduces Painter® 2018, the world's most powerful and creative digital painting software that continues to change what's possible in art. Whether you're already an expert digital artist or making the move from traditional media to explore new possibilities, Painter 2018 delivers a complete set of professional painting tools to help you create your next incredible masterpiece, faster than ever. Innovative new features including Thick Paint, 2.5D Texture Brushes, and Texture Synthesis add unprecedented realism and once again demonstrate why Painter is the benchmark all other digital art software is measured against.
"When creating art in a digital environment, it's crucial to have access to the right set of tools to freely express your unique vision," said Chris Pierce, Product Manager for Digital Arts at Corel. "With Painter 2018, we've once again pushed the boundaries of what's possible in digital paint to dramatically enhance artists' professional workflow, regardless of the style and industry they work in."
New features in Painter 2018 continue to reinvent the possibilities for artists working in fine art, gaming, film, comics, manga, photography, illustration, and everything in between:
NEW! Thick Paint: Plunge into a digital painting experience like no other with voluminous media to pile up, push around, carve into, scrape, and blend into realistic painted perfection. Apply pressure, tilt, and rotation using Bristle Brushes, and work with Palette Knives to achieve unbelievably organic brushstrokes.
NEW! 2.5D Texture Brushes: Paint with stunning 2.5D texture brushes that lift paint off the canvas. Import a 2D rendering of a 3D model and use source blending to brush on thick scales, pores, or nubby texture. Alternatively, paint directly onto your canvas to add alluring character to your art. Finish things off by skillfully adjusting the ambient surface lighting of the painted result to make your canvas shine.
NEW! Texture Synthesis: Forget tedious texture work - instantly create vibrant, one-of-a-kind textures from a small sample. Capture and synthesize an area of a texture and reproduce it on a larger scale, retaining all of the visual elements of the original selection. During the synthesis process, properties of the selected area are randomized to create a new pattern or arrangement based on the chosen settings.
NEW! Cloning Capabilities: Easily build collages and edit photo art. Create clone sources or import and adjust the size and shape of your clone source on the fly. Experience the new freedom of painting from transparent clone sources that seamlessly blend into your composition.
ENHANCED! Drip & Liquid Technology: Artist-favorite brushes that use drip or liquid technologies are now more versatile. Paint with the beloved Sargent brush on an empty layer while blending with underlying brushstrokes. Plus, with a wide range of fresh new Natural-Media® brushes, you'll find endless inspiration for your canvas creations.
NEW! Selection Brushes: Use the new Selection Brush tool with the ability to customize unique brush shapes to quickly and precisely add or subtract from selections. Once you select and customize the perfect brush, save it to use again in your future work.
NEW! Texture Fill: Instantly fill your canvas with dramatic texture. Whether using the Paint Bucket or the new Fill Effect menu, your entire texture library is waiting for artistic transfer to your canvas.
NEW! Random Grain Rotation: Select your favorite grainy brush, then enable the random grain rotation, and Painter will slightly rotate the grain in each individual stroke, creating a more natural and organic look to your work.
NEW! Included Content: Explore the new Natural-Media brush library for easy access to brushes that mimic traditional media. Visit the Texture Library and experiment with new textures to add structure to your art. Looking to get acquainted with the new creative possibilities of Painter 2018? Simply enter "2018" into the Brush Library search window and all your new 2018 brushes will instantly appear.
Pricing & Availability
Painter 2018 is available in English, French, German, Japanese, and Traditional Chinese for $429 USD / $499 CAD / EUR 424.95 / £359.99. Registered owners of any previous version can purchase for the upgrade price of $229 USD / $269 CAD / EUR 218.95 / £179.99. UK and European prices include VAT.
Find the free 30-day trial and electronic download versions at www.painterartist.com.
Set your creativity free with the new Painter 2018. Download the free trial.
Join the Conversation
Connect with Painter users on Facebook at www.facebook.com/corelpainter, keep up with the latest updates on Twitter by following @CorelPainter, and discover new techniques on the Corel Discovery Center at http://learn.corel.com/.
About Corel Digital Arts
Corel is the proud creator of Painter 2018, the world's most realistic paint program. Whether you're a budding artist or a creative professional, Painter gives you the freedom to create digital art without boundaries. The Painter portfolio also includes Painter® Essentials™, the complete home art studio, ParticleShop™, a Particle™ brush plugin for Photoshop, CorelDRAW® and PaintShop® Pro, as well as mobile apps that let you create digital art on the go.
Boasting some of the industry's best-known brands, Corel's product lines also include CorelDRAW® Graphics Suite, PaintShop® Pro, VideoStudio®, WordPerfect® Office, Roxio®, Pinnacle™, MindManager®, and WinZip®. For more information about Corel Digital Arts, please visit www.painterartist.com.
© 2017 Corel Corporation. All rights reserved. Corel, the Corel logo, the Corel Balloon logo, Painter, CorelDRAW, Essentials, Natural-Media, PaintShop, Particle, ParticleShop, Pinnacle, Roxio, VideoStudio, WinZip and WordPerfect are trademarks or registered trademarks of Corel Corporation and/or its subsidiaries in Canada, the U.S. and elsewhere. All other trademarks mentioned herein are the property of their respective owners. Patents: www.corel.com/patent
( Press Release Image: https://photos.webwire.com/prmedia/8/210375/210375-1.jpg )
Related Links
WebWireID210375

This news content was configured by WebWire editorial staff. Linking is permitted.
News Release Distribution and Press Release Distribution Services Provided by WebWire.