Color Ink Transforms Traditional Business and Expands into New Markets with Fujifilm's J Press 720S
"The Fujifilm J Press 720S is just a better way to print"
Valhalla, NY, USA –
WEBWIRE
–
Wednesday, May 31, 2017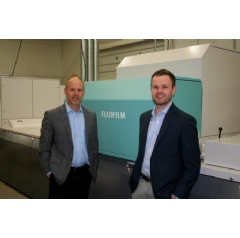 Todd Meissner, left, president, Color Ink, proudly stands next to the J Press 720S, along with his son, Austin, Sales and Sourcing Manager, at their Sussex, Wisc. facility.
With the quality we are seeing on Fujifilm's J Press 720S, it's better than litho; it's revolutionary, and just a better way to print
Color Ink, a Sussex, Wisconsin-based print services provider is changing its approach to traditional print while expanding into new markets with Fujifilm's J Press 720S, a B2 size sheetfed production inkjet press.
 
"The Fujifilm J Press 720S has transformed our business," said Todd Meissner, president, Color Ink. "We're taking jobs off of the 40 inch litho press as well as jobs from our wide format press. We are moving more jobs over to the J Press 720S because it makes good economic sense. The inkjet technology is unbelievable, it produces tremendous quality, and it's a faster way to produce many of our jobs."
 
Jim Meissner, Todd's father, started Color Ink in 1984, as primarily a commercial printer. With the addition of Austin Meissner, Todd's son, Color Ink is now a third-generation family owned and operated business, with 100,000 square feet within two buildings situated on suburban Milwaukee land that was once a family farm. The operation includes 75 full-time employees, along with an additional head count of up to 50 temporary employees, working up to three shifts a day, five days a week. 
"My grandfather started the company with very humble roots," says Austin Meissner, Sales and Sourcing Manager, Color Ink. "It certainly means a lot to me being third generation at Color Ink. Having the opportunity to work with my father is just a great experience for me."
 
The Meissner's research into an inkjet press that could fill their clients growing need for shorter runs and versioning culminated with a visit to Fujifilm's Chicago Technology Center to experience the J Press 720S first-hand, including running a myriad of tests to prove that that the technology could meet their needs.
 
"When we looked at other offerings before committing to the J Press 720S, we felt there wasn't anything that was even close, in our opinion, to the cost of ownership, quality level, and uptime. With the quality we are seeing on Fujifilm's J Press 720S, it's better than litho; it's revolutionary, and just a better way to print," said Todd Meissner.
 
With a 29.6-inch x 20.9 inch sheet and an output of 2,700 sheets per hour, Fujifilm's second generation sheetfed J Press 720S was an ideal solution for printers like Color Ink because it offered the quality and robustness of an offset press, and the versatility to handle even the shortest of press runs. The configuration at Color Ink is capable of printing 100 lb. text weight to 18 point board stocks; while other configurations are available to run lighter weight stocks, as thin as 60 lb. text weight, and up to 24 point board stocks.
 
"An exciting market that we're really looking to catapult into with the J Press 720S is folding cartons," adds Austin Meissner. "We understand that the in the folding carton market, especially for the consumer market and brand awareness, hitting brand colors to their full integrity is so vital. A portion of our business, I'd say maybe 15 percent, caters to the consumer packaging group, and with the J Press 720S, we're able to more closely match PMS colors that are always challenging to hit. I think there's a lot of opportunity for us to expand into that market in a way we've never been able to successfully do before. And we think there's a really strong opportunity to do that with the configuration of the J Press we purchased."
 
Color consistency and tight project turnarounds are always on the minds of print service providers, and with the J Press 720S, they are essentially a non-issue.
 
"On the J Press 720S the color consistency is phenomenal," says Mark Linski, J Press 720S operator, Color Ink. "From sheet one to the last sheet, there is no variance in color. I don't even have to worry about consistency. And the ease of use goes from maintenance all the way through the ease of the interface. I basically load paper and print all day long; it just keeps running and running and running."
 
Printing on-demand and in shorter runs is a key element for Color Ink since more and more print buyers are specifying shorter runs and versioning.
 
"For a lot of the retailers, their store accounts across the country may only be 1,000 stores, or maybe a couple hundred stores," said Todd Meissner. "When we are producing graphics for each store, we're talking about run lengths of maybe 200 to 1,000 units, short runs. That's why the J Press 720S is such a great fit for us. We're going from one job to another without stopping. It's the same paper, it's the same sheet size, but we're literally printing 10 of this, 20 of this, 500 of that, nonstop, on the fly. Versioning has been just a great tool for us on the J Press 720S, whereas if you think about what you'd have to do on a litho press with plate changes, it's a big deal. We are also eliminating the need for customers to warehouse finished product, and literally print on-demand for not that much of a higher price per unit, compared to ordering 10,000 or 20,000 units at a time. The Fujifilm J Press 720S is outstanding."
 
Concludes Todd Meissner, "Fujifilm always seems to come forward with very relevant solutions for our business, and our experience with their equipment, consumables, and people have been instrumental in transforming our business."
 
Click here to view the Color Ink J Press 720S 'Owner Perspectives' video.
 
To find out how Fujifilm Graphic Systems Division can help your business meet future challenges, improve quality and reduce costs, please visit: www.FujifilmInkjet.com.
To learn more about Color Ink, please visit: www.ColorInk.com.
About Fujifilm
FUJIFILM North America Corporation, a marketing subsidiary of FUJIFILM Holdings America Corporation consists of five operating divisions and one subsidiary company. The Imaging Division provides consumer and commercial photographic products and services, including:  photographic paper; digital printing equipment, along with service and support; personalized photo products; film; and one-time-use cameras; and also markets motion picture archival film and on-set color management solutions to the motion picture, broadcast and production industries. The Electronic Imaging Division markets consumer digital cameras, and the Graphic Systems Division supplies products and services to the graphic printing industry. The Optical Devices Division provides optical lenses for the broadcast, cinematography, closed circuit television, videography and industrial markets, and also markets binoculars. The Industrial and Corporate New Business Development Division delivers new products derived from Fujifilm technologies. FUJIFILM Canada Inc. sells and markets a range of Fujifilm products and services in Canada. For more information, please visit www.fujifilmusa.com/northamerica, go to  www.twitter.com/fujifilmus  to follow Fujifilm on Twitter, or go to www.facebook.com/FujifilmNorthAmerica to Like Fujifilm on Facebook.  To receive news and information direct from Fujifilm via RSS, subscribe at www.fujifilmusa.com/rss.
 
FUJIFILM Holdings Corporation, Tokyo, Japan brings continuous innovation and leading-edge products to a broad spectrum of industries, including: healthcare, with medical systems, pharmaceuticals and cosmetics; graphic systems; highly functional materials, such as flat panel display materials; optical devices, such as broadcast and cinema lenses; digital imaging; and document products. These are based on a vast portfolio of chemical, mechanical, optical, electronic, software and production technologies.  In the year ended March 31, 2016, the company had global revenues of $22.1 billion, at an exchange rate of 112.54 yen to the dollar. Fujifilm is committed to environmental stewardship and good corporate citizenship. For more information, please visit: www.fujifilmholdings.com.
###
All product and company names herein may be trademarks of their registered owners.
 
For Immediate Release
CONTACT:
William Rongey
Fujifilm
630.259.7286
wrongey@fujifilm.com
 
( Press Release Image: https://photos.webwire.com/prmedia/26227/209715/209715-1.jpg )
Related Links
WebWireID209715
Contact Information

William Rongey
Manager, Corporate Communications
Fujifilm

This news content may be integrated into any legitimate news gathering and publishing effort. Linking is permitted.
News Release Distribution and Press Release Distribution Services Provided by WebWire.