Gemalto Wins U.S. Government Grant for Digital Driverís License Pilot in Four Jurisdictions
Austin, TX –
WEBWIRE
–
Monday, November 14, 2016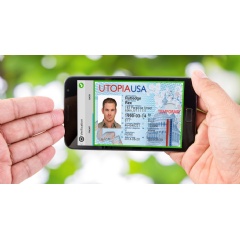 Gemalto (Euronext NL0000400653 GTO), the world leader in digital security, is partnering with Colorado, Idaho, Maryland, and Washington D.C. to pilot digital driverís licenses (DDLs). Gemalto received a government grant to support these jurisdictions to pilot the development of a smartphone-based credential, and will implement an interoperable solution of a magnitude not seen before in the market. This partnership includes a two year grant from the U.S. National Institute of Standards and Technology (NIST), which spearheads the countryís National Strategy for Trusted Identities in Cyberspace, an effort dedicated to securing and protecting privacy in the digital world.†
As a longstanding partner to jurisdictions across the country, Gemalto has leveraged its combined expertise in the driverís license (DL) and identification (ID) sector, along with its strong position as a global leader in digital and mobile technology. As states and government entities shift toward digital ID strategies, the NIST funded pilot is an opportunity to set the precedent for mobile driverís license security and frameworks moving forward.†
Gemalto recognizes the continued trend towards consumer mobility and digital dependence, and will guide states as they address this digital transformation with a DL option for their mobile-first citizens. This mobile movement is especially prevalent among the next generation of drivers and the massive millennial demographic. According to a 2015 Pew Research Study, 86 percent of people aged 18 to 29 have a smartphone. Issuing agencies are looking to target this group with new technology and provide a supplemental service to its existing client base to meet the needs of a diverse group of drivers.†
The digital driverís license serves as a secure, companion version of the physical ID card. The pilot will address four main use cases including enrollment, updates to the document once itís in the field, attribute sharing and law enforcement. The mobile license will enable new security features, coupled with advanced in-field verification, as well as allow for enhanced privacy for citizens through better control of personal information.†
ďWe are pleased to engage in this multi-year pilot program designed to address the many different opportunities surrounding digital identities,ď said Katerina Megas, NSTIC Pilots Program†Manager at NIST. ĒThe digital driverís license solution Gemalto presented embodies the NSTIC[1] Guiding Principles surrounding trusted identities in cyberspace. Our goal is to work with organizations to determine the best technology and implementation strategy that will maintain both citizen privacy and security.Ē
ďGemalto understands that each jurisdiction will have unique needs and experience different challenges throughout implementation,Ē said Steve Purdy, VP of State Identity Programs at Gemalto. ďThe collaborative nature of this project will enable us to quickly identify use-case best practices and lessons learned, share those, and refine the solution in a more comprehensive and efficient way. It brings not only the ability to serve individual jurisdiction needs, but the strength of working together cooperatively with a common goal.Ē
[1] National Strategy for Trusted Identities in Cyberspace
About Gemalto
Gemalto (Euronext NL0000400653 GTO) is the global leader in digital security, with 2015 annual revenues of Ä3.1 billion and customers in over 180 countries. We bring trust to an increasingly connected world.
Our technologies and services enable businesses and governments to authenticate identities and protect data so they stay safe and enable services in personal devices, connected objects, the cloud and in between.
Gemaltoís solutions are at the heart of modern life, from payment to enterprise security and the internet of things. We authenticate people, transactions and objects, encrypt data and create value for software Ė enabling our clients to deliver secure digital services for billions of individuals and things.
Our 14,000+ employees operate out of 118 offices, 45 personalization and data centers, and 27 research and software development centers located in 49 countries.
For more information visit www.gemalto.com, or follow @gemalto on Twitter.
( Press Release Image: https://photos.webwire.com/prmedia/2/206217/206217-1.jpg )
Related Links
WebWireID206217

This news content was configured by WebWire editorial staff. Linking is permitted.
News Release Distribution and Press Release Distribution Services Provided by WebWire.