KBR Global IT Solutions releases S4 Workflow to build and use workflows quickly
Tempe, AZ, United States –
WEBWIRE
–
Saturday, October 1, 2016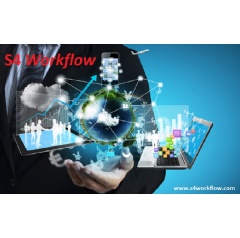 S4 Workflow is a software solution used to create workflows for different business requirements, applicable to various industries.
In S4 Workflow any company can use the Spreadsheet to create different activities based on their requirements. This will give them the flexibility to create and use workflows quickly and streamline their processes. This tool can be applied to almost any technology environment such as: .Net, SharePoint, Java, PeopleSoft, SAP, SAS, Cognos, SQL Server and Oracle. The solution helps creating workflows for Banking, Human Resources, Manufacturing, Customer Services, Travel, Military, Healthcare and Information Technology, among many other industries.
Overview of Workflows
In the web world, a workflow is defined as a series of distinct programming steps or phases. Each step is modeled in S4 Workflow as an Activity. Usually programmers are required in order to build a workflow.
Workflows automate the flow of employee tasks and activities, reducing the time the process takes to complete, as well as potential errors caused by human interaction.
Workflows can be automated with software tools that use business rules to decide when one step has been completed successfully and when the next step can begin. Some Workflow Management Software (WMS) programs can also coordinate dependent relationships between individual steps, a concept known as Workflow Orchestration. Workflow documentation and business process modeling are important aspects of Business Process Management (BPM).
About S4 Workflow
S4 Workflow provides the flexibility of building workflows using a spreadsheet. Here all the activities required by the workflow are added as spreadsheet rows. Then, the workflow will be ready to use. S4 Workflow expedites the processes of building and using workflows, increasing flexibility to meet projects deadlines; saving time and money.
S4 Workflow can be used to build complex to simple workflows with different levels of approvers based on their requirements.
S4 Workflow supports different classifications of workflows, such as:
Sequential Workflows: Typically Flow Chart based; progress from one stage to next and does not step back.
State Machine Workflows: Progress from 'State' to 'State', these workflows are more complex and return to a previous point if required.
Rules Based Workflows: A rules-driven workflow is essentially a higher-level sequential workflow. "Rules" determine the workflow progress. They use conditions to decide if expressions are "true" or "false," and the rules are modeled with the "if," "then," or "else" expressions.
Why S4 Workflow
A workflow tool is needed to overcome the following limitations:
Dependency: There is Dependency on Technical side (technology dependent) and Change Management Process.
Accessibility: Accessibility is complex in most of the scenarios and time consuming.
Expensive: Processes are expensive towards License, Development, Deployment and Maintenance.
S4 Workflow for Various Industries
The following examples shows S4 workflows in various industries:
Banking: A workflow for a new client account, an approval cycle for an investment decision, an approval cycle for a mortgage or loan request.
Human Resources: Workflows can dictate new hire processes, how leave is processed, annual training requirement, and pay processes.
Manufacturing: Quality Assurance workflows such as non-conformities, complains, preventive maintenance.
Customer Service: A workflow which assigns tasks to agents who handle customer requests.
Defense/Emergency: A workflow which manages a situation in a situation room.
Travel: A workflow which manages a client vacation, hotel reservation, flight reservation, etc. for a travel agency.
Pharmaceutical Manufacturing: Using workflows in quality control in areas such as testing of raw materials, production of medicines, packaging of products, post-manufacture testing, and preparation for shipment.
Military: Deploys workflow to manage a hostile situation and follow the rules of engagement.
Healthcare: A workflow which manages the receipt of a prescription from a physician through its filling and eventual pick up processes by the patient.
IT: Uses workflows to dictate how each type of software/hardware issue called in by a staff member is addressed.
County Tax Office - They have more of a queue system, but one could argue it is a simple workflow that allows you to know where you stand in the process of getting your turn at the window.
Key Benefits of S4 Workflow
Easy Development and Deployment: Workflow can be configured in a spreadsheet template and hence development and deployment time will reduce tremendously.
Economical: For development, technical expert help will not be required; Low maintenance (only spreadsheet maintenance), move the spreadsheet as the part of the deployment across different environments (From development environment to Quality and from Quality to Production)
Cross Platform: As this is a cross platform tool, separate license will not be required.
Ease Of Access: Accessibility is quick and there is Best Performance with minimal Server Resource.
Cost: Total Cost of the product along with the all the expenses and wages is over 5 Million US Dollars. This includes Design, Implementation and Support.
For more information, visit the S4 Workflow Website – www.s4workflow.com
Company: KBR GLOBAL IT SOLUTIONS
( Press Release Image: https://photos.webwire.com/prmedia/55889/205561/205561-1.jpg )
Related Links
WebWireID205561
Contact Information

Apsar Shaik
Managing Director
KBR Global IT Solutions LLC
(1) 877-701-0866

This news content may be integrated into any legitimate news gathering and publishing effort. Linking is permitted.
News Release Distribution and Press Release Distribution Services Provided by WebWire.