Fujifilm's Flenex FW Water-Washable Plates and Processor Deliver Ultra-High Quality and Cost Savings at Four Lakes Label
Flenex plates have drastically increased our graphic capability & image reproduction; we are now reproducing a .08% dot at 175 lpi
Valhalla –
WEBWIRE
–
Thursday, August 4, 2016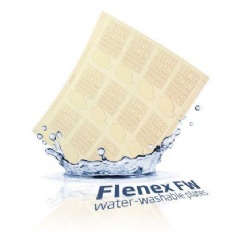 Our projected annual cost-savings compared to our previous process is 50 percent
FUJIFILM North America Corporation, Graphic Systems Division's Flenex FW water-washable plates and Flenex C-Touch 2530 Water-Wash Flexo Plate Processor provide ultra-high quality and significant cost-savings to Four Lakes Label, a Sun Prairie, Wisconsin-based division of Western States Envelope & Label, and provider of labels, tags, and other printing products.
"Flenex has transformed our business," said Ryan Nelson, Imaging Manager, Four Lakes Label. "We are experiencing enhanced print capability, and our Flenex plates are consistently holding a .08% dot, up to a 95% dot linear," says Nelson. "This results in extended color gamut and additional detail in highlight and quarter-tone values, which all but eliminates prep-manipulation for minimum dot. With 175 lpi, one percent dot, and superb dot structure, Flenex delivers consistent ultra-high quality prints."
Flenex FW provides the highest flexo print quality at the fastest production times, while significantly lowering cost-in-use compared to thermal, solvent, or other water-wash technology.
 "With Flenex, we are making plates in about 32 minutes, compared to over 45 minutes with our previous thermal technology; that's 25 percent faster with Flenex," adds Nelson. "And we now have consistency, reliability, and assurance we are going to get the exact same plate today, tomorrow, and three months from now."
Unmatched image quality has provided Four Lakes Label a competitive advantage in producing food and medical labels across a range of 85 stocks, including reflective, metallic, semi-gloss, matte, and film. 
With their previous technology, Nelson said they could only hold a tonal range between a seven percent dot, up to 90 percent, and anything outside of that range basically broke-apart. They also experienced 'scum-dots' which gave the appearance of lint or dirt in the print, when running on-press. 
Nelson continues, "Extending our color range with Flenex also helps us with highlights, and now we can hit finer dots, and have higher gradation, which was previously unattainable. The flat top-dot with Flenex allows high gradation, unlike a round top-dot with a thermal plate, which tends to provide poor gradation." 
With the capability of holding finer dots and better ink transfer, Four Lakes Label is decreasing their ink costs, as they are laying down less ink; and Nelson says it's covering better.
"With the rubber-based Flenex plates, ink transfers better, and we are getting an increased print image, while using less ink. With Fujifilm inks, we are always hitting the target marks," said Nelson. 
Flenex plates eliminate the classic 'back and forth' between press and pre-press.
"With the Flenex solution, we can back expose, main expose, wash out, dry, post expose and de-tack all with one processing unit," says Nelson. "We no longer have to go back and forth between an exposure unit and processor. Flenex is an easy and efficient all in one process."
Shorter set-up times, less make ready, less material waste, and overall faster processing times all add up to a positive impact on Four Lakes Label's bottom-line.
"By using all UV inks for four color printing on press, we can hold better densities, have clearer, crisper printing and consistency between shifts," adds Nelson. "We also save time on press by not having to struggle with density and allows for faster make-readies. Our projected annual cost-savings compared to our previous process is 50 percent."
With such efficiencies, Four Lakes Label can conceivably cut-down their lead time, allowing them to be even more competitive in the marketplace.
"Flenex has vastly improved quality, allowing us better repeatability, and reduced cost in-use," said Nelson. "Our faster turnarounds are absolutely attributed to Flenex."
The water-wash process makes Flenex environmentally friendlier and safer.
"With the Flenex water-wash processor, we are only using a mild detergent, the residual solution can go down the drain like common wastewater; it's a much greener solution," says Nelson.
Sun Prairie is the central hub for the five other sites under Western States Envelope & Label, providing support in customer service, imaging, production, and shipping. Posted throughout the Sun Prairie location are 'Quality Improvement Announcements' highlighting the implementation of Fujifilm's Flenex plates. Operators voiced quality concerns over their previous supplier, and management took action. Detailing a 'major quality upgrade' the signage includes side-by-side comparisons of Flenex and their previous supplier, with a focus on how Flenex provides a .08 percent dot, resulting in better drop shadows, gradients, a cleaner process, and increased productivity.
"The success at Four Lakes Label is a great example of Fujifilm's customer-focused philosophy," said Rob Swearingin, National Sales Manager, Packaging, FUJIFILM North America Corporation, Graphic Systems Division. "We strive to understand our customer's business goals, both short and long term, focus on their needs, and then provide the most innovative Fujifilm solutions that will add value to their business."
Concludes Nelson, "Fujifilm has been an excellent partner and helped Four Lakes Label by delivering market-leading technology, as well as sales and technical support to identify, address and implement key quality and cost saving programs."
Follow FUJIFILM North America Corporation - Graphic Systems Division on Twitter @FUJIFILMGS, like us on Facebook and connect with us on LinkedIn, 'Fujifilm Graphic Systems Division.'
To find out how Fujifilm Graphic Systems can help your business meet future challenges, improve quality and reduce costs, please visit: www.fujifilmgraphics.com.
To learn more about Four Lakes Label, please visit: www.orderlabel.com.
About Fujifilm
FUJIFILM Holdings America Corporation is based in Valhalla, New York, and is the regional headquarters for the Americas. It is comprised of fourteen directly owned subsidiary companies in the U.S. and Canada, and two in Latin America: Brazil and Colombia.  The company manufactures, markets and provides service for a broad spectrum of industries including photographic, medical imaging and informatics, pharmaceutical and other life science industries. Industrial segments include data storage, electronic materials, chemical, and graphic arts products and services.  For more information, please visit www.fujifilmusa.com.
 
FUJIFILM Holdings Corporation, Tokyo, Japan brings continuous innovation and leading-edge products to a broad spectrum of industries, including: healthcare, with medical systems, pharmaceuticals and cosmetics; graphic systems; highly functional materials, such as flat panel display materials; optical devices, such as broadcast and cinema lenses; digital imaging; and document products. These are based on a vast portfolio of chemical, mechanical, optical, electronic, software and production technologies.  In the year ended March 31, 2016, the company had global revenues of $22.1 billion, at an exchange rate of 112.54 yen to the dollar. Fujifilm is committed to environmental stewardship and good corporate citizenship. For more information, please visit: www.fujifilmholdings.com.
###
All product and company names herein may be trademarks of their registered owners.
For Immediate Release
CONTACT:
William Rongey
Fujifilm
630.259.7286
wrongey@fujifilm.com
 
( Press Release Image: https://photos.webwire.com/prmedia/26227/204559/204559-1.jpg )
Related Links
WebWireID204559
Contact Information

Diane Rainey
Manager, Corporate Communications
Fujifilm

This news content may be integrated into any legitimate news gathering and publishing effort. Linking is permitted.
News Release Distribution and Press Release Distribution Services Provided by WebWire.