Scientists Make Breakthrough In Fight Against Antibiotic Resistance
• Researchers develop new treatment to prevent bacterial skin infections

• New treatment can work on antibiotic-resistant 'superbugs', such as MRSA

• Unlike conventional antibiotics, new therapy doesn't directly kill bacteria, so doesn't encourage evolution of resistance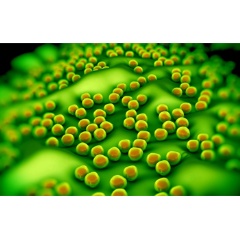 MRSA
"This research is a new way to fight bacteria that does not add to antibiotic resistance. Rather than try to kill bacteria, this approach uses a knowledge of how they normally attach to skin cells to reduce their ability to attach." – Professor Sheila MacNeil
Scientists have developed a pioneering new treatment to prevent bacterial skin infections, which could be used in the battle against 'superbugs', such as MRSA.
The new treatment, developed by researchers at the University of Sheffield and funded by Age UK, is a new way to prevent skin wounds, such as bed-sores and ulcers, becoming infected.
This new treatment has been proven to work on antibiotic-resistant bacteria, such as MRSA, which is currently one of the biggest threats to global healthcare and medicine.
Bacterial skin infections are a major problem for older people and people with chronic health conditions, such as diabetes. Infected wounds heal more slowly, causing pain and distress for the patient, and are a significant cost to the NHS in the UK.
To launch an infection, bacteria attach tightly to skin cells and have learned to hijack 'sticky patches' on human cells to achieve this. Using proteins called tetraspanins, from human cells, the Sheffield scientists have made these patches much less sticky, allowing bacteria to be harmlessly washed away.
The research has shown that these proteins prevent bacterial infections in a model of human skin, which the scientists say give a clear indication that this treatment is both safe and effective.
This treatment was trialled on a model of 3D tissue engineered skin (TEskin) developed by engineers at the University.
The engineered skin, pioneered by Professor Sheila MacNeil from the University's Department of Materials Science and Engineering, can model infected wounds in human skin and mimics the tissue structure of normal adult skin. It can be used to analyse the penetration of peptides and bacteria.
Dr Pete Monk from the University's Department of Infection, Immunity and Cardiovascular Science, who led the study, said: "This development is a huge breakthrough in the fight against antibiotic-resistance.
"Skin infections, such as bed-sores and ulcers, can be incredibly troubling for patients who may already be dealing with other debilitating conditions. They are also a significant problem for modern healthcare.
"We hope that this new therapy can be used to help relieve the burden of skin infections on both patients and health services while also providing a new insight into how we might defeat the threat of antimicrobial drug resistance.
"The therapy could be administered to patients using a gel or cream and could work well as a dressing. We're hoping it can reach clinical trials stage in the next three to five years."
Unlike conventional antibiotics, the tetraspanin proteins do not directly kill bacteria and so do not encourage the evolution of resistance.
Now, with substantial research funding from the Humane Research Trust, Sheffield scientists are developing the proteins for new anti-bacterial dressings that will help keep wounds sterile and so promote more rapid healing.
This development further cements the University's position at the forefront of world-class research into infectious diseases. Sheffield scientists are developing radical solutions to global problems of disease and antimicrobial resistance as part of projects including Florey and Imagine. These are signature research projects addressing some of the world's biggest biomedical problems.
The research Peptides from Tetraspanin CD9 Are Potent Inhibitors of Staphylococcus Aureus Adherence to Keratinocytes is published in the journal PLOSOne on 29 July 2016.
ADDITIONAL INFORMATION
The University of Sheffield
With almost 27,000 of the brightest students from over 140 countries, learning alongside over 1,200 of the best academics from across the globe, the University of Sheffield is one of the world's leading universities.
A member of the UK's prestigious Russell Group of leading research-led institutions, Sheffield offers world-class teaching and research excellence across a wide range of disciplines. Unified by the power of discovery and understanding, staff and students at the university are committed to finding new ways to transform the world we live in.
Sheffield is the only university to feature in The Sunday Times 100 Best Not-For-Profit Organisations to Work For 2016 and was voted number one university in the UK for Student Satisfaction by Times Higher Education in 2014. In the last decade it has won four Queen's Anniversary Prizes in recognition of the outstanding contribution to the United Kingdom's intellectual, economic, cultural and social life. Sheffield has five Nobel Prize winners among former staff and students and its alumni go on to hold positions of great responsibility and influence all over the world, making significant contributions in their chosen fields.
Global research partners and clients include Boeing, Rolls-Royce, Unilever, AstraZeneca, Glaxo SmithKline, Siemens and Airbus, as well as many UK and overseas government agencies and charitable foundations.
Age UK
Age UK believes that everyone should have the opportunity to make the most of later life, whatever their circumstances. At Age UK we provide services, advice and support at a national and local level to inspire, enable and support older people. We stand up and speak for all those who have reached later life, and also protect the long-term interests of future generations.
( Press Release Image: https://photos.webwire.com/prmedia/2/204482/204482-1.jpg )
Related Links
WebWireID204482

This news content was configured by WebWire editorial staff. Linking is permitted.
News Release Distribution and Press Release Distribution Services Provided by WebWire.