Staying Positive with a Brain Aneurysm: Inspirational Blogger Reveals her Secret to Getting Through Hard Times
Geelong resident, Kirsten Macdonald is mother of three, wife, sister, daughter, friend and entrepreneur. She is also someone with an inoperable brain aneurysm.

Australia –
WEBWIRE
–
Monday, June 13, 2016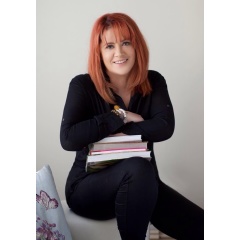 Australian Blogger Kirsten Macdonald
"unflinching, honest [and] profoundly thoughtful" by the author of the Tomorrow When The War Began series, John Marsden
One and a half months after doctors told Kirsten Macdonald they had discovered – by chance – a brain aneurysm during a routine scan, she was lying on a surgery bed in the Alfred Hospital waiting to be "chopped, sawn open, stitched [and] repaired…".
 
But even after a long three months recovering in hospital, and despite being left scarred, temporarily blind and unable to walk, Kirsten whispered 'challenge accepted' to every obstacle that she was presented with. During this time, she recalls a doctor admitting that she was the most inspiring person he'd ever met, and a psychologist asking what her secret to remaining positive was, after all that she'd been through.
 
"I was just being me; I didn't know I was behaving differently to anybody else in a similar situation. Every single day, positive things were happening to my body. I could feel and see improvement, and I was surrounded by the best care and the most loving people. I did have dark days, but I told myself during those periods that I also had so much to feel grateful for."
 
Getting through hard times by adjusting to the new 'normal' wasn't easy for Kirsten initially. In fact, she describes this time as "definitely the biggest battle of [her] life".
 
"In the beginning I had some intense moments of fear, especially around not being able to see. Before all my other sense stepped up and kicked in, I walked into lots of walls – I had a BRICK PRINT on my forehead for a time! – tripped down stairs, stumbled into the clothesline, and because salt and sugar sachets felt exactly the same, I sipped my way through many a salty coffee!" says Kirsten. "I also accidentally learnt that green tea and lemonade go really well together!"
 
Kirsten says she had only just started to feel like herself again – her body was healthy and she was excited to step into the rest of the life still ahead of her – when she received a phone call that left her "in a heap on the floor". Doctors had found another brain aneurysm. Only this time, it was inoperable.
 
"It's one thing to have faith, and it's one thing to have positive ideals and optimism. But it's another thing to have every single one of those things tested to the enth degree, and to have to embrace those things as tools to propel you through this kind of journey is something completely different. It went from what I was taught, to what I know," says Kirsten. "When you think you've been pushed in the worst situation, only to learn there's still more to come, everything gets stripped away. You need to work out how to get through it, and I've learnt that humour and joy help to heal in even the most diverse situations. Laughter is the best medicine!"
 
As a creative soul and a passionate writer, Kirsten felt inspired to share her story through The Ponderings of Kirsten – a uniquely unusual account of her thoughts, experiences and challenges, expressed with raw emotions and humour – and has since been given the reputation of "inspirational blogger".
 
"When you get presented with a difficult situation, you have two choices. You can either let the situation swallow you up and fall into a pit that's difficult to climb out of, or you can surround yourself with the right people, remember to breathe, and deliberately infuse more joy and laughter into your life," says Kirsten. "Humour is a remedy for so much; it makes staying positive easier."
 
To subscribe to Kirsten's blog, visit www.ponderingsofkirsten.com or find her at The Ponderings of Kirsten on Facebook.
The Ponderings of Kirsten – meditations of the possibly dying but mostly living girl – has been described as "unflinching, honest [and] profoundly thoughtful" by the author of the Tomorrow When The War Began series, John Marsden.  It's an inspiring, raw and uniquely funny account of Kirsten Macdonald's life, a woman who recovered from brain aneurysm surgery that left her temporarily blind, bald and unable to walk, only to be told of a second aneurysm – this one inoperable.
The Ponderings of Kirsten is an unusual blog in the way that it weaves humour, sadness, joy, fear and confusion seamlessly, and reveals and confronts challenging thoughts and situations gently to create the space for mindfulness, inspiration and gratitude. Kirsten's blog takes readers through a journey of tears, laughter, breathlessness and heart smiles, into a world of reflection and evaluation.
"… unflinching, honest, [and] profoundly thoughtful." – author John Marsden, Tomorrow When The War Began series
 
( Press Release Image: https://photos.webwire.com/prmedia/55274/203789/203789-1.jpg )
Related Links
WebWireID203789
Contact Information

Kirsten Macdonald
Writer of Meditations of the Possibly Dying
Kirsten Macdonald

This news content may be integrated into any legitimate news gathering and publishing effort. Linking is permitted.
News Release Distribution and Press Release Distribution Services Provided by WebWire.