High hopes for first 3 straight wins for a same-maker under new regulations
SUPER GT 2015 Round 4 Preview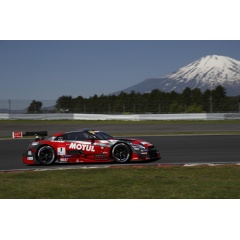 2015 SUPER GT Rd.2
Over August 8th-9th, round 4 of the SUPER GT, the "FUJI GT 300km RACE" will be held at Fuji Speedway in Oyama, Sunto District, Shizuoka Prefecture. The second Fuji round, which follows on from round 2 of the series that was held in the mild climate of Golden Week in May, has been shifted into the scorching and intense heat of summer vacation. The race distance has also been shortened from 500km to 300km, making it relatively short compared to May's event, and there are high expectations for a tough, high-speed battle.

Having achieved the momentous feat of taking home the GT500 championship in the first year of renewed vehicle regulations, Nissan is aiming for a consecutive crown victory this season with the same "steady and immovable," tried-and-tested, competitive 4 team lineups as last year. Competing as the defending champion, the #1 MOTUL AUTECH GT-R is being driven by Tsugio Matsuda / Ronnie Quintarelli, riding on Michelin tires. The #12 CALSONIC IMPUL GT-R has Hironobu Yasuda / Joao Paulo De Oliveira taking the reins, while sporting Bridgestones, and the #46 S Road MOLA GT-R sees Satoshi Motoyama / Masataka Yanagida behind the wheel as it rides on Michelins. The Yokohama tire sporting #24 D'station ADVAN GT-R has seen Daiki Sasaki partnering up with Lucas Ordonez (ESP), who engaged in full participation in the GT300 class last year, but as planned, Michael Krumm will be returning to take his driver's role from this round onwards. With this, Nissan has returned to the exact same team packages it competed with last year.

In the second round at Fuji, the #1 GT-R of Matsuda / Quintarelli and the #12 GT-R of Yasuda / De Oliveira took a 1-2 finish that overwhelmed their rivals, and in round 3, held at Thailand's Chang International Circuit, the #46 GT-R of Motoyama / Yanagida grabbed a decisive lights-to-flag victory to make it a consecutive winning streak for the GT-R. One of the unique features of the SUPER GT is the weight handicap system, which sees increasing amounts of load assigned to vehicles in accordance with their success in races. In keeping with this, the weights allotted to the #1 GT-R of Matsuda/Quintarelli and #12 GT-R of Yasuda/De Oliveira are set at 52kg and 54kg respectively (50kg of which are achieved through a fuel restrictor), while the #46 GT-R of Motoyama/Yanagida has been laden with 48kg. Having had some unfortunate luck recently, the #24 GT-R of Sasaki/Krumm has struggled to convert its speed into victory and is yet to be set with any handicap weight, making it the machine with the most potential of coming away with victory in the next round.

Due to engine use provisions, the majority of teams will be entering into this race with new version engines. Final checks were completed at the official tests at Sugo and tire tests carried out at Suzuka at the end of the month and the 4 GT-Rs will also being changing over to new version power-plants. While Nissan's rivals will obviously be aiming to achieve a counterblow with their own new version engines, when looking at the power the GT-R has displayed up until now, the car's superior performance is undeniable and there are particularly high hopes for the #24 GT-R of Sasaki/Krumm, running with zero handicap weight, to take victory. Incidentally, up until this point the longest same maker (model) winning streak under the new technical regulations has yet to exceed 2 rounds, but if the GT-R takes victory this time, Nissan will have achieved a new record of 3 consecutive wins.

In the GT300 class as well, the Nissan GT-R NISMO GT3 has been showing strong form. The 2015 spec machine has had its competitiveness further enhanced with improved aerodynamics and strengthened brakes which saw it take a 1-2 victory at Fuji with the #10 GAINER taking 1st and the #3 NDDP RACING grabbing 2nd. Then in the last round in Thailand, the order was reversed and this time around it was the #3 NDDP RACING that was the one taking first prize and the #10 GAINER following right behind in 2nd position, lifting expectations for a 3-round winning streak in this category also.
( Press Release Image: https://photos.webwire.com/prmedia/3/199206/199206-1.jpg )
Related Links
WebWireID199206

This news content was configured by WebWire editorial staff. Linking is permitted.
News Release Distribution and Press Release Distribution Services Provided by WebWire.