PlanetRush LLC. Solar Rechargeable Battery Charger Makes Cell Phones And Mobile Devices Truly Portable With Respect To The Environment
Plainsboro, New Jersey, USA –
WEBWIRE
–
Friday, July 3, 2015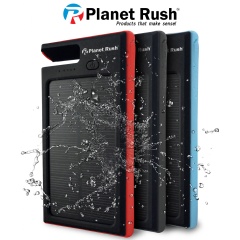 Planet Rush LLC. has announced the release of its super portable, dust-proof, shockproof, water-resistant, eco-friendly solar charger with rechargeable batteries, allowing wilderness lovers to stay connected on their great escapes.†It currently sells at a 43% discount on Amazon to allow users meet the product. Find it at http://amzn.to/1GV4hGX
†
From smartphones to tablets, to ultra-light coffee makers, electronics are getting more and more portable, limited only by the need for a wall outlet to charge them or for a portable solar battery charger.
†
Itís engineered for solar charging, and yet itís also possible to charge it by plugging it into the wall just like any other portable battery.
†
Inside, thereís a 12,000 mAh battery, which is enough to power an iPhone 6 three times over when itís fully charged.
It has multiple USB ports, which allow fast smartphone charge while charging other gadgets simultaneously.
†
Most of the currently available solar chargers are not exactly the most portable devices, even the folding ones. Sure, you can fit a folding solar charger, such as the PlanetRush 12000 into a bag or backpack and they only take up about as much space as a cell phone.
†
Powerful enough to be practical, and small enough to be packable, this solar charger offers a lot of features in a tiny package.
†
Larger capacity solar chargers are great for when you need more recharging potential for your larger devices, but for many people who are looking for an everyday carry solar option thatís quick enough to be practical for charging smartphones and other mobile devices, yet small and light enough to fit in a pocket or purse, they really donít fit the bill.
†
The PlanetRush 12000mAh is the everyday carry solar charger weíve been waiting for, based just on the specs alone.
†
And one of the things we have learned about portable solar devices, is that if the devices arenít simple to use and easy to carry, they donít get used very often, and are more likely to be sitting in a drawer instead of out in the sun generating electricity. The good news is that there is a serious solar charging solution that is not only powerful enough to efficiently charge most smartphones and other mobile devices, includes a built-in battery bank for storing a charge, and is small and light enough to go just about anywhere you do.
†
Depending on the model of the smartphone or other device being charged, the battery bank is capable of delivering three full charges, or devices can be charged directly in about 90 minutes., and it does fully charge the battery bank in about 6 hours through wall electricity. The charging time with Sunlight may vary depending on local weather conditions, with longer charge times for charging through a window or on overcast days.
†
Since solar conditions vary greatly during the course of the day the PlanetRush 12000 balances the input from the panels to the battery to maximize the power the panels can feed into the battery. This boosts charging performance even in less than ideal conditions.
†
It is equipped with a smart charging feature which prioritizes charging between its internal battery and all connected devices to ensure a full charge in the shortest time.
†
It works well with wearables, which are fast becoming a popular choice for personal electronics. Many people have encountered problems charging their wearables. The batteries in these devices are smaller and have less of a power draw when charging. If the draw is too small a typical battery bank might not even know itís there. PlanetRush has been engineered to recognize headsets, fitness trackers, and other wearables so that they will receive a full charge"
†
Measuring just a bit bigger than a smartphone when folded up (5.6ď x 2.0Ē x 0.7" ), and weighing in at just over half a pound (0.60lb / 280g), the PlanetRush 12000mAh comes a built-in battery bank rated at 12000mAh which can also be recharged via the grid using the micro-USB port.
†
Device charging is done through one of two USB ports on the end of the device, with one putting out 1A (for smartphones and ďwearablesĒ) and the other producing 2.1A (for larger devices such as tablets). The dual ports allow it be used to charge two devices at the same time, although itís still better to charge the devices one at a time. The PlanetRush 12000mAh includes rubber plugs for the two USB ports, as well as for the micro-USB port, which will help keep dust and dreck from gumming up the ports.
†
The PlanetRush 12000 has a one year warranty, comes in three color options for the cover (blue, black, and red), and is available through Amazon.com (where itís currently listed at a 43% discount from its $75 original price!) only for a limited time for as low as $42.99.
†
Contact:
Email: theplanetrush@gmail.com
Web: www.theplanetrush.com
Phone : +1 609 2694529
†
†
Buy it with confidence here:
http://www.amazon.com/Planet-RushTM-Collector-lithium-Rechargeable-Usb-charged/dp/B00YXVXIWY/ie=UTF8?m=A2R0Q2MPPYBPZK&keywords=solar+battery+charger&tag=plane04b-20
†
†
†
†
†
†
( Press Release Image: https://photos.webwire.com/prmedia/52762/198663/198663-1.jpg )
WebWireID198663
Contact Information

George Skiadas
Marketing Manager
George Skiadas

This news content may be integrated into any legitimate news gathering and publishing effort. Linking is permitted.
News Release Distribution and Press Release Distribution Services Provided by WebWire.