China's OTC Board a Lifeline for Building Innovation Culture
With the establishment of the OTC and equity exchange marketplaces in China, in the long run, the whole market force facilities will help China catch up in terms of the number of innovative companies.
Shanghai –
WEBWIRE
–
Monday, February 9, 2015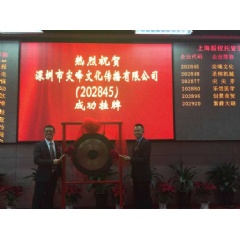 Mr.Xu Ning (left), CEO of Outstanding Media
"The establishment of the OTC and other equity exchange marketplaces is very helpful for SMEs in need of money to survive, given the fact that they do not qualify for bank loans. This is the real significance of the mechanism," Xu Ning says.
China has a long history when it comes to innovation and entrepreneurship. The country is known for a huge list of major inventions, while its people are known for their ingenuity when it comes to opening up markets and making money.

However, in the modern era, China has punched well below its weight when it comes to building innovative tech firms.

Even with the extensive market reforms, opening up and double-digit GDP growth seen in recent decades, such firms have faced an uphill struggle. One major factor stifling their success has been the lack of access to financing.

China's behemoth and opaque banking system favors what are seen as surefire bets - huge state-owned enterprises largely in traditional industries such as energy and manufacturing. In fact, much of the system was geared in such a way that banks and other financial institutions had little incentive to lend to SMEs - which together are the biggest driver of GDP growth. Authorities took note, particularly after the credit crunch following the financial crisis which saw many SMEs go out of business.

Things are now looking up for China's innovative startups, which the government is keen to encourage as a way to upgrade China's economy from being manufacturing-heavy to one more focused on technology and value-added industries. To this end, a raft of policies such as tax breaks, special economic zones and high tech parks are being rolled out, to support the startups and entrepreneurs that will give China the kind of economy it aspires to.

One major recent initiative is the unification of China's OTC boards on the New Third Board under the National Equities Exchange and Quotations (NEEQ) in January 2013, after seven years of trialing regional systems. By December 2013, the Chinese government opened the OTC system to all qualified SMEs across the country, and encouraged institutional investors - including foreign funds - to buy into the market. In August 2014, the market was boosted again when brokerages were authorized to "make markets" on the OTC - that is, act as middle men in the purchase and sale of stocks. News of the move boosted the trading volume by 700 percent.

According to a Financial Times report, by November 2014, the number of companies trading on the NEEQ numbered 1,271, compared to around 350 at the beginning of 2014. Around 80 percent of these were high-tech firms. Fundraising increased by a factor of 10 year-on-year to reach RMB 11 billion as of October 2014.

James R.F. Berkeley, managing director of London-based Ellice Consulting and author of the paper "The Five Myths of High Growth Markets" points out that, while the NEEQ has been a success in terms of attracting listings, the jury is still out on its long-term impact. 

"When there is a four-fold increase in 12 months of mostly high tech companies listing on the NEEQ and roughly 4,000 firms working towards a listing, the NEEQ value proposition and understanding of who constitutes their "tribe" has been a huge success," says Berkeley. "The litmus test is how many of these businesses attract follow-on investment? How many progress from the third board to the more mature boards.

"The OTC board also offers SMEs a pool of specialist investors who are likely to understand their sectors and be able to offer mentoring as well as money. There are also safeguards in place to help allay the fear of IP theft, common among early-stage tech startups.

For three companies that have benefited from an OTC, their future aims remain clear: to use the financing they've achieved to develop their innovative products and break into their respective sectors.

Outstanding Media (Ticker: 202845) is a Shenzhen-based firm that is developing a web-based system aiming to tap into global culinary culture. CEO Xu Ning believes that cuisine is a common language across the globe, and that as such a platform that focuses on this has great potential for growth. Its international aspirations mean the company sees itself as becoming a Silicon Valley firm. The company wants to educate people about the cultural, historical and social aspects of food and diet, seeing their goal as being more social than commercial. 

Shanghai-headquartered Keyan Information Technology (Ticker: 201441) is a developer of group communication systems aimed at allowing groups, companies and  organizations to make decisions and delegate action instantly. The company's app allows cross-border, cross-platform and cross-operator instant communication. The benefit for users is a speeding up of the decision making process, preventing information from being lost or distorted in transit and allowing people to work with more independence and freedom.

First Environment Technology (Ticker: 201946) is headquartered in Guangxi Zhuang Autonomous Region, and is focused on the R&D and manufacture of water purifying systems that feature inorganic salts, with the aim of building up Asia's largest manufacturing plant for such products fueled by the firm's world-leading research capabilities. They also claim to have a new, more economically viable business model that can be applied to environmental protection industries everywhere. 

What unites the above three firms is that their founders are all young entrepreneurs, eager to embrace the world market through borderless business models. They also lack the inhibitions and ways of thinking that shackle previous generations. Indeed, they wish to distance themselves from their predecessors, whose success was built China being the low-end factory of the world.

To do this, they realize the importance of integrating cross-border resources and the global capital economy to fund their dreams. Their OTC listing - which can be a stepping stone to accessing the larger boards of Shanghai and Shenzhen thanks to a fast-track listing policy for OTC firms - is a key stage in achieving these aspirations.

"As young entrepreneurs, we have a mission and a vision. There are two versions of China in people's perceptions: the old version is 'Copy Cat China,' focused on fake intellectual property and lacking in quality. We want to create a new version of China to be seen by the whole world. So, with this in mind, we should by all means carry out our mission and visions in own initiatives," says Xu Ning.

As for the value of the OTC for companies such as his, Xu says it is both a lifeline that will stop innovation from dying out, and also a platform through which to attract the attention of global players in their industries.

"The establishment of the OTC and other equity exchange marketplaces is very helpful for SMEs in need of money to survive, given the fact that they do not qualify for bank loans. This is the real significance of the mechanism," Xu says.

Also, the OTC market and equity exchange centers give global investors a lever to locate the best or most promising SME's in China and give them the opportunity to invest in these companies so this is also another aspect of the significance of these market mechanisms in China. 

This tallies with James Berkeley's assessment.

"An NEEQ listing is an alternative, it is not an end. It is a shop window, but it requires that your ideal investors are passing by frequently and when they do, that your firm is able to draw them to you. That is largely down to whether top management are seen as an object of interest, whether they unfailingly promote their success and they possess a can't-miss value proposition for their ideal investors" Berkeley says.

For Xu, the overall benefit of the OTC platform is that it will help China catch up with the US in terms of support for innovation.

"With the establishment of the OTC and equity exchange marketplaces in China, in the long run, the whole market force facilities will help China catch up in terms of the number of innovative companies and startups," Xu says.
( Press Release Image: https://photos.webwire.com/prmedia/40873/195521/195521-1.jpg )
WebWireID195521
Contact Information

Jo Jo
Media Contact
Z. H. STUDIO

This news content may be integrated into any legitimate news gathering and publishing effort. Linking is permitted.
News Release Distribution and Press Release Distribution Services Provided by WebWire.