Holiday shopping lists growing in 2014, SAS reveals
SAS research says average holiday shopper has 13 people on list, will spend $1,119
Cary, NC –
WEBWIRE
–
Wednesday, November 26, 2014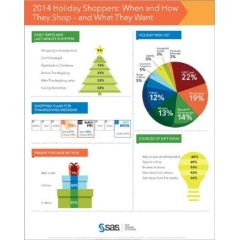 SAS discovered that more than a third of holiday shoppers have longer shopping lists this year than in 2013. More than half of holiday shoppers are buying the same amount as last year, while only 10 percent were cutting back.
What's more, business analytics leader SAS' survey of 2,007 consumers found they plan to spend approximately $115 per family member, $57 per friend, and $38 per coworker. Both men and women will battle it out in bricks-and-mortar stores (46 and 54 percent respectively) during the frenzy of Black Friday.
"This is a good sign for the economy, so retailers should take heart," said Alan Lipson, SAS Global Retail Industry Strategist. "Our research suggests retailers should target the budget-conscious shopper during the Black Friday weekend. Alternate promotions are in order as the season progresses. Effectively appealing to different consumer segments – especially during the holiday season, when consumers aren't shopping for themselves – is a complex puzzle. Analyzing data is the only way to solve it."

The average holiday shopper
She's almost 46 years old, she shops for 13 people, and she plans to spend $1,119 on gifts. She will indulge her significant other to the tune of $299. The survey also revealed seven dominant holiday shopping styles: the Black Friday Warrior, the Budget Buster, the Practical Shopper, the Perfect Gifter, the Cyber Shopper, the Last-Minute Hopeful and the Humbug (listed in descending order based on the average amount spent on holiday gifts):

Black Friday Warriors (21 percent of those surveyed/spend an average of $1,422) are those people you see standing in line, waiting for Best Buy to open on Thanksgiving. They love the holidays.
Budget Busters (11 percent/$1,132) shop throughout the holiday season and buy a wide variety of gifts for many recipients. They indulge loved ones, will pay for convenience, exceed their planned budgets, and find gift cards impersonal.
Practical Shoppers (21 percent/$1,108) do all their shopping at once, use a list and stick to that budget. Their top gift choice is clothing.
Perfect Gifters (19 percent/$1,056) love to shop and find inspiration from many sources. Giving unique gifts is important; they like to indulge people. They often finish holiday shopping before Thanksgiving.
Cyber Shoppers (19 percent/$955) view holiday shopping as a chore. They avoid holiday crowds, preferring to shop online at home in their pajamas. They often don't know what they want to buy before they sit down with their computer, tablet or smartphone.
Last-Minute Hopefuls (5 percent/$955) are dashing through the mall on Christmas Eve. They think waiting until the last minute will save money, and they often buy all gifts at once. They buy gift cards.
Humbugs (5 percent/$941) are the opposite of Black Friday Warriors. They think holiday decorations appear too soon, dislike holiday crowds, don't indulge loved ones, and won't pay for convenience. They are stingy, delay until the last minute, and shun holiday sales.
To learn more about holiday shopping styles, read the survey results and share the infographics in this article.
About SAS
SAS is the leader in business analytics software and services, and the largest independent vendor in the business intelligence market. Through innovative solutions, SAS helps customers at more than 70,000 sites improve performance and deliver value by making better decisions faster. Since 1976 SAS has been giving customers around the world THE POWER TO KNOW®.
2014 Holiday Shoppers: When and How They Shop – and What They Want:
http://www.sas.com/content/dam/SAS/en_us/image/sas-com/news/Press%20Releases/buyer-guide-2014.pdf
Holiday Shopper Profiles:
http://www.sas.com/content/dam/SAS/en_us/image/sas-com/news/Press%20Releases/shopper-profiles-2014.pdf
A Portrait of 2014 Holiday Shopper Trends:
http://www.sas.com/content/dam/SAS/en_us/image/sas-com/news/Press%20Releases/shopper-trends-2014.pdf
( Press Release Image: https://photos.webwire.com/prmedia/7/193337/193337-1.jpg )
Related Links
WebWireID193337

This news content was configured by WebWire editorial staff. Linking is permitted.
News Release Distribution and Press Release Distribution Services Provided by WebWire.